"Managing biopharmaceutical manufacturing in cost efficient manner through contract services"
Industry: Biotechnology
2016 witnessed a continued increase in contract manufacturing operations with an objective to cut back on in-house costs and capacity while maintaining the product quality and timelines. With growing pressure of biopharmaceutical demand and R&D costs, CMOs/CROs have significantly grown to gain ground in biopharmaceutical industry.
Outsourcing versus in-house
Outsourcing services offer number of advantages for biopharmaceutical manufacturer. One of the major benefits of contract services is economic efficiency. CMOs/CROs supports their client biomanufacturing through providing guidance by skilled personnel and up-to-date sites and equipment in terms of regulations and technology. Hence, a supplier with long-term expertise and state-of-the-art equipment to assist bioproduction in a cost-efficient manner is a boon for biopharmaceutical manufacturing entities.
On the other hand, in-house manufacturing is considered as more logical if the company has adequate capacities available as it enables them to have complete control over their product development processes and supply chain. In-house biomanufacturing also maintains the independence of firms from contractors. In-house capabilities can be used as strategy to maintain the secrecy of their product development. In outsourcing, there are chances of company secrets being accidentally revealed to their competitors if the contractor works for differed customers.
Biologics versus small molecules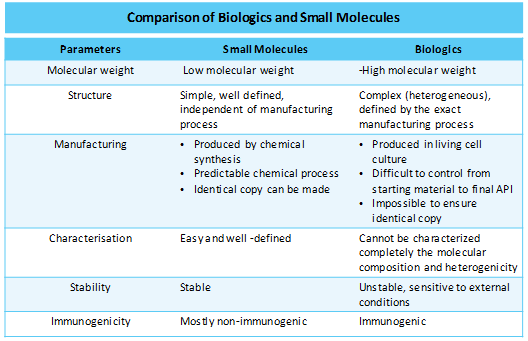 Biologics versus small molecules
Biologics manufacturing is observed to be more challenging than traditional small molecules. A small minor change in development process can significantly affect the final product quality in context to efficacy and immunogenicity. Moreover, manufacturing of biosimilars of these biologics also poses many challenges whereas generic manufacturing of small molecules is relatively easy task. Factors that have fomented market firms to explore the biologics arena is the ability of biologics to interact with challenging targets which are thus far escaped from interacting with small molecules.
Competitive outlook
Owing to the complexity of large molecules, previously only a handful of contract manufacturers existed to offer services for entire value chain of biologic production. However, currently, there are number of contract manufacturers in the space which are engaged in assisting entire chain of biomanufacturing process. Some of the major CMOs/CROs for biopharmaceutical development in space are Lonza, Boehringer Ingelheim GmbH, FUJIFILM Diosynth Biotechnologies U.S.A., Inc, Samsung BioLogics, AbbVie Inc., and WuXi Biologics. These entities are expected to witness lucrative growth in the coming years owing to the growing popularity of contract services within biopharmaceutical industry.

In-depth report on global biopharmaceutical CMO & CRO market by Grand View Research:
https://www.grandviewresearch.com/industry-analysis/biopharmaceutical-cmo-cro-market