Molecular weight marker is also known as a DNA ladder, RNA ladder, or protein ladder. There are various types of markers including DNA, RNA, and protein markers with predetermined concentrations and fragment sizes available commercially. These markers are used to monitor the progress of an electrophoretic run and to calculate molecular weights of a DNA, RNA, or protein molecule run on a gel during electrophoresis. These can be run on either polyacrylamide or agarose gels.
There are three types of these products including unstained, prestained, and specialty markers, which are widely used by biotechnology companies and researchers in proteomics and genomics applications. The biotechnology companies are investing huge amount of money for new product development and production. Thus, there is huge demand for molecular weight markers products for research and drug development including antibodies, vaccines, and other biologics.
Molecular weight marker market share, by region, 2016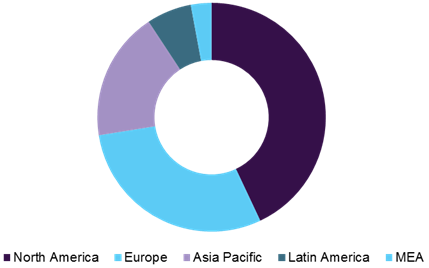 Rising prevalence of severe genetic diseases leads to increasing demand for high-quality therapeutics and diagnostics products. For instance, 3% to 5% babies are born with birth defects and genetic disorders, which are responsible for around 20% to 30% of all infant deaths in the U.S. and UK. In the U.S., around 1 in 68 children have been identified with Autism Spectrum Disorder and 10% of children with autism are identified with fragile X syndrome, Down syndrome, tuberous sclerosis complex, or other genetic & chromosomal disorders. Molecular biology can be used as a powerful tool for the early diagnosis and treatment of these disorders.
The advanced molecular biology technologies provide high accuracy, speed, and sensitivity in genomics and proteomics research. Improvements in the quality and diversity of molecular marker coupled with advances in PCR, NGS, and electrophoresis instruments is expected to drive the adoption of molecular weight markers. The recent advancement of high-throughput sequencing (HTS) technologies delivers more comprehensive genomic analyses in novel chromosome rearrangements, somatic mutation, and in the identification of fusion genes, thereby leading to new therapeutic targets.
The growing focus of biotechnology companies and CROs in developing Asian countries including India & China for drug discovery, drug development, and clinical trials is expected to increase the demand for molecular weight markers. Presence of a large number of patients, vast genome pool, low manpower cost, availability of skilled personnel, and lower cost for conducting clinical trials in Asian countries have propelled the growth of the market in this region. In addition, emerging healthcare infrastructure and escalating government support for drug development in Asian countries drives the penetration of global biotechnology companies in this region.
The molecular weight marker market is fragmented with the presence of a large number of global and local vendors. Some of the key players are F Hoffmann-La Roche Ltd; Thermo Fisher Scientific, Inc.; Merck KGaA; Agilent Technologies; QIAGEN; TAKARA BIO, INC.; Bio-Rad Laboratories, Inc.; Promega Corp; and New England Biolabs. Several major vendors such as Thermo Fisher Scientific, Inc., F Hoffmann-La Roche Ltd, and TAKARA BIO, INC., held a large share in the market in 2016.

In-depth report on global molecular weight marker market by Grand View Research:
http://www.grandviewresearch.com/industry-analysis/molecular-weight-marker-market