It's a well-known fact that heart defects have gripped a large proportion of the world population, as the harms of following unhealthy lifestyle habits have started to take a toll on people's health. With surgeries related to structural heart diseases on the rise, structural heart devices have proved mightily helpful in medical scenarios.
Some Quick Facts….
Nearly 5 million Americans currently are suffering from congestive heart failure. Approximately 550,000 new cases of CHF are discovered in the U.S. each year.

A report by the American Heart Association stated that 1 out of 3 Americans in 2016 succumbed to cardiovascular diseases, of which CHD and heart failure were responsible for more than half of those deaths.

Nearly one out of 100 births (i.e., 40000 births) in the United States every year is affected with CHD, with one-fourth of these babies suffering from critical CHD.

Diseases of the heart have been the major cause of deaths not only in the US, but also worldwide, with WHO stating them as the leading global cause of death. The total number of people who succumbed to CVDs stood at 17.9 million in 2016 globally
All these figures are indeed a cause of concern for us common citizens. A good proportion of the global population is focused on following a healthy lifestyle. However, still more are stuck on an unhealthy one, which act as an open invitation to such diseases. Most structural heart conditions are congenital, but they may also be acquired later in life.
Structural Heart Devices Have Opened New Avenues In Treatment
Till some time back, the way of treatment for such conditions was an open heart surgery. However, catheterization has since surpassed it. The presence of the structural heart devices market has provided surgeons the advantage of performing minimally invasive procedures. Transcatheter procedures are preferred over open-heart surgeries due to advantages such as lesser recovery time and procedural risk. It also avoids cardiopulmonary bypass, which reduces risk, thereby giving enhanced patient care. Operator expertise adds to the improved results of these procedures as compared to open-heart procedures. Also, patients incur less expenses owing to the shorter stay in the hospital.
Positive clinical evidence of structural heart devices are resulting in their increased use in the treatment of CHD. Similarly, other data supporting the results such as the STS National Database and American Heart Association Abstracts also encourage surgeons to conduct these procedures. Guidelines by the American College of Cardiology, American Stroke Association, and American Heart Association also standardize the procedures, thereby reducing the intraoperative risks and improve the outcomes of the surgeries.
Types Of Structural Heart Devices
Structural heart devices are classified into four types - surgical aortic valve replacement (SAVR), transcatheter aortic valve replacement (TAVR), mitral repair, and left atrial appendage closure (LAAC).
Surgical aortic valve replacement (SAVR) - It is a type of open heart surgery that is performed in order to replace a diseased aortic valve. Typically, the process is more invasive than TAVI and need the patient to be placed on a heart and lung machine, under general anesthesia.

Transcatheter aortic valve replacement (TAVR) - This is a minimally invasive procedure for replacing a narrowed aortic valve that does not open properly (aortic valve stenosis). TAVR is also known as transcatheter aortic valve implantation (TAVI). It can be performed on patients at intermediate or high risk of complications from SAVR, as well as certain people who cannot undergo open heart surgery.

Mitral repair - Also known as annuloplasty. It is a procedure for tightening or reinforcing the annulus around a heart valve. The procedure can be performed during open-heart surgery as well as minimally-invasive heart surgery.

Left atrial appendage closure (LAAC) - A procedure that closes the opening of the left atrial appendage. This is recommended in cases of atrial fibrillation, wherein the blood cannot be effectively squeezed out from the left atrium, leading to its collection in the left atrial appendage, increasing chances of a stroke.
Shining A Light On The Structural Heart Device Market Scenario
Aging population is driving the overall healthcare segment across the globe. Moreover, increasing focus on the quality of life of this group is further boosting the health care space, which extends to the structural heart devices industry. Cardiac disorders are highly common and people are aware of the consequences and readily seeking treatments for the same. These defects may be present at birth or may occur late in life due to wear & tear of the tissues. This adds to the already existing lifestyle diseases related to heart and results in occurrence of stroke. Thus, operations to reduce the risk of stroke are gaining roots in the market, which is expected to drive the structural heart devices market.
Asia Pacific is expected to be the most lucrative region for the industry. This can be attributed to the rapidly increasing geriatric population, presence of a large patient base, growing awareness & increased healthcare expenditure, and efforts of industry players to enter the market by introducing new products. North America held the largest share in the structural heart devices market in 2016, while it is expected to maintain its dominance over the coming years, with a strong preference for minimally invasive procedures factoring in its growth in the region.
Structural Heart Devices Market Share, By Geography, 2016 (%)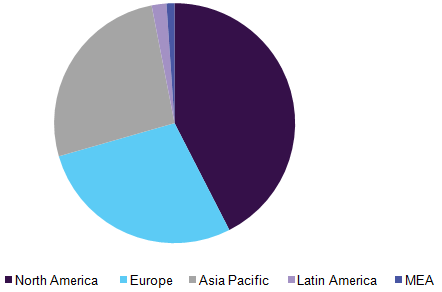 Competitors Stepping Up Their Game
Several regional and international players are operating in the structural heart devices market. Some of the key players are Biomerics, Boston Scientific Corporation, Medtronic, CardioKinetix, Edwards Lifesciences Corporation, Abbott Laboratories, LivaNova PLC, Comed BV, JenaValve Technology, Inc., and ST. JUDE MEDICAL. Key developments that the structural heart devices industry has seen in the past year include:
In December 2019, Biomerics and ATL Technology dissolved their joint venture Biomerics ATL LLC, with the former purchasing ATL Technology's interests in the JV. The business unit will be renamed as Biomerics CRI. The Biomerics ATL JV began with the asset acquisition of CRI Medical, and its facilities in Indiana and Costa Rica in 2018.

In August 2019, the US FDA approved Medtronic's Evolut™ Transcatheter Aortic Valve Replacement (TAVR) system for patients with symptomatic severe native aortic stenosis, who are at a low risk of surgical mortality. The approval comes on the back of a multi-center Evolut Low Risk Trial that monitored and evaluated 3 valve generations in more than 1400 patients.

In March 2019, Boston Scientific received the CE Mark for its next-generation WATCHMAN FLX™ Left Atrial Appendage Closure Device, paving way for a limited market release in Europe. The device is intended to reduce stroke risk in people with non-valvular AF.

In-depth report on global structural heart devices market by Grand View Research:
https://www.grandviewresearch.com/industry-analysis/structural-heart-devices-market