Industry Insights
Global 3D display market size was estimated at USD 31.83 billion in 2014. It is an upcoming technology which is being adopted in various sectors including gaming, photography, education, video, defense and engineering simulation.
Various factors including increased need for 3D display in numerous applications such as monitor, smart phone, TV, notebook PC and digital photo frames is expected to play a major role in adoption of this technology for sense of depth and perception. The technology has been majorly adopted in the entertainment & gaming industry, especially in Asia Pacific.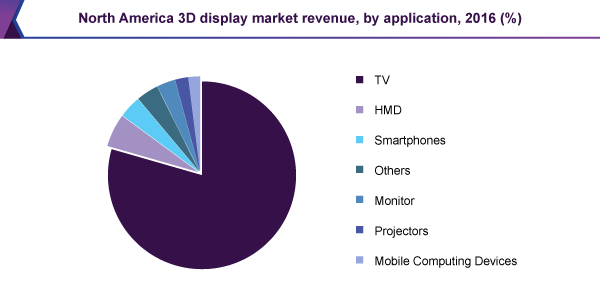 Changing consumer preference for high precision depth in television viewing and rising awareness regarding high definition technology has resulted in expansion of the industry. Increasing trend of cinema screens moving towards digitization has made a positive impact on the 3D display market and this will change the future movie and entertainment industry.
The gaming industry has been witnessing significant changes over the past few years in terms of technology, gaming experience and innovative graphics. The industry is moving towards enhancing the complete gaming experience with 3D display technology and improving player comfort. Its rising adoption in these electronic devices to improve customer experience has become a key feature of the market and contributed towards increasing the top line of companies. In addition, growing consumer interest in LED and LCD technology has contributed towards expansion of the market.
Emerging economies including India and China are expected to witness tremendous growth over the forecast period owing to the expanding middle class and improving standard of living. Projectors and monitors are key applications which are expected to grow significantly in the near future on account of changing consumer preferences and increasing demand for high definition graphics.
Application Insights
TV was the largest segment accounting for USD 25.65 billion in 2014. Nowadays, consumers prefer watching movies at home or in front of a computer instead of a theatre. This change in consumer preferences has resulted in TV manufacturers providing 3D display as a value addition to their products. CEMs are trying to position TVs in high-end devices with premium features.These TVs render a better impact of visualization while viewing live events such as football match and wildlife documentary.
Smartphones market is expected to grow at a CAGR exceeding 32% from 2015 to 2022. Mobile companies are introducing 3D display in smart phones to enhance user experience. Rapid technological development of smart phones and increasing standardization of lifestyle are propelling the industry.
Product Insights
Global volumetric display market was valued at USD 7.95 billion in 2014 and is likely to witness above average growth over the forecast period. Several players are developing volumetric displays, which generate 3D images. 3DIcon, which is a 3D projection display developer, received a grant of USD 300,000 towards the development of a product platform comprising of CSpace volumetric display technology. The company received the contract due to its win in a research competition held by Oklahoma Applied Research Support (OARS) in July 2013.
Technology Insights
At present, DLP RPTV projectors are capable of generating 3D content. Projectors based on DLP technology are also useful in the movie theatres. These projectors are eligible to deliver precise, realistic images in different colors due to numerous microscopic mirrors on DLP chip.
Companies such as Texas Instruments, Vivitek and XP have launched display projectors based on DLP technology. These projectors are developed with a different range of efficiencies. Certain DLP projectors are capable of functioning as movie projectors in theatres. However, some of them are developed for use in classroom coaching. Europe DLP RPTV industry is estimated to grow at a CAGR of 13.1% from 2015 to 2022 owing to the increasing adoption of the technology across classrooms and theatres.
Access Method Insights
Screen based displays are being used on wider scale in the market in TVs, theatres, tablets, computers and smartphones. The numerous infotainment applications drive the usage of these screens.
Rapid growth in terms of market adoption of 3D screen displays is expected over the forecast period. Use of these screens would witness a rise due to several factors such as enhancing content, improving networks across globe, availability of capable devices for content delivery, enhanced taste & preferences of consumers. Global micro display industry is estimated to reach a value of USD 29.50 billion by 2022.
Regional Insights
Asia Pacific 3D display market dominated the global industry accounting for 34.9% of revenue share. Growing consumer need for an enhanced imaging and viewing technology is expected to augment growth over the forecast period.
Growth of the gaming industry especially in Japan, China and India is expected to play a major role in propelling expansion of the industry over the forecast years. North America is expected to lose a large chunk of its share to Asia Pacific owing to strong demand and increasing manufacturing activities related to electronics industry in the region.
Competitive Insights
Manufacturers including LG, Sony and Samsung have heavily invested in research and development of 3D display technology to increase value of their products by enhancing the look or appearance according to the requirements of the consumer.
Companies including Samsung and Panasonic have launched smart televisions and 3D televisions which are using high definition technology. New product development is expected to be a key feature of the market and it will augment growth over the forecast period.In November 2015, Apple launched the smart watch with 3D display