Market size and trends
The global fertilizer additives market size was valued at USD 2.98 billion in 2015 and is projected to grow at a CAGR of 3.2% from 2016 to 2024. Fertilizer additives are defined as materials that are added to fertilizers in order to prevent the loss of essential nutrients such as nitrogen, phosphorus, calcium and potassium.
Additives perform several important functions and also act as corrosion inhibitors, hydrophobic agents, anti-dusting agents during storage and transportation. Increasing prices and growing emphasis on efficient and responsible nutrient management are expected to make additives a lucrative market.
Global fertilizer consumption market, by region, 2015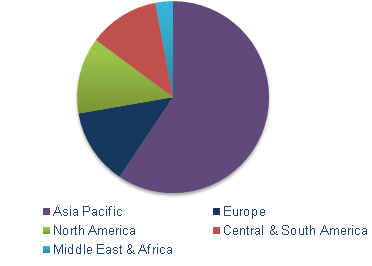 The market is expected to be driven by growing demand for fertilizers all over the world. Besides, other factors such as shrinking arable land and growing population have resulted in growing demand for fertilizers, which in turn, has provided momentum to the additives market. Solid forms are more prone to caking and dust formation, which has increased the importance of additives.
End Product Analysis
The end product segment was dominated by urea in 2015. This segment accounted for over 50% in the same year, the highest among all end products. Urea is readily available and can be easily synthesized, making it the most commonly used nitrogenous fertilizer. The urea market is expected to witness growing demand from emerging countries such as India and Brazil. These factors are projected to decisive driving factors to this segment, over the forecast period.
Ammonium nitrate held the second largest share in the end product segment in 2015. It is projected to grow at the highest CAGR of 4.7% from 2016 to 2024. Ammonium nitrate is cost effective, as compared to other end products, which has increased its popularity among farmers.
Global fertilizer additives demand in urea, 2015 & 2024 (USD Million)
Function Analysis
Anti-caking was the most important function of additives in 2015. It is also projected to grow at the highest CAGR of 3.9% over the forecast period. During storage, lumps can be formed in fertilizers, which can result in degradation of its quality. Thus, anti-caking is considered to be the most important function of additives. Apart from this, additives act as corrosion inhibitors, hydrophobic agents, and anti-foaming agents.
Another important function of additives is anti-dusting. During storage, dust tends to accumulate on fertilizer bags, which results in degradation of its quality. However, using additives such as Flotigam and Fertala, offered by Clariant, this problem can be solved. This function accounted for the second highest share of 24.4% in 2015.
Regional Insights
Asia Pacific accounted for the largest share of over 50% in 2015, led by China. Growing agriculture sector in countries such as India and China have driven the market in this region. Around 70% of India's population relies heavily on agriculture and related activities for their incomes.
Growing population has resulted in shrinking of available arable land for agriculture, increasing pressure of farmers and agricultural associations. These factors have supported the steady demand of additives. Urea is the most widely used prodcut in this region as it is cheaper and easily available. Also, since farmers here are cost conscious, other cheap fertilizers such as ammonium nitrate are also popularly used.
India fertilizer additives market revenue, by function, 2013 - 2024 (USD Million)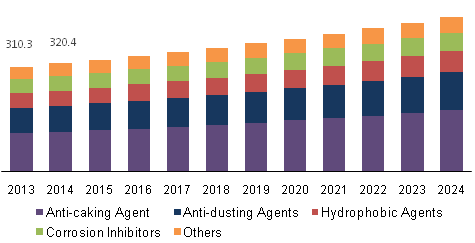 North America held the second largest share in 2015. As of 2015, this region was the second largest consumer in the world. This region was dominated by the U.S., which has witnessed a resurgence of the agriculture sector. The agriculture industry is of particular importance to the growth of the smaller towns in this region. Practices such as nutrient management planning have resulted in growing demand for additives in this region.
Europe held a share of 11.8% market in 2015. Since this region is still reeling under the influence of the economic depression from 2007 to 2009, the agriculture and fertilizer industries are projected to grow at sluggish rates. Also, some of the regulations in this region such as prohibition of the use of ammonium nitrate fertilizers is expected to negatively impact the market for additives over the forecast period.
Competitor Insights
The market is consolidated with a few players scattered around the world. Majority of the companies are based in the U.S. and China. Manufacturers of additives such as Clariant, KAO Corporation, Novochem Group, and Solvay dominated and also the other players such as ChemSol LLC, Filtra Catalysts & Chemicals Ltd., Arrmaz, Chemipol, Forbon Technology, Michelman, Tolsa Group, and Amit Trading Ltd. played a prominent role in the market in 2015. Expansions and investments were the most commonly adopted development strategies by these players, between 2011 and 2015.
Kao Chemicals expanded its geographical each by opening a new facility in the emerging market of Brazil. This expansion ensured that the company consolidated its position as one of the leading additive players in the Latin American region.
Report Scope
| | | | |
| --- | --- | --- | --- |
| Attribute | Details | Customization Offer (15% free)* | Additional Cost |
| Base year | 2015 | NA | NA |
| Historic | 2013 - 2014 | Extended historic data (2012 to 2015) | Free |
| Forecast | 2016 - 2024 | Extended Forecast data (2024 – 2027) | Free |
| Report details | Size, company share, competitive Landscape, growth factors, trends | Contact us for specific information not available in this report | Quotation to be shared post feasibility |
| Market representation | Tons, USD Million | NA | NA |
| Geographic coverage | Global & Regional (by country) | Information on up to three additional countries | Free |
| Company profiles | All major industry players | Profiles of 10 additional companies | Free |
* 15% free customization - This is equivalent to work done by one research analyst for 5 working days.

Segments covered in the report
Grand View Research has segmented the fertilizer additives market by function, end product, and region.
Function Outlook (Revenue, USD Million, 2013 - 2024)
End Product Outlook (Revenue, USD Million, 2013 - 2024)
Regional Outlook (Revenue, USD Million, 2013 - 2024)