Industry Insights
The global gas sensors market size was estimated at USD 1.78 billion in 2013 and is expected to grow at a CAGR of 5.1% from 2014 to 2020. Technology innovation, primarily due to enhanced manufacturing processes and embedded electronics is expected to drive the gas sensors market. For example, in the automotive sector, hazardous emissions has led to the framing of legislations for emission control and created the need to monitor its concentration. CO and NOx sensing devices are deployed for this purpose, thus contributing to the global revenue growth.
Europe gas sensors market by product, 2012 – 2020 (USD Million)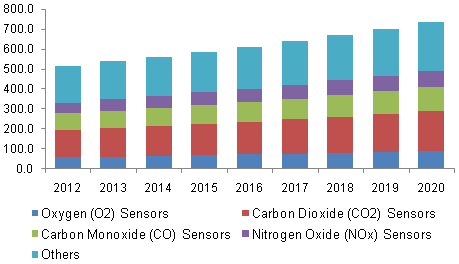 Oxygen sensing products are deployed in automobiles for cabin air quality maintenance. Various types of combustible and toxic substances used in industrial processes such as H2S (Hydrogen Sulfide), NO2 (Nitrogen Dioxide), etc. pose a high risk for workers in the vicinity. Therefore, it is important to continuously monitor the concentration of these substances in industrial environments to avoid any mishaps. Demand for these devices in order to ensure occupational health and safety is on the rise across numerous industry verticals such as process and manufacturing industries. Increasing adoption of wireless and smart sensing technologies is expected to fuel the gas sensors industry demand over the forecast period.
Product Insights
Oxygen sensors accounted for 10% of the overall revenue in 2013 and are expected to gain market share over the forecast period. Carbon dioxide sensing products have been witnessing growing demand from the bulk food storage sector as they are capable of detecting incipient spoilage and accessing CO2 levels in storage structures and controlled packages. High price for CO2 sensing products is expected to hinder segment growth over the next six years.
Carbon monoxide is formed as a result of incomplete combustion of carbon-based materials and is harmful to humans in high concentrations. CO sensors detect the concentration of the gas and aid in preventing poisoning in industrial environments.
Technology Insights
PID technology-based devices are particularly useful in detecting Volatile Organic Compounds (VOCs), ammonia, hydrogen sulfide, etc. As a result, they are ideal for applications such as monitoring and control of decontamination and leak detection in closed rooms and confined spaces.
Catalytic sensors are relatively easy to install and calibrate, flexible in nature, and can be used for monitoring emissions across different applications. Products based on this technology can operate over a wide temperature range. Solid state products are robust in nature; as a result, they can be used in corrosive environments. They can also operate at high temperatures and are sensitive to changes in concentration levels, which help monitor toxic explosions and emissions. Thermal conductivity based products use filaments in order to sense any changes occurring in the thermal conductivity of the target substance.
End-Use Insights
End-use industries include medical, building automation and domestic appliances, environmental, petrochemical, automotive, and industrial. Environmental applications accounted for 12% of the overall revenue in 2013.
The industrial segment is expected to continue dominating the global industry in the coming years, and monitor manufacturing processes in addition to preventing leakages. Gas sensing is required in the residential and commercial space for monitoring hazardous emissions and avoiding oxygen deficiency.
Regional Insights
Asia Pacific gas sensors market was the leading regional segment in 2013 and accounted for over 25% pf global revenue, primarily due to technology advancement in the region. Growing demand for integrated products used in handheld devices has also spurred growth activities. Additionally, favorable government legislations such as the Industrial Safety, Wealth, and Welfare Act are expected to fuel regional demand.
Emission control standards and energy conservation initiatives are estimated to favor regional demand for the automotive sector in Europe. Growing demand from end-use industries and increasing uses of these devices are also expected to be the major drivers for the industry.
Competitive Insights
Key companies with significant gas sensors market share include Alphasense, City Technology Ltd., Membrapor AG, Figaro Engineering, and Dynament Ltd. Product innovation is the major strategy adopted by key manufacturers.
City Technology focuses largely on development and innovation capabilities. The company also follows strategies such as investment in R&D; it invested heavily in state-of-the-art automation and process equipment to ensure that their products are manufactured and validated to bespoke specifications. It also opened a facility to test and manufacture its products together with the development of integrated pellistor, electrochemical, and optical technologies.