IVA Industry Insights
The Intelligent Virtual Assistant (IVA) market size was USD 750.0 million in 2015. The IVA market is expected to witness a substantial growth over the forecast period, owing to the rising adoption across several applications including BFSI, healthcare and automotive. Development in technologies including speech and voice recognition technology such as Apple's Siri and Amazons' Alexa has been the driving factor behind the growth of IVA industry. Organizations across all verticals have been benefiting from virtual assistant technology. Large enterprises have widely adopted the technology and are becoming the primary point of engagement with an enterprise.
India IVA Market Revenue by Application, 2014 - 2024 (USD Million)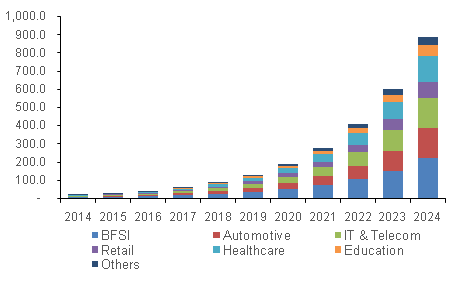 Moreover, emerging trend of outsourced assistance is anticipated to boost the market demand over the future. An IVA lowers the operating cost by streamlining the business activities and saves the cost of advertising, interviewing and training new employees for the tasks. Furthermore, it can work as a virtual call center that can handle or follow up calls as needed. Marketing campaigns including email, blog and social media promotion can be handled by the virtual assistant. Thus, it has become a trend for entrepreneurs to outsource such assistance and focus on their key competence.
Moreover, demand for online health services and interactions have been increasing. Customers are unaware of the availability of their health records and majority of end users need self-service options with their medical practitioner. IVAs such as CIVA by CodeBaby provide end-to-end solutions and ensure seamless customer engagement.
Type Insights
Speech recognition was valued at a revenue share of over 60% in 2015, which is anticipated to follow the growing trend over the forecast period. The popularity of speech recognition has steadily increased owing to adoption of mobile computing technology. The speech recognition makes interaction with smartphone and its application easier. It offers benefits such as hands free computing, transcription, and translation features, which is expected to contribute in the segment growth.
Service Insights
Customer service dominated the industry with a revenue share of over 58% in 2015, which is expected to witness significant growth over the period of next eight years. Several factors are contributing towards its growth, which includes a conversational agent as a vast majority of users prefers to look for queries online before contacting a call center. Moreover, the calls are expensive and immensely cost companies, which can be minimized by virtual assistants. Executive assistant is expected to witness considerable growth owing to the rising focus on reduction in cost to the company.
Application Insights
BFSI segment is anticipated to grow at a CAGR of nearly 35% over the forecast period. Growing number of smartphones and tablets ownership has encouraged the banks to respond to the customer demands and offer more communication channels. The high demand for such self-service such as immediate control of their money, coupled with a high level of customer service across BFSI segment offer many opportunities for market growth.
Automotive is emerging as a fastest growing segment in the industry, which is expected to witness continuous growth over the forecast period. Automotive manufacturers are integrating emerging technologies such as adaptive cruise control, automatic parking and lane assistance with virtual assistant provides personalized content to the driver, and delivers a smart connected and safer driving experience.
End-Use Insights
The small and medium enterprises (SMEs) is anticipated to be the significantly growing end-use segment and will continue to grow with a CAGR of over 37% from 2016 to 2024. Several advantages such as reduced operating cost and improved business quality are contributing in the increasing penetration across the segment. Furthermore, IVA performs the non-core task and allows the management to focus on the core competencies of their businesses.
Regional Insights
North America dominated the IVA industry in 2015 with the revenue share of over 38% and the trend is expected to continue over the future owing to the increased penetration of smartphones and emerging concept of working remotely. Technological advancements have resulted in increased usage of cloud-based tools such as Skype and MS Office Online. It represents that an increasing number of population is working remotely that offers huge opportunities for the industry.
Asia Pacific is expected to emerge as significantly growing region owing to the rising demand from developing countries including India and China. Growing demand for self-reliance has boosted virtual agent acceptance and adoption. In recognition of these changing dynamics, service providers have developed multi-language platforms to serve the need of varied users.
Competitive Market Share Insights
Key industry participants include Anboto Group, [24]7 Customer Inc., Apple Inc., Clara Labs, Artificial Solutions, CodeBaby Corp., CX Company, Creative Virtual Ltd., eGain Communications, Existor, Eidoserve Inc., Google, Intel Corporation, IBM Corporation, InteliWISE S.A., Next IT Corporation, Nuance Communications, Microsoft Corporation, Oracle Corporation, Synthetix Ltd. Speaktoit Inc. and ViClone Corporation. Several companies in the market are investing in developing the advanced IVA for different industry segments such as automotive platform in order to tap the full potential of the industry.