Industry Insights
The global micro irrigation systems market was estimated at USD 2.48 billion in 2014 and is expected to witness rapid growth owing to factors such as growing population and increasing food demand. These systems are low to medium pressure systems that provide water for numerous applications as spray, sprinkle, drip and mist.
Micro irrigation systems provide water to the plant roots through a complex pipe network and low discharge emitters. The water discharge pattern in these systems can be modified as per specific plant water requirements as several horticulture, and agronomic plants have different requirements. The system components include pipes, low discharge water-emitting devices, tubes, flow control equipment, fitting, and accessories.
North America micro irrigation systems market revenue by product, 2012-2022, (USD)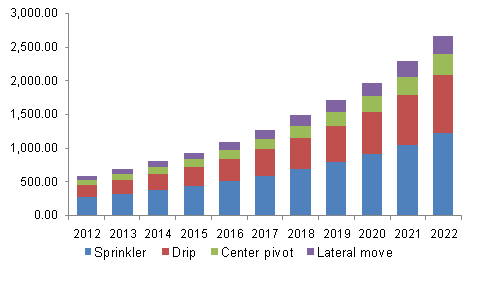 Growing population coupled with increasing food demand is presumed to aid the industry over the forecast period. Increasing industrialization and urbanization have reduced working population in farms. Such a trend has resulted in the wide acceptance of micro irrigation systems as these reduce labor and increase efficiency.
Reducing arable land over the recent past owing to factors such as industrialization, soil erosion, urbanization and deforestation have resulted in a shift in trend towards micro irrigation systems. Depleting water levels and water scarcity that is prevalent in many parts of the world are key drivers for this micro irrigation systems market over the forecast period.
Micro irrigation systems result in increased crop yield and better quality product owing to high efficiency. Minimal soil erosion, low weed growth and easy fertigation & chemigation implementation are other added advantages. Such benefits are expected to play a significant role in shaping the micro irrigation systems market over the forecast period.
Favorable regulatory framework and government policies that encourage such systems to reduce drought related problems are presumed to be major growth drivers over the forecast period. Governments, particularly in the developing regions such as Asia Pacific and Latin America, have taken numerous initiatives to promote such technology that offer better crop yield at a reduced cost.
However, high initial investment is anticipated to hinder the industry growth, particularly in the developing regions as these are price sensitive markets with ample labor availability. High maintenance requirement is another key factor that is projected to hamper the global market in the near future.
This industry lacks proper monitoring agency and regulations that overlook product manufacturing operations resulting in product duplication. Such paucity in regulatory framework is expected to curtail industry growth in the near future.
Brisk demand, especially in the emerging regions such as Asia Pacific, Middle East & Africa and Latin America, is projected to offer ample growth opportunities to the industry participants. Government policies favoring such technologies are presumed to open up ample opportunities for market growth & development.
Product Insights
Major product types include sprinklers, drip, lateral move and central pivot. Sprinklers dominated the global market over the recent past are projected to continue this dominance over the forecast period at a CAGR of 17.1% from 2015 to 2022. However, drip irrigation systems are expected to witness the highest growth rates over the next seven years followed by sprinklers.
Different sprinkler components include tubings, pumping unit, fittings/sprinkler heads, and couplers. Among these, tubing is expected to witness the fastest growth rate. Central pivot components include water emitter, pipelines, central towers and system control panels. Similarly, drip irrigation components include tubings, backflow preventors, valves, filters and pressure regulators.
Crop Insights
Micro irrigation systems can be segmented by different crop types such as plantation crops, orchard crops, field crops, and forage & turf grasses. Among these several crop types, orchard crops dominated the global market followed by plantation crops and field crops.
Field crops are expected to witness the highest growth rate followed by orchard crops and forage & grasses. Growing food demand owing to rising population especially in the developing regions such as Asia Pacific, Central & South America, and the Middle East & Africa is presumed to complement the regional as well as global market.
Regional Insights
North America accounted for the largest share of the global market followed by Asia Pacific and Europe. Developing regions such as Asia Pacific, Middle East & Africa and Central & South America are projected to experience severe water scarcity in the near future owing to growing water demand for domestic, commercial and industrial purposes. These regions are presumed to witness brisk demand for such technologies and are projected to be major demand centers.
High prevalence in the developed regions and ample strong demand growth in the emerging regions offer ample opportunities for the industry participants. Favorable government policies in economies such as China and India are expected to play an important part in shaping the regional markets.
Competitive Insights
The industry is highly fragmented with various small, medium and large industry participants. However, a few large industry participants such as The Toro Company, Rain Bird Corporation, and Jain Irrigation Systems collectively account for more than half the market share. Companies are investing in R&D initiatives and forging partnerships with an aim to gain a stronger foothold in the market by enhancing their product portfolio.
Prominent industry participants include Jain Irrigation Systems Ltd., Valmont Industries, Rain Bird Corporation, Rivulis Irrigation, Nelson Irrigation Corporation, Lindsay Corporation, EPC Industries Ltd., Netafim Ltd., The Toro Company and T-L Irrigation.