Molecular Diagnostics Market Size and Trends

The global molecular diagnostics market size was valued at USD 6.45 billion in 2015. It is expected to witness attractive growth with a CAGR of around 12.0% till 2024. Molecular diagnostics are highly effective in diagnosing infectious diseases and performing preventive cancer screening thus helping healthcare professionals to prescribe accurate therapeutic interventions in the early stages of diseases. Increasing prevalence of hospital acquired infections and other communicable infections are anticipated to drive the sector expansion over the forecast period.
Molecular diagnostics help in the early diagnosis of infectious diseases, cancer, and other genetic disorders. Technological advancements play a pivotal role in delivering rapid and accurate test results. This is estimated to enable greater penetration of molecular diagnostics in point of care (PoC) facilities as well as in hospitals.
The U.S. molecular diagnostics market, by technology, 2013 - 2024 (USD Million)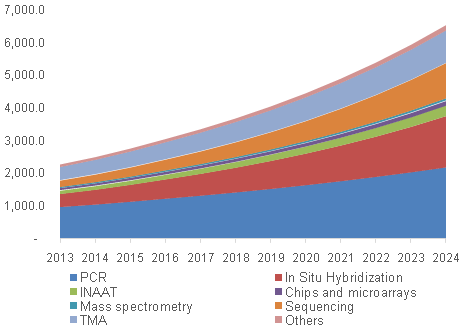 As genetic variations form the basis of various target diseases, the steadily growing adoption of molecular diagnostics is anticipated to enhance the acceptance level of personalized molecular medicine over the forecast period.
Product Insights
The reagents segment held the largest share in 2015, generating revenue of around USD 3.6 billion. Share of reagents is forecasted to grow at a CAGR of over 12.0%, thus rendering it the fastest growing segment.
On the other hand, instruments segment is expected to grow at a significant growth rate owing to the increasing R&D initiatives for biomarker discovery and development.
Test Location Insights
The test location segment includes PoC, self-test or over-the-counter, and central laboratories. Central laboratories dominated this segment with a market share of over 60.0% in 2015. The key factors contributing to the large share of this segment are high procedure volumes, their larger presence in the underdeveloped countries, and the rising awareness about early disease detection.
The PoC segment is poised to show lucrative growth with a CAGR of around 14.0%. Introduction of technologically innovative devices and the rising demand for bedside patient monitoring are the key drivers accentuating the growth of this segment. For instance, the cobas product series by Roche is a PCR-based PoC system further estimated to provide this segment with an exponential growth platform.
Application Insights
Molecular diagnostics finds wide applications in various fields including infectious diseases, oncology, pharmacogenomics, genetic testing, diabetes, and neurological & cardiovascular diseases. Amongst all, infectious diseases held the largest market share of over 45.0% in 2015, attributed to the presence of novel multiplex PCR assays to detect infectious organisms and viral load.
Cancer poses a large economic burden in the developed as well as developing economies. Established players are undertaking R&D endeavors to develop novel, biomarker-based companion diagnostic tests. F. Hoffmann-La Roche Ltd, Abbott, and bioMérieux SA received the U.S. FDA approval for their companion diagnostics for cancer therapeutics in 2014.
In 2015, PCR was the largest segment in terms of revenue generation
Polymerase Chain Reaction (PCR) contributed to the largest market revenue of over USD 2.5 billion in 2015, which is attributable to its high incorporation among researchers and healthcare professionals in the diagnostics space to determine variations that underlie diseases at the genetic level. Moreover, the growing availability of diseases-specific, real time PCR kits are further estimated to boost the growth.
The DNA sequencing segment is expected to witness lucrative growth with a CAGR of around 16.0% over the forecast period. Key factors contributing to the growth of this vertical include technologically advanced products, which offer benefits, such as high accuracy, speed, and high throughput screening.
Growing awareness of presymptomatic blood screening for infectious and genetic diseases is further accentuating the emergence of this sector. In addition, other applications include the detection of food borne pathogens in food safety.
Regional Insights
North America held a significant share of around 45.0% in 2015 and has become one of the most influential markets in the molecular diagnostics vertical. Presence of well-established laboratory accreditation system, favorable awareness programs educating patients about early diagnosis, and the rising healthcare expenditure are the major factors reinforcing the dominance of this region.
Government regulatory initiatives play a significant role in promoting PoC facilities, which is expected to impact the sector as a strong driver. For instance, in the U.S., the introduction of Clinical Laboratory Improvement Amendments certification has led to an increased usage rate of PoC devices over the forecast period.
Over the past few years, developing nations including India and China have exhibited continual development, which is expected to offer flourishing opportunities to the molecular diagnostics industry. Growing external funding for clinical studies in this region is anticipated to drive the vertical toward lucrative growth.
Unmet needs and the rising geriatric population are estimated to be key focus areas of the major players in this vertical. For instance, companies like Insight Genetics and Kindstar Globalgene Technology, Inc. are concentrating on cancer care enhancement in the People's Republic of China.
Molecular Diagnostics Market Share
Some of the major companies include F. Hoffmann-La Roche Ltd, Cepheid, Abbott Molecular, Bio-Rad Laboratories, Inc., Johnson & Johnson Services, Inc., Dako, Alere, Inc., Novartis AG, Siemens Healthcare, Bayer AG, Hologic, Inc. (Gen Probe), Becton, Dickinson and Company, Sysmex Corporation, bioMérieux SA, Danaher Corporation, and Qiagen.
High competition in market owing to extensive R&D undertaken by major players for development of rapid diagnostics
Due to greater opportunities in both developed and developing countries, companies are undertaking strategic initiatives such as mergers and acquisitions, new product development, and venture capital investments to gain market presence.
Market Research Scope
| Attribute | Details |
| --- | --- |
| Forecast Period‎: | 2016-2024 |
| Base Year‎: | 2015 |
| Historical Data: | 2013 - 2015 |
| Revenue: | USD Million |