Industry Insights
The global Wearable Medical Device Market size was valued at USD 3.9 billion in 2014 and is expected to grow at the rate of 28.0% over the forecast period. The growth of industries such as remote patient monitoring devices and home healthcare is expected to influence demand for wearable medical devices. Furthermore, increasing focus on fitness and a healthy lifestyle orientation are also expected to impact the Wearable Medical Device Market.
Over the forecast period, companies such as Google, Nike, Apple, and Fitbit Inc. are involved in the launch of innovative products that are predicted to boost growth. Smart watches and wristbands are the current focal points of product development along with the innovation leading to the abundant availability of such devices over the next seven years.
North America wearable devices market share, by site, 2012-2022 (USD Million)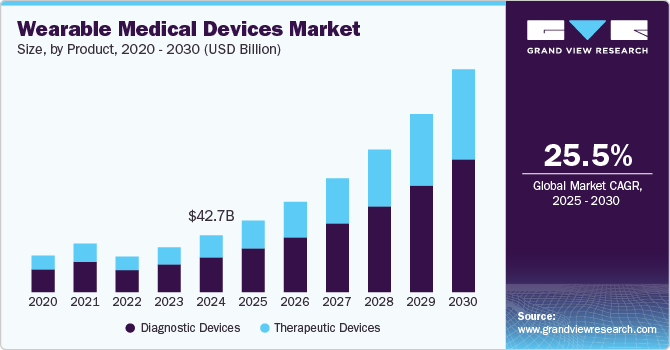 Sturdy demand for wireless monitoring devices and increasing incidences of lifestyle-related diseases requiring routine vital statistics analysis are vital impact rendering drivers of the market.
In order to provide a holistic view, the report presents an exhaustive study of the products currently available along with the future prospects by innovators such as Pebble Technology Corporation, Zephyr Technologies, LifeWatch, and others.
Product Insights
On the basis of product, the Wearable Medical Device Market is segmented into diagnostic and therapeutic devices. Diagnostic devices are further sub-segmented into vital sign monitoring devices, sleep monitoring devices, electrocardiographs, fetal and obstetric devices, and neuromonitoring devices.
As of 2014, diagnostic devices dominated with over 60.0% share over the forecast period. This is mainly attributed to increasing disposable income and awareness, higher healthcare spending, and supportive government programs promoting the regular screening of individuals.
Therapeutic devices are segmented into pain management device, insulin/glucose monitoring devices, rehabilitation devices, and respiratory therapy devices. Insulin/glucose monitoring devices held a substantial share in 2014 and are expected to witness lucrative growth over the next seven years as well.
According to the guidelines published by the WHO and American Diabetes Association, diabetic patients need to maintain vital parameters such as body weight, glucose level, physical activity and food intake on a daily basis, thereby promoting demand and growth of the segment.
Site Insights
Based on the site of application, the wearable devices market is segmented into the handheld, shoe sensors, headband, strap/clip/bracelet, and others. Strap/clip/bracelet or wrist-worn devices are expected to hold over 40.0% of the share.
Products such as smart watches that allow monitoring of multiple parameters such as pulse rate, respiratory rate, and physical activity coupled with Bluetooth and/or cloud connectivity are considered to propel the growth of the wrist-worn segment over the next seven years.
HealthPatch, a product of Vital Connect launched in March 2014, is an adhesive 115 X 40 mm patch that maybe placed on the chest and is used to regulate biometrics such as skin temperature, heart rate, body posture, and activities such as a number of steps taken per day.
Application Insights
Wearable Medical Device Market on the basis of the application is segmented into remote patient monitoring, sports and fitness, and home healthcare. Home healthcare is predicted to dominate the industry over the next seven years owing to increasing technological advancement in the medical device to infuse higher accuracy and easier usage by individuals without professional assistance.
The rising geriatric population bases in countries such as the U.S., Japan, and Germany, which require round-the-clock, home-based monitoring are expected to boost segment growth. According to the World Bank, 25.8% of the Japanese population was above the age of 65 as of 2014 and this percentage is expected to rise to 32.2% by 2030.
Regional Insights
Asia-Pacific region is expected to witness the fastest growth for wearable medical devices over the forecast period. Growing awareness level, increasing disposable income, and rising incidence rate of chronic conditions are few factors promoting growth.
However, the majority of the shares are still anticipated to be held by North America. Major reason for the dominance is the quick acceptance of consumer for technologically advanced products and their increasing demand for on-the-move diagnostic products. Furthermore, increasing awareness among the population regarding personal care is expected to propel the growth of wearable smart gadgets.
Competitive Market Share Insights
Key companies of the Wearable Medical Device Market include Fitbit Inc., Garmin, Vital Connect, Omron Corp., Sotera Wireless, Jawbone, Pebble Technology Corp., Basis Science Inc., Withings, Intelesens Ltd., Covidien Plc, LifeWatch AG, Polar Electro, Philips Electronics, and Everist Genomics.
Zephyr Technology Corporation, dealing with physical status monitoring products was acquired by Covidien Plc in May 2014. This acquisition is expected to provide wearable patient monitoring devices at a lower cost of production and simultaneously increase market penetration with the expanded product portfolio.
BioHarness is a popular product manufactured by Zephyr Technology Corporation. The device helps in monitoring of heart rate, R-R interval, respiration rate, and ECG, posture, and activity level of the individual wearing it.
Analyst Perspective
The scope of this study encompasses major diagnostic and therapeutic wearable devices along with their applicability and usage site. Estimates and forecasts are based on triangulation of information acquired or analyzed using multiple approaches or models. One such approach is individual market sizing, wherein the regional market was estimated followed by a bottom-up approach in order to conclude on the global market size.
A 360o view comprehensive of consumer demands, key player strategies, government support and allied industry influence has been represented in the study to allow complete understanding and implementation of sound decision making by concerned parties.
The current report can further be classified based on client requirement, thereby allowing better business plans to be formulated. For instance, regional makeup of the report may be changed in order to study product presence and penetration as required by the client.