Category Overview
"Increasing demand for pharmaceuticals and consumer goods is fueling the growth of the blister packaging market"
The global blister packaging market is expected to expand at a CAGR of 7.4% from 2020 to 2025 due to the growing demand for unit-dose packaging, short-cycle medication, and a monitored dosage system to improve patient adherence.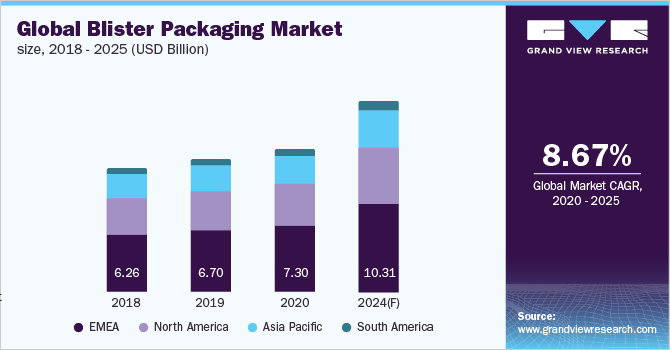 There is a shift from plastic containers to blisters in North America to enhance patient compliance for the growing old-age population. Europe, Middle East, and Africa (EMEA) is expected to register the highest CAGR of more than 8% and reach USD 10.31 billion by 2024 owing to the increasing concerns over physical protection, barrier protection, containment or agglomeration, security, convenience, and portion control.
Supplier Intelligence
"The blister packaging market is fragmented as a higher number of suppliers are present across different regions, which decreases the bargaining power of suppliers."
The blister packaging market features a highly fragmented competitive landscape as several small players are entering the market. Moreover, low manufacturing and operating costs have lowered the entry barriers for new players and increased the threat of new entrants.
The competitive rivalry is intensifying as global players are focusing on new product development, M&A deals, and strategic partnerships to strengthen their regional presence and cater to the demand from emerging economies.
Pricing and Cost Intelligence
"Forming film, lidding material, heat seal coating, and printing inks are the major components of blister packaging, constituting around 60% of the overall cost."
The prices of raw materials such as PVC have increased to more than 25% over the last three years owing to supply shortages and the shutdown of plants in the U.S. due to the cold weather. The lidding material is majorly made of aluminum. The price of aluminum witnessed a drop since 2019. However, it is expected to increase steadily in the next five years. Blister packaging is used to protect retail and pharmaceutical products, which incurs additional costs for distribution, freight, and shipping.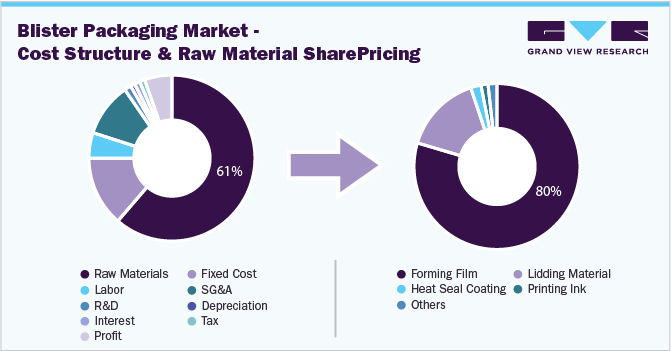 The blister packaging market procurement intelligence report provides a detailed analysis of the cost factors and parameters that add to the total cost of ownership along with a should-cost analysis.
Sourcing Intelligence
"U.S.A. has been a key exporter of raw materials for blister packaging."
Since 2015, the U.S. has been consistently listed under the list of top five plastic packaging exporters globally.
The exports reached the highest value in 2019. However, in 2020, imports had exceeded the exports for the first time in five years majorly due to the COVID-19 pandemic.
From a sourcing perspective, the majority of suppliers opt for a full-service outsourcing engagement model as it reduces the complexities associated with in-house manufacturing.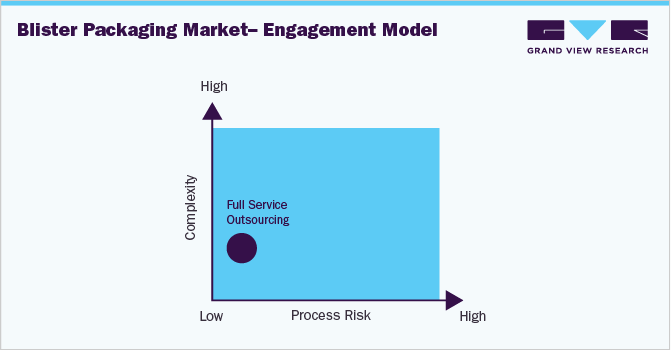 Suppliers widely prefer approved provider operating models to reduce risks and improve the potential for value creation. As such, suppliers are expected to move from offering generic services to proprietary services in the future. The report also provides details regarding quick wins, portfolio analysis, key negotiation strategies of key suppliers, and low-cost/best-cost sourcing analysis.
Frequently Asked Questions About This Report