Database Overview
Grand View Research's bicycle sector data book is a collection of market sizing information & forecasts (2017-2030), key players' competitive benchmarking analysis, government regulatory data, macro-environmental analysis, and technological framework studies. Within the purview of the database, all such information is systematically analyzed and provided in the form of presentations and detailed outlook reports on individual areas of research.
The following data points will be included in the final product offering in 3 reports and one sector report overview:
Bicycle Industry Data Book Scope
Attribute

Details

Research Areas

Bicycle Market
Bicycle Accessories Market
Cargo Bikes Market

Details of Product

3 Individual Reports - PDFs
3 Individual Reports - Excel
1 Sector Report - PPT
1 Data Book - Excel

Cumulative Country Coverage

40+ Countries

Highlights of Datasets

Product Revenue, by Regions & Countries
Technology Revenue, by Regions & Countries
End-user Revenue, by Regions & Countries
Sales Channel Revenue, by Regions & Countries
Competitive Landscape

Number of Tables (Excel) in the bundle

~150

Number of Figures

20
Bicycle Industry Data Book Coverage Snapshot
Markets Covered

Bicycle Industry

USD 76.01 billion in 2022

9.5% CAGR (2023-2030)

Bicycle Market Size

USD 64.63 billion in 2022

9.7% CAGR (2023-2030)

Bicycle Accessories Market Size

USD 11.43 billion in 2022

7.8% CAGR (2023-2030)

Cargo Bikes Market Size

USD 2.43 billion in 2022

16.1% CAGR (2023-2030)
Bicycle Sector Outlook
The global bicycle industry size was valued at USD 76.01 billion in 2022 and is expected to expand at a compound annual growth rate (CAGR) of 9.5% from 2023 to 2030. The increase in the number of people opting for bicycling as a form of leisure is anticipated to propel market growth. Preference for bicycles as a convenient form of exercise to ensure a healthy life, free from obesity and other disorders, is expected to further boost the market expansion. The popularity of dockless bicycle-sharing systems has been rising lately. This system allows users to locate a bicycle nearby and unlock it electronically. Incepted originally in Europe, dockless bicycle-sharing systems are gaining popularity, particularly in Asian nations such as India and China.
People have started realizing the importance of staying fit and having a healthy life. They have also started realizing that regular bicycling can keep disorders, such as obesity, at bay. The market is likely to grow as more and more people are resorting to bicycling as a regular form of exercise. Events such as Tour de France and Ronde van Vlaanderen further add to the popularity of these vehicles. Meanwhile, a rise in bicycling events being organized in various countries in Asia, Africa, and the Middle East is fueling the sales of mountain and road bicycles.
Bicycle Market Analysis And Forecast
The global bicycle market size was valued at USD 64.63 billion in 2022 and is expected to expand at a compound annual growth rate (CAGR) of 9.7% from 2023 to 2030. Recent advancements in mobile app development and Global Positioning System (GPS) have resulted in app-based dockless bicycle-sharing systems. Moreover, the growing adoption of such dockless bicycle-sharing systems is anticipated to fuel the demand for cycles significantly. Chinese bicycle-sharing companies are particularly investing and expanding their operations in European nations aggressively to capitalize on the market opportunities. This is expected to boost market growth in the forthcoming years.
The different types of bicycles are well covered within the scope of this study. Key product segments and the takeaways are mentioned here in the following figure: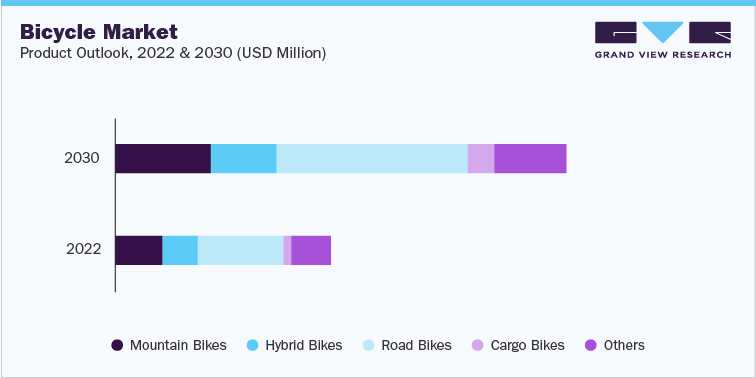 The growing traffic congestion and shortage of parking space, particularly in metropolitan cities, are prompting people to consider bicycle commutation for short distances to save time. At the same time, various governments are aggressively rolling out the infrastructure necessary to support bicycle commutation, thereby encouraging people to opt for bicycles. However, the looming lack of the infrastructure necessary to support and encourage bicycle commutation, particularly in developing economies, such as India, is anticipated to hinder the growth of the market. Similarly, lightweight bicycles made using composite materials make them expensive, which does not bode well for market expansion.
Bicycle Accessories Market Analysis And Forecast
The global bicycle accessories market size was valued at USD 11.43 billion in 2022 and will grow at a compound annual growth rate (CAGR) of 7.8% from 2023 to 2030. The market growth can be attributed to factors such as health and fitness trends and increasing environmental concerns. As more people take up cycling for transportation, exercise, or leisure, the demand for bicycle accessories has also increased. From helmets, lights, and locks to bags, mirrors, water bottle cages, and pedals, bike accessories are crucial in enhancing the safety, comfort, and functionality of bicycles and cyclists. With the emergence of e-bikes and the growing popularity of cycling among younger generations, the industry is expected to continue its growth in the coming years.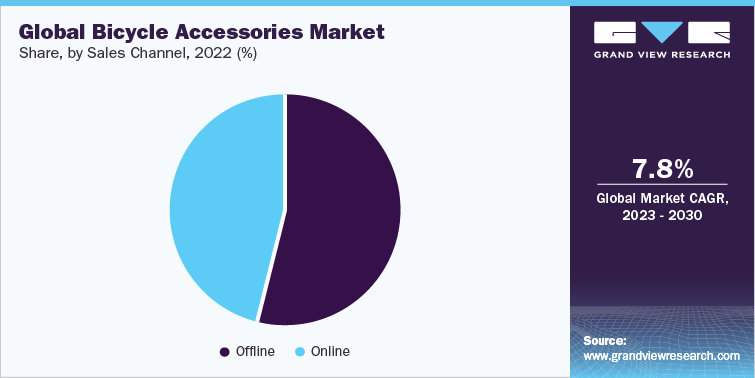 An increase in e-bikes or electric bike sales has also contributed to the growth of the market. As more people switch to e-bikes for their daily commutes or leisure rides, there is an increasing demand for accessories, such as mounts, integrated lighting, and horn systems, as they help increase the rider's safety. For example, bicycle lights help cyclists be seen by other road users, especially in low-light conditions or when riding at night. This can be especially important on roads with heavy traffic, where motorists may have difficulty spotting cyclists. In addition, cyclists can reduce the risk of an accident by making themselves more visible by installing appropriate lighting systems.
The high volume of traffic and resulting congestion, coupled with concerns for rider safety and the increasing popularity of cycling, have contributed to a surge in the adoption of bicycle accessories. Other factors driving industry growth include rising interest in cycling sports, growing demand for sports and mountain bikes, and increasing sales of electric bicycles (e-bikes) in emerging markets. As a result, accessories, such as speedometers, mudguards, handlebar grips, LED lights, gloves, helmets, mirrors, and other related products, have experienced a rise in demand, leading to projections of rapid expansion in the market.
Cargo Bikes Market Analysis And Forecast
The global cargo bicycles market size was valued at USD 2.43 billion in 2022 and is expected to expand at a compound annual growth rate (CAGR) of 16.1% from 2023 to 2030. Increased demand for fleets for freight delivery, coupled with the need for environmentally safe transport alternatives, has propelled the demand for cargo bikes in urban areas. Logistics and transportation are integral to implementing seamless freight deliveries and simplifying deliveries in urban infrastructure across the world. An increase in freight deliveries and the movement of goods has impacted the environment by aggravating pollution, noise, traffic congestion, and vibration. These circumstances have interrupted the inhabitants of cities globally. To mitigate the concerns mentioned above and ensure sustainable transport practices, high demand for cargo bikes has been witnessed worldwide.
These bikes are an eco-friendly alternative to traditional means of transportation used for last-mile deliveries and general logistic services. They can significantly replace freight delivery trips and impact the urban distribution system by offering low-cost, environment-friendly solutions to cater to the delivery demands of small-surface stores and the HORECA (hotel, restaurants, and catering) sector.
Cargo Bicycle Market, Regional Share (%), 2022
| | |
| --- | --- |
| Country/region | Market Share 2022 (%) |
| North America | 17.2% |
| Europe | 27.7% |
| Asia Pacific | -% |
| South America | - |
| MEA | - |
Europe dominated the overall market, gaining a market share of 27.7% in 2022. The region is estimated to be the leading revenue contributor to the global market's growth throughout the forecast period. The region is home to cities that are considered ideal for bicycle commuting. Rising traffic congestion, pollution, and increasing online and last-mile deliveries have prompted their adoption in commutations over short distances.
Increasing awareness and initiatives by governments and cargo bicycle manufacturers have influenced users across commercial and private sectors. The European governments have encouraged several initiatives to boost the adoption of sustainable transportation options. The City Changer Cargo Bicycle Project in Europe aims to promote its usage, offering an eco-friendly, healthy, space-saving, and cost-efficient mode of transportation for personal and commercial applications.
Competitive Insights
The market is highly competitive and is expected to witness increased competition due to the presence of several players. Major players are spending heavily on research and development activities to integrate advanced technologies in bicycle parts and components. Some of the key players include Accell Group, Atlas Cycles (Haryana) Ltd., Trek Bicycle Corporation, Garmin Ltd., and Yuba Bicycles LLC.
This section is the final deliverables and highlights various initiatives taken by the key companies in the recent past that strongly impacts this market space. The below figure represents the various strategic developments initiated by these market participants: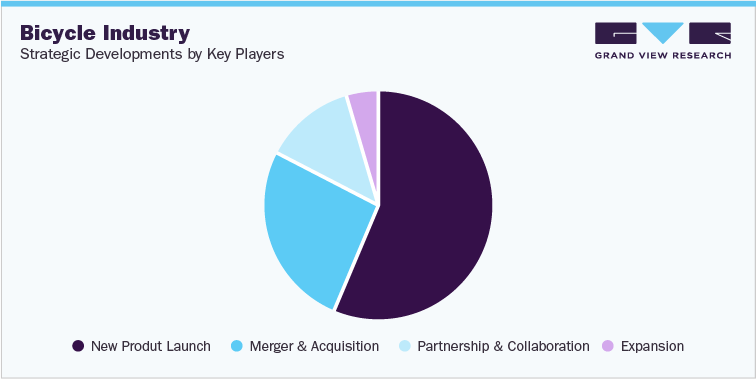 Key companies are investing aggressively; launching new products; introducing new services, such as home delivery of high-end bicycles, after-sales support, and maintenance; and pricing their products and services competitively as part of the efforts to retain their competitiveness. Moreover, a few key market players are expanding their market presence by opting for strategies such as mergers & acquisitions and partnerships and collaborations. For instance, in November 2021, PIERER Mobility AG acquired FELT Bicycles. With this acquisition, PIERER has planned to expand its operations in the North American market for bicycles. This acquisition was intended to serve a customer segment demanding customizing their bicycle according to their individual needs.
Key Drivers
Adoption of a healthy lifestyle coupled with favorable government initiatives.

Increasing participation in cycling sports and events which are organized across the globe.

Advent and rapid expansion of dockless bike-sharing systems.