Database Overview
Grand View Research's business software industry database is a collection of market sizing information & forecasts, competitive benchmarking analyses, macro-environmental analyses, and regulatory & technological framework studies. Within the purview of the database, all such information is systematically analyzed and provided in the form of presentations and detailed outlook reports on individual areas of research.
The following data points will be included in the final product offering in 3 reports and one sector report overview:
Business Software Industry Data Book Scope
Attribute

Details

Research Areas

Event Management Software Market
ERP Software Market
Quality Management Software Market

Details of Product

3 Individual Reports - PDFs
3 Individual Reports - Excel
1 Sector Report - PPT
1 Data Book - Excel

Cumulative Country Coverage

40+ Countries

Highlights of Datasets

Deployment Revenue, by Countries
Enterprise Size Revenue, by Countries
End-use Revenue, by Countries
Competitive Landscape

Number of Tables (Excel) in the bundle

~340
Business Software Industry Data Book Coverage Snapshot
Markets Covered

Business Software Industry

USD 71.11 billion in 2022

11.3% CAGR (2023-2030)

Event Management Software Market Size

USD 6.96 billion in 2022

14.1% CAGR (2023-2030)

ERP Software Market Size

USD 54.76 billion in 2022

11.0% CAGR (2023-2030)

Quality Management Software Market Size

USD 9.37 billion in 2022

10.6% CAGR (2023-2030)
Business Software Sector Outlook
The global market for business software was estimated at USD 71.11 billion in 2022 and is anticipated to increase at a CAGR of 11.3% from 2023 to 2030. Increasing enterprise data volumes and increased use of automation to improve business operations are expected to boost the demand for the business software market. For instance, in March 2022, International Business Machines Corporation partnered with Flexera, an IT management solutions provider, to launch AIOps solutions that help enterprises simplify IT asset management across multi-cloud and hybrid environments. The solutions help lower costs and automate complex tasks. The software continuously monitors and helps improve application performance and governance through dynamically rescheduling applications across hybrid and multi-cloud environments.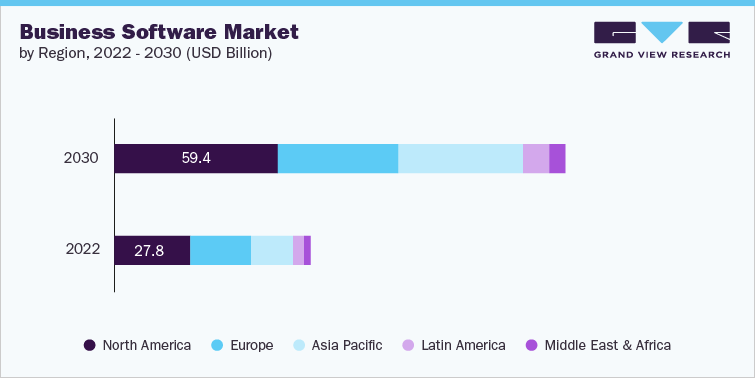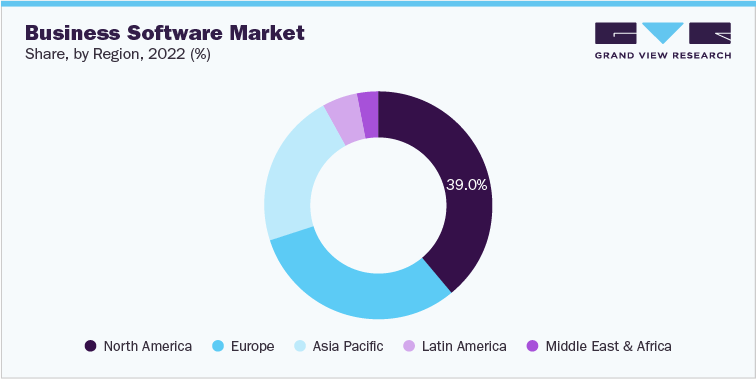 Key Regional Trend
North American region dominated space in 2022 and is expected to maintain its dominace over the forecast period.
Event Management Software Market Analysis and Forecast
The global event management software market size was valued at USD 6.96 billion in 2022 and is expected to grow at a compound annual growth rate (CAGR) of 14.1% from 2023 to 2030. The market growth can be attributed to the managed professional service providers' steadily increasing popularity for professional event management that simultaneously manages security concerns. Additionally, the demand for event management software has been boosted by expanding cultural events such as social gatherings, charity events, and fundraising activities, including those planned by SMEs for marketing purposes. For instance, in June 2022, Stova acquired Eventcore, an event registration service provider. Through this acquisition, Stova was positioned as the leading event platform for providing advanced and memorable experiences throughout the full event lifecycle. With the capacity to carry out complicated registration, including Eventcore in the Stova brand portfolio will strengthen the company's robust event management solution and reinforce the company's commitment to offering customers end-to-end solutions.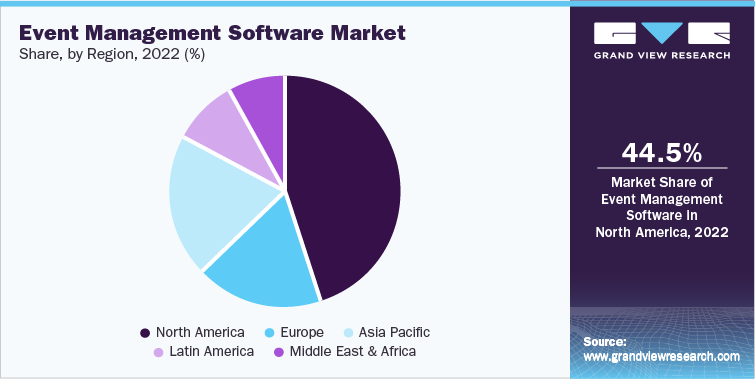 Advanced analytics, a broad framework of insightful technologies and methodologies designed to help find patterns and trends, find solutions, precisely predict the future, and drive innovation through data-driven and fact-based information, is being used by manufacturers in the management software industry. This trend is gaining traction in the current market and is fostering the growth of the event management software market. Furthermore, the usage of cloud-based event management software is growing. This solution allows experts to leverage their expertise by incorporating reliable connectivity features through apps. These factors are expected to boost the adoption of event management software.
The performance of mobile event apps is a recent development in event management technology. There are several applications for event mobile apps. They can be used to manage mostly static information, such as schedules, speaker biographies, and generic FAQs. Additionally, it facilitates the management of multi-channel marketing campaigns and collects and analyzes the attendees' decision-making processes. For instance, in November 2022, Cvent Inc. partnered with Zoom Video Communications, Inc. to power hybrid events. Soon, businesses that already use the Cvent platforms for in-person events can incorporate Zoom Events to provide a compelling end-to-end hybrid experience. The combination can be seen at Zoomtopia, an event driven by both Cvent technologies and Zoom Events. Through Cvent's App, which supports Zoom Meetings, Zoom Events & Zoom Webinars, businesses may use the same services Zoomtopia provides. This app will be made available shortly in the Zoom App marketplace.
ERP Software Market Analysis and Forecast
The global ERP software market size was valued at USD 54.76 billion in 2022 and is expected to expand at a CAGR of 11.0% from 2023 to 2030. Increasing demand to streamline business processes with a single integrated solution, reducing turnaround time, and enhancing customer satisfaction by seamlessly integrating with customer relationship management (CRM) software is expected to drive the demand for ERP software solutions. For instance, in September 2022, Ramco Systems, an ERP software provider, partnered with OpenWorks, a facility management software provider based in the U.S. Ramco ERP Software offers OpenWorks a single integrated platform that includes modules for enterprise asset management, facility management, finance, fixed assets, sales, and purchases. The company maximizes efficiency by automating payments, customer billing, asset tracking, franchisees, and franchise assignment processes.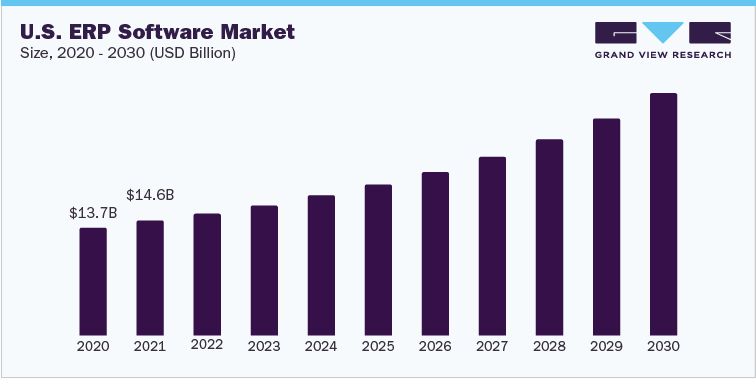 COVID-19 impacted the supply chain in businesses and various industries' spending on enterprise resource planning (ERP). Multiple industries successfully utilized cloud-based services to build a robust system that regulates the business. For instance, in May 2022, Epicor, an ERP software provider, released Epicor Industry ERP Cloud, which includes updates for Epicor Prophet 21 for distribution, Epicor Kinetic for manufacturing, and Epicor BisTrack for construction. With the new updates, the company would continue supporting the people-centric, open, and connected industry productivity solutions essential to businesses.
Cyber-attacks and other geopolitical factors are driving the shift to cloud services and modernizing ERP software. For instance, in May 2022, SAP and McKinsey collaborated by combining technology modernization and strategy execution to drive business results and solve critical business challenges. SAP and McKinsey would offer an end-to-end migration strategy for SAP S/4HANA with an initial focus on consumer products, retail, automotive, and manufacturing. This process determines the future's target operating model for an ERP landscape.
Quality Management Software Market Analysis and Forecast
The global quality management software market size was valued at USD 9.37 billion in 2022 and is expected to grow at a CAGR of 10.6% from 2023 to 2030. Increased regulatory compliance requirements, a higher focus on digital transformations, and higher customer expectations are driving the need for faster response times to change. In turn, these factors encourage organizations to adopt reliable quality management solutions. For instance, in June 2022, QIMA, a supply chain quality and compliance solutions provider, and CBX Software, a product lifecycle management platform provider, collaborated to develop an integrated supply chain inspection solution that streamlines quality inspections for brands and retailers. With this partnership, CBX Cloud extends seamlessly to QIMA's trusted inspections directly from CBX Cloud. Moreover, users can access instant inspection reports and analyses generated by QIMA through CBX Cloud. As the company's flagship software platform, CBX Cloud enables retailers to automate workflows and manage supply chains efficiently-from product development to sourcing, to order processing.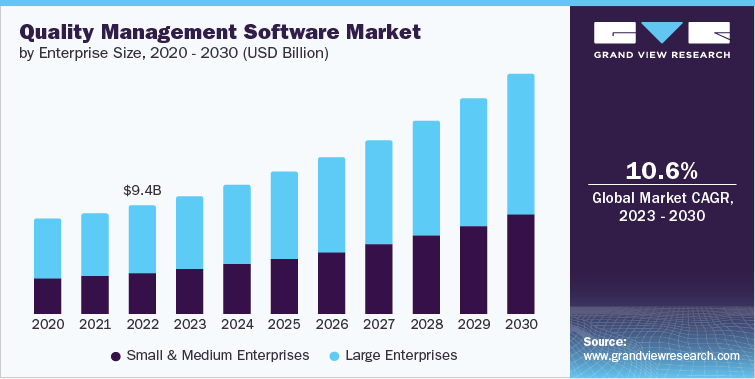 Scalability is one of the most important features of quality management software. It allows accommodating a wide range of operations and sizes and tailoring them to meet the unique needs of organizations. In November 2022, Bentley Systems Incorporated, an infrastructure engineering Software Company, announced new features of the iTwin Platform. The iTwin Platform, a scalable and open cloud service, analyzes, creates, and views digital twins of infrastructure assets. Bentley's infrastructure schema unifies and makes interoperability possible for SYNCHRO, AssetWise, and ProjectWise, which covers the complete infrastructure value chain and lifetime due to the new iTwin Platform capabilities.
Moreover, quality management software offers benefits such as better visibility into enterprise data, cost efficiency, reduced manufacturing costs, and flexibility. The market is anticipated to gain traction owing to the increasing penetration of the Internet of Things (IoT), Industrial Internet of Things (IIoT), and smart devices. Integrating the Six Sigma approach, QMS is predicted to create new avenues for industrial expansion.
Competitive Landscape
The market is competitive with the presence of major players such as SAP SE; Microsoft Corporation; Oracle Corporation; Rockwell Automation Inc.; Honeywell International Inc.; Aventri Inc.; Sage Group, plc; NetSuite, Inc.; International Business Machines Corporation; and General Electric Co. Companies are adopting various growth strategies, such as mergers & acquisitions, partnerships, and new product launches to maintain their position in the competitive market. For instance, in June 2022, Epicor, an ERP software provider, acquired Data Interchange, a UK-based Electronic Data Interchange (EDI) provider that manages services and cloud technologies. With the addition of Data Interchange to the company's B2B integration technologies portfolio, Epicor's reach in European markets is increased. This allows customers to connect with business and trading partners, improve productivity, and add value to the supply chain.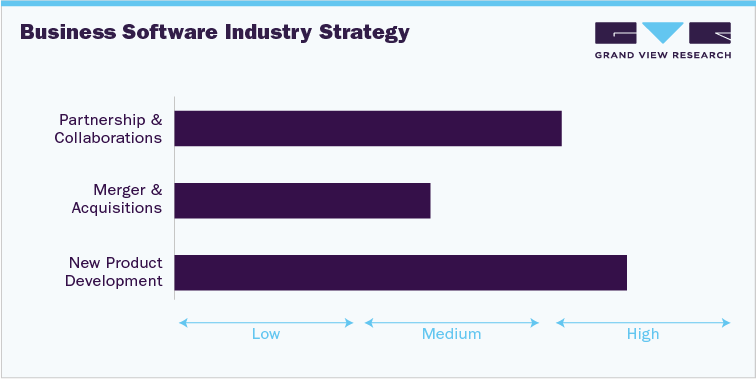 | | |
| --- | --- |
| Strategy | Spearheads |
| Partnerships & Collaborations | Google LIC; International Business Machines Corporation; Microsoft Corporation |
| Merger & Acquisitions | Adoble Inc; Workday, Inc. |
| New Product Development | Adobe Inc.; Alibaba Group Holding Limited Google LLC; International Business Machines Corporation |
Moreover, new product launches/developments and upgrading existing products are the other key strategic areas market players focus on to improve their market position. For instance, in April 2022, Aventri Inc. and Meeting Play announced the launch of ExpoPRO, the first new product launch after they merged. ExpoPRO provides a comprehensive solution for onsite, hybrid, and virtual formats to alleviate the most pressing problems faced by event organizers and exhibitors in the market for large-scale exhibitions. With centralized and automated communication and job management, ExpoPRO increases show organizers' productivity and improves exhibitors' experience. As a result, exhibitors and sponsors have a single site to manage duties and stay organized for their future exhibits, giving show planners more time to concentrate on realizing their event objectives.
Key Drivers
Need for efficiency and transparency in organizations

Development of cloud and mobile applications

Rising demand from small & medium enterprises

Rising demand for reducing the total cost of production in several end-use industries

Growing need for improving organizational effectiveness