Database Overview
Grand View Research's flat glass industry data book is a collection of market sizing information & forecasts, trade data, pricing intelligence, competitive benchmarking analyses, macro-environmental analyses, and regulatory & technological framework studies. Within the purview of the database, such information is systematically analyzed and provided in the form of outlook reports (1 detailed sectoral outlook report) and summary presentations on individual areas of research.
Flat Glass Industry Data Book Scope
Attribute

Details

Areas of Research

Coated Glass Market
Home Appliance Glass Market
Fire-resistance Glass Market
Automotive Glass Market
Glass Facade Market

Number of Reports/Presentations Covered in the buddle

1 Sector Outlook Report + 4 Summary Presentations for Individual Areas of Research + 1 Statistic ebook

Cumulative Coverage of Countries

40+ Countries

Cumulative Coverage of Application

10+ Products

Highlights of Datasets

Demand/Consumption, by Countries
Competitive Analysis
Flat Glass, By Product
Flat Glass, By Application
Coated Glass, By Application
Coated Glass, By Coatings
Plastic Consumption Per Capita
Home Appliance Glass, By Application
Fire-resistance Glass, By Application
Biodegradable Plastic, by type
Automotive Glass Market , By Product
Automotive Glass Market, By Application
Glass Facade Market, By Product
Glass Facade Market, By Application
Flat Glass Industry Data Book Coverage Snapshot
Markets Covered

Flat Glass Industry

USD 292.95 billion in 2022

4.1% CAGR (2022-2030)

Coated Glass Market Size

USD 32.32 billion in 2021

9.3% CAGR (2022-2030)

Home Appliance Glass Market Size

USD 7.3 billion in 2021

4.0% CAGR (2022-2030)

Fire-resistance Glass Market Size

USD 4.32 billion in 2021

6.2% CAGR (2017-2027)

Automotive Glass Market Size

USD 30.24 billion in 2021

4.5% CAGR (2014-2027)

Glass Facade Market Size

USD 70.08 billion in 2021

3.9% CAGR (2014-2027)
Flat Glass Industry Outlook
Flat glass is a type of glass, which is initially produced in plane for being used in applications such as façade, partition walls, sunroofs, solar thermal panels, and windows. The flat glass includes basic float glass, tempered, laminated, insulated, and other types such as decorative, wired, and mirrors.
The global flat glass market is anticipated to grow by CAGR of 4.1% over the forecast period. Increasing need for energy-efficient buildings is expected to transform the energy-saving glass market, which is further expected to have a positive impact on the global market. Also increasing penetration of solar energy is driving the market growth.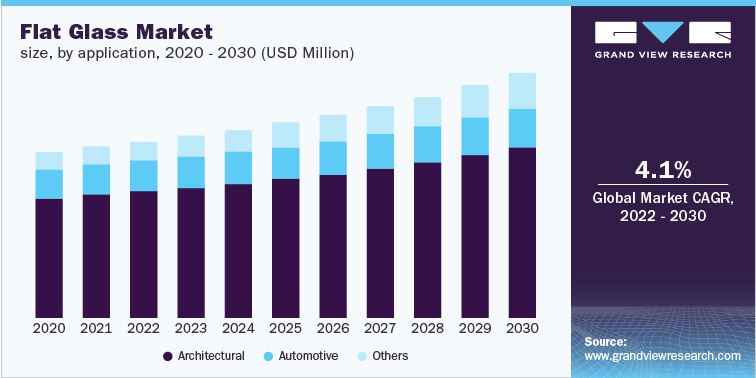 The architectural segment held the largest revenue share of this market in 2022. Applications pertaining to the building & construction industry are major contributors triggering the growth of this segment. Increasing investment in the building & construction industry is expected to propel the demand for flat glass over the forecast period.
For instance, NEOM megacity project of Saudi Arabia is a part of its Vision 2030 plan to move away from an oil-based economy. The government revealed plans to spend USD 200 billion in January 2021, to construct "The Line," a smart city inside the NEOM premises. This development is believed to be one of the biggest drivers of flat glass in the Middle East and is expected to house almost a million people.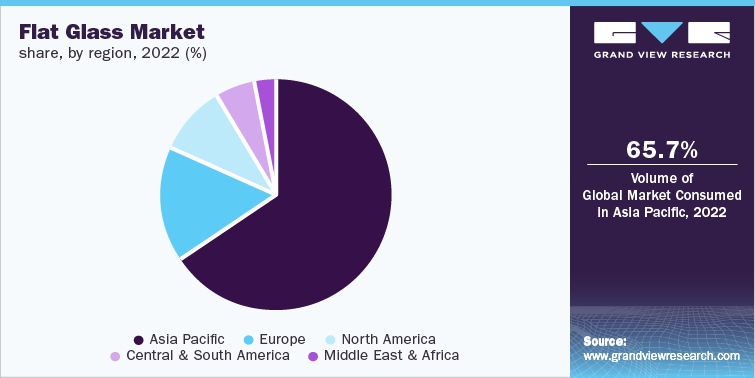 Due to growing population and housing needs, Asia Pacific was the largest application segment and accounted for a revenue share of more than 64.0% in 2022. Countries such as India and China, are witnessing an increasing number of residential construction projects, which is likely to create significant demand for flat glass market over the forecast period.
Coated Glass Market Analysis And Forecast
The soft coating segment had the largest revenue share of about 68.0% in 2021 and is anticipated to grow at the fastest rate during the forecast period. The growth is attributed to its characteristics such as ultra-low emissivity, which helps to reflect considerably more heat than hard-coated products. In addition, compared to hard-coated items, soft-coated products exhibit superior optical clarity and more visible light transmission.
Based on application, over 92.0% of the volume share was held by the architectural application segment in 2021, and it is anticipated that this segment would maintain its dominance throughout the forecast period. Low energy consumption is made possible by the coated glass, which also lowers the cost of air conditioning (AC) in buildings. Thus, the product may help to enhance the energy efficiency of the building and reduce electricity bills and carbon emissions.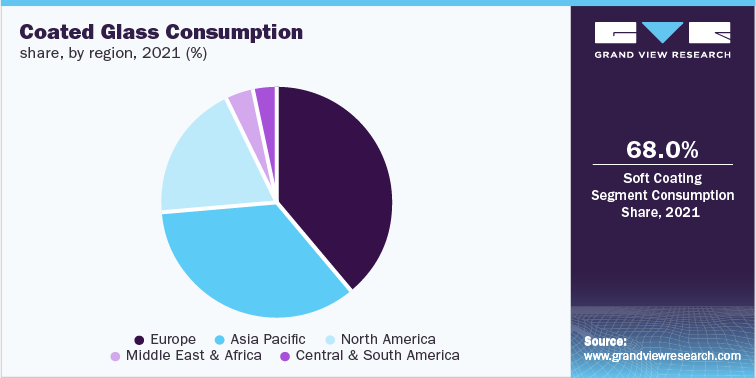 Europe held the largest revenue share of the coated glass market in 2022. The buildings in the European region are collectively responsible for 36% of the greenhouse gas emissions and 40% of the total energy consumption. This has made the European Union (EU) focus on constructing energy-efficient buildings to achieve its net-zero target by 2050 owing to which the EU has brought many regulations and laws into place.
For instance, the EU has proposed that all the new buildings must be zero-emission by 2030. Low-E coated glass helps in reducing energy consumption, thus, the growing significance toward achieving zero emissions by 2050 is anticipated to augment the demand for coated glass in the region over the forecast period.
Home Appliance Glass Market Analysis And Forecast
Cooking appliances are expected to register a growth rate of 3.5% across the forecast period. The increase in the usage of kitchen appliances to speed up daily duties and save time is responsible for segment growth. Owing to increasing demand for home appliances key players are following the merger and acquisition strategy, to increase market share. For instance, to grow their business in electric kitchen appliances, Whirlpool India announced in September 2021 that it would be purchasing an additional 38% of Elica PB India.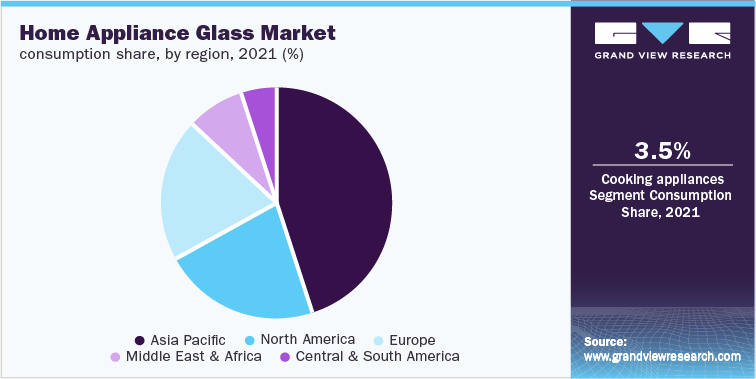 In 2021, Asia Pacific held the highest revenue share of around 45.0%. Growing production capabilities and investments in consumer electronics in China, India, and Southeast Asia are major factors driving the region's industry growth. For instance, the Veira Group declared in September 2022 that it will invest INR 200 crore (about USD 24.8 million) in its second facility in Greater Noida, India. The company will be able to produce more than 3 million smart TVs annually.
Fire Resistance Glass Market Analysis And Forecast
Fire resistance glass is widely used in the construction sector in places such as glazing, windows, and doors due to its special qualities such as limiting the spread of smoke, heat, and fire. These aforementioned reasons are helping to drive market growth. In the U.S., the average monthly investment on new private buildings was projected to be over USD 1,245 billion in 2021.
With a revenue share of more than 61.0% in 2020, the building & construction application segment led the global market. In the building and construction industry, architectural glass is widely utilized because of its high strength and resilience. The market is also being driven by regulatory organizations' increasing focus on enhancing building fire safety standards and adherence to building codes.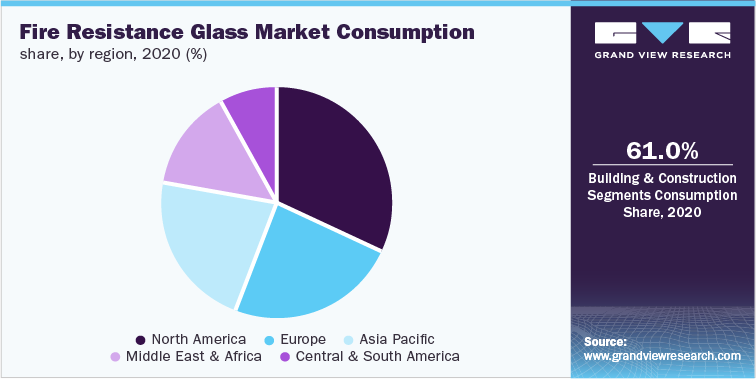 Over the forecast period, Asia Pacific is expected to grow at the fastest rate. The region's expanding construction industry and rising fire accident rates are projected to increase product demand, particularly in the emerging economies.
Automotive Glass Market Analysis And Forecast
Windscreen dominated the market in 2019 in terms of revenue, and it is projected that this trend will continue during the forecast period. The windscreen plays a crucial role in a vehicle's structure, thus both automakers and glass producers are working to improve the features and aesthetics of their products. For instance, over the projected period, the market growth is anticipated to be driven by the introduction of new types of windscreens with self-cleaning glass.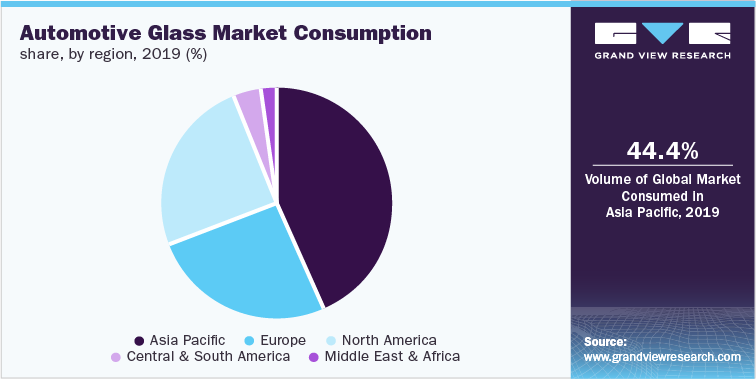 Asia Pacific accounted for the largest portion of the global automotive glass market in 2019 in terms of both revenue and volume. This can be linked to the region's rapid economic expansion, increased disposable income, and subsequent rise in demand for commercial cars. Also rising investment in electric vehicle production is driving the automotive glass market in the region.
Glass Facade Market Analysis And Forecast
Based on application, the non-residential sector dominated the market for glass façade and represented more than 66.0% of total revenue in 2020. The large scope of the industry, which includes office space, hotels, dining establishments, shopping malls, and other similarly sizeable structures, is responsible for the high share.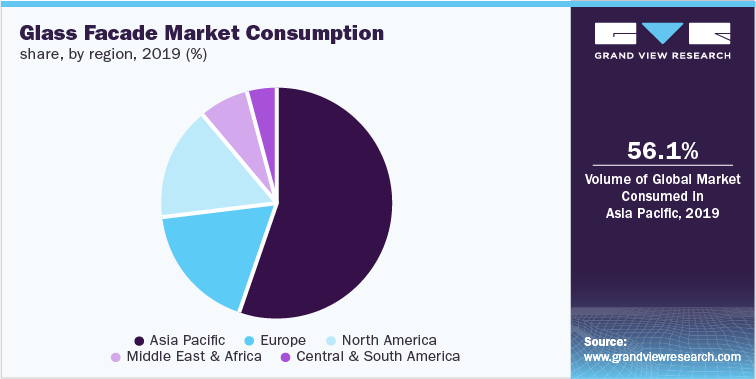 With a 56.1% sales share in 2020, Asia Pacific dominated the glass façade industry. The increasing penetration of glass-based architecture in non-residential and residential applications is projected to further boost the demand for glass façade, especially in the emerging economies of the region.
Competitive Insights
The flat glass market is highly competitive in nature owing to the presence of several major players. AGC, Inc., Saint-Gobain, Nippon Sheet Glass Co., Ltd., Guardian Industries, Fuyao Glass Industry Group Co., Ltd., Şişecam Group, and Central Glass Co., Ltd. are among the major manufacturers of glass in the world. The sustained growth in demand for flat glass in architecture, automotive, and solar applications is prompting key players to expand their target markets and global footprint.
Market players formulate their strategies keeping in mind the rising penetration of flat glass in numerous applications, advancements in glass and coating technologies, and raw material costs, along with the performance of the key application industries namely automotive, construction, energy, and electrical. Key players are focused on developing innovative products. Key market players are following strategies to expand and upgrade their business:
In June 2022, Custom Glass, a producer of different glass products, acquired Cameron Glass, a fabricator of tempered glass products. The acquisition is anticipated to help the former to enhance its tempering capabilities and offer value-add assemblies, allowing Custom Glass to be a one-stop shop for customers' glass requirements.

In June 2022, Tvitec, a Spanish architectural glass manufacturer completed its acquisition of Cricursa, another Spanish glass manufacturer. Tvitec acquired Cricursa for about USD 15.6 million. With this deal, Tvitec aims to expand its production capacity and customer reach in the region.

In February 2022, HENIZ-GLAS GmbH & Co. KGaA and WEILBURGER developed an invisible antibacterial coating for glass bottles called senoglass Carecoating. Manufacturers claim that the invisible shield can kill 99% of the pathogens like E. coli & Staphylococcus, and COVID-19 viruses within an hour.

In October 2021, AGC Glass Europe announced the launch of its first highly durable AR-coated glass, Fountain. The product is specially designed to improve crop yields for horticulture growers. Such innovations are expected to propel the growth of the coated glass industry over the forecast period.