Database Overview
Grand View Research's footwear industry data book is a collection of market sizing information & forecasts, trade data, pricing intelligence, competitive benchmarking analyses, macro-environmental analyses, and regulatory & technological framework studies. Within the purview of the database, such information is systematically analyzed and provided in the form of outlook reports (1 detailed sectoral outlook report) and summary presentations on individual areas of research.
Footwear Industry Data Book Scope
Attributes

Details

Areas of Research

Athletic Footwear Market
Non-athletic Footwear Market
Sustainable Footwear Market
Traditional/Non-sustainable Footwear Market

Number of Reports/Presentations in the Bundle

1 Sector Outlook Report (PDF) + 4 Summary Presentations for Individual Areas of Research (PDF) + 1 Statistic eBook (Excel) + 4 Individual Databook (Excel)

Cumulative Coverage of Countries

15+ Countries

Cumulative Coverage of Products

15 + level 1 & 2 Products

Highlights of Datasets

Type Data, by Country
Import/Export Data, by Country
Demand/Consumption Data, by Country
Statistic e-Book
Competitive Analysis
Footwear Industry Data Book Coverage Snapshot
Markets Covered

Footwear Industry

USD 387.74 billion in 2022

4.3% CAGR (2023-2030)

Athletic Footwear Market Size

USD 133.13 billion in 2022

5.0% CAGR (2023-2030)

Non-athletic Footwear Market Size

USD 254.62 billion in 2022

4.0% CAGR (2023-2030)

Sustainable Footwear Market Size

USD 6.78 billion in 2022

6.7% CAGR (2023-2030)

Traditional/Non-sustainable Footwear Market Size

USD 380.97 billion in 2022

4.3% CAGR (2023-2030)
Footwear Sector Outlook
The demand for footwear is greatly driven by changing consumer preferences and fashion trends across the globe. Consumers seek stylish and trendy footwear, and their preferences continually evolve. Changes in fashion trends, celebrity endorsements, and social media influence strongly impact the demand for different types of footwear including athletic and non-athletic.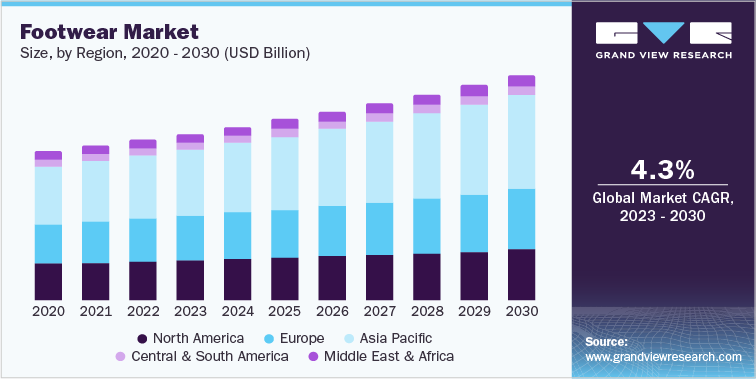 Rapid product development and evolving fabric selection have changed footwear to a great extent. Lightweight shoes with high durability are a major trend seen in the market. Product sales are highly driven by brand awareness, shopping frequency, and expenditure of different buyers. Companies are employing various strategies such as television, print media, the internet, social media platforms, team sponsorships, and collaborations with athletes from different sports to enhance brand recognition and expand their presence in the market.
Companies are heavily advertising their shoes to effectively enhance customer fashion awareness. The company management is able to build demand for the products offered in the market by increasing consumer fashion awareness as well as attracting potential new clients. For instance, Adidas AG announced in March 2021 that it intends to allocate $1.1 billion towards marketing and sponsorship efforts until 2025. This investment aims to support the launch of sports-inspired lifestyle products, in addition to their existing performance and Originals fashion categories.
The market players are also gradually focusing on shoes manufactured from recyclable materials to encourage sustainability. Players are collaborating with various associations to capitalize on the growing trend of sustainable products. For instance, in May 2021, Adidas AG and Allbirds introduced their collaborative effort by revealing their inaugural product-the FUTURECRAFT.FOOTPRINT. As part of their partnership's objective to reimagine manufacturing and supply chain processes, the running shoe was created with a carbon footprint of less than 3 kilograms of carbon dioxide equivalent emissions (CO2e) per pair. This achievement aligned with their 12-month goal of minimalizing the carbon impact of the product, aiming for it to be as close to zero as possible.
Athletic Footwear Market Analysis And Forecast
The athletic footwear market is experiencing significant growth due to the rising demand for comfortable, lightweight, and stylish sports shoes sought after by professional athletes for use on wet, soft, and rough terrain. Furthermore, the growing participation and interest of individuals in daily physical activities such as running, going to the gym, and cycling are major drivers of the global athletic shoe market. Additionally, the growing trend of athleisure and the emergence of customized product manufacturing are expected to further fuel the demand for athletic shoes in the future.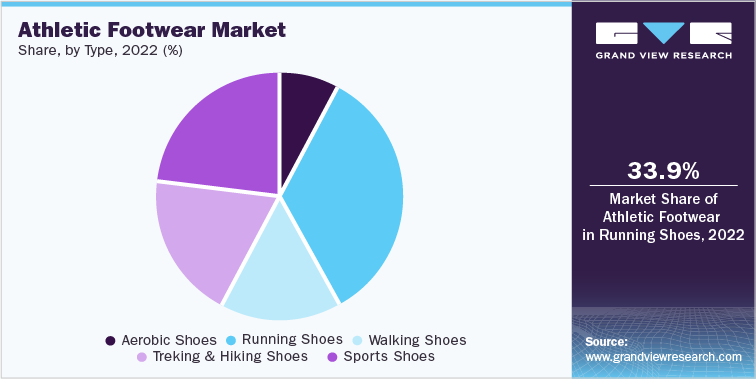 Governments across the globe are actively encouraging people to engage in various physical activities as a means to reduce the prevalence of lifestyle-related diseases. Many countries are making investments in clubs, courts, and stadiums to promote sports participation, which is likely to contribute to the growth of the athletic shoe segment in the forthcoming years.
The increasing participation of women and kids in sports and fitness activities is likely to create a significant demand for athletic footwear over the forecast period. As the manufacturers are launching new product technologies in the women and kids categories to attract customers. For instance, in February 2020, Skechers collaborated with The Goodyear Rubber & Tire Company to design selective shoes for women, men, and children. The company uses Goodyear rubber technology in outsoles to provide greater stability, grip, and durability.
Non-athletic Footwear Market Analysis And Forecast
The non-athletic footwear category encompasses a wide range of options, including flip-flops, tactical, loafers, diabetic shoes, medical shoes, and others, suitable for various occasions. This category has attracted significant attention from both established and emerging players in the footwear industry, including niche brands and renowned designers. This heightened interest is primarily driven by the increasing consumer preference for environmentally friendly sneakers and other types of footwear.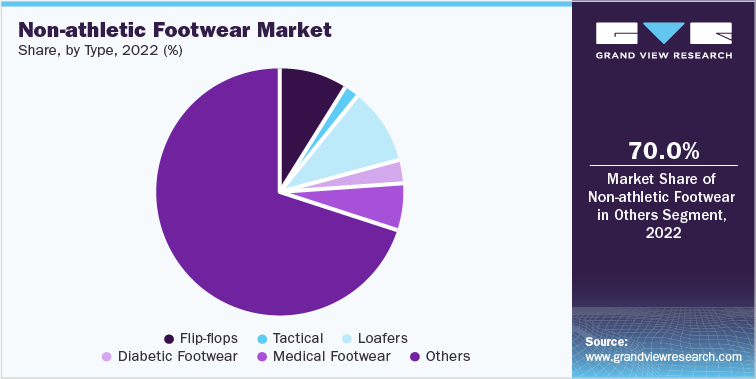 The demand for casual and non-athletic footwear that go well with different outfits has been driving the growth of the segment. Niche companies and startups are catering to millennial consumers by providing innovative products as these consumers are more inclined toward sustainability and ethical consumerism. For instance, Eco-Vegan Shoes offers a variety of non-athletic footwear styles such as ankle boots, heels, flats, and sneakers, all of which are certified by different eco-friendly organizations.
Sustainable Footwear Market Analysis And Forecast
Sustainability is becoming important by the day, especially for nature-loving trail runners. The increasing number of ethical consumers is boosting the demand for sustainable products, including sustainable footwear. The rising trend of vegan sports shoes is creating significant growth opportunities for manufacturers in the market. Brands such as Brooks, Astral, Merrell, Newton, and ASICS are capitalizing on the growing trend of vegan sports shoes among consumers. Various vegan materials available in the market are microfibers, Polyurethane (PU), and cotton. Companies are increasingly adopting Gore-Tex, a lightweight, windproof, waterproof, and yet breathable membrane, which is also a vegan product, to manufacture footwear, including shoes.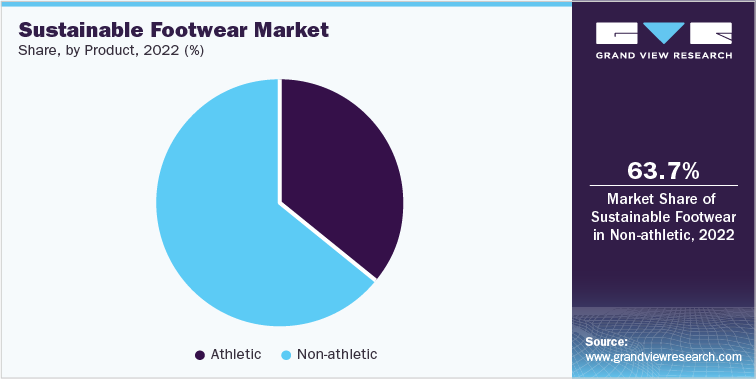 Elite runners are inclined toward custom-made shoes. This trend is creating significant opportunities for new entrants in the market. Tecnica, a division of Tecnica Group S.P.A., offers customizable in-store shoes for sports enthusiasts based on consumer preferences for footbeds, outsole designs, breaking and lateral patterns, lacing preferences, and uppers zones. The increasing popularity of e-commerce is presenting substantial opportunities for major market players to enhance their sales and broaden their reach across different geographical regions.
Traditional/Non-sustainable Footwear Market Analysis And Forecast
Fashion trends and changing styles heavily influence the demand for non-sustainable footwear. Consumers who prioritize the latest fashion trends and designs may opt for non-sustainable options, as they tend to offer a wider variety of styles and designs. Non-sustainable footwear often comes at a lower price point compared to sustainable alternatives. Cost-conscious consumers may prioritize affordability over sustainability when making purchasing decisions.
The younger consumer groups lay huge emphasis on aspects such as color, design, and shape of products. The demand for custom-made shoes and apparel is also gaining traction among many elite runners who have the means to spend heavily on footwear. On the other hand, new and occasional runners are likely to be satisfied with off-the-rack products.
Competitive Insights
The footwear industry is marked by the existence of numerous established companies like Nike, Inc.; Adidas AG; PUMA SE; Timberland; Skechers USA, Inc.; and Under Armour Inc. These prominent players hold a significant market share and have established a strong global presence. Alongside these industry leaders, there are also smaller to medium-sized players that focus on offering a specific range of footwear and primarily cater to regional customers. To achieve business growth in regional markets, multinational players are actively pursuing strategies such as mergers, acquisitions, and other strategic initiatives. These efforts enable them to expand their presence and market share in specific regions through partnerships or acquisitions of local companies.
In April 2023, Puma SE collaborated with Web3 brand 10KTF, owned by Yuga Labs, to release a limited-edition collection of NFT sneakers. The 2,000 pairs of the limited edition 'Grailed PUMA Slipstream' sneakers are designed by artist Alexander John.

In February 2023, Fila partnered with the retailing division of Paramount Global to launch a special-edition footwear collection 'Fila x Rock's Modern Life' inspired by Nickelodeon's 'Rocko's Modern Life characters.