Database Overview
Grand View Research's games and puzzles industry data book is a collection of market sizing information & forecasts, trade data, pricing intelligence, competitive benchmarking analyses, macro-environmental analyses, and regulatory & technological framework studies. Within the purview of the database, such information is systematically analyzed and provided in the form of outlook reports (1 detailed sectoral outlook report) and summary presentations on individual areas of research.
Games and Puzzles Industry Data Book Scope
Attributes

Details

Areas of Research

Games Market
Puzzles Market

Number of Reports/Presentations in the Bundle

1 Sector Outlook Report (PDF) + 2 Summary Presentations for Individual Areas of Research (PDF) + 1 Statistic eBook (Excel) + 4 Individual Databook (Excel)

Cumulative Coverage of Countries

15+ Countries

Cumulative Coverage of Products

15 + level 1 & 2 Products

Highlights of Datasets

Product Data, By Country
Import & Export Data, By Country
Demand/Consumption Data, By Country
Statistic e-Book
Competitive Analysis
Games and Puzzles Industry Data Book Coverage Snapshot
Markets Covered

Games and Puzzles Industry

USD 15.09 billion in 2022

17.3% CAGR (2023-2030)

Games Market Size

USD 8.40 billion in 2022

16.8% CAGR (2023-2030)

Puzzles Market Size

USD 6.68 billion in 2022

18.0% CAGR (2023-2030)
Games and Puzzles Sector Outlook
Among the drivers propelling the market growth are the nostalgia associated with playing games, the range of social contact that games and puzzles offer, intellectual stimulation, and increased interest in licensed games and puzzles. According to studies, solving puzzles and playing puzzle games consistently encourages the formation of new brain connections, which enhances short-term memory. As per the study of the University of Michigan, the individuals who solved crossword puzzles for 25 minutes a day had an IQ score gain of four points.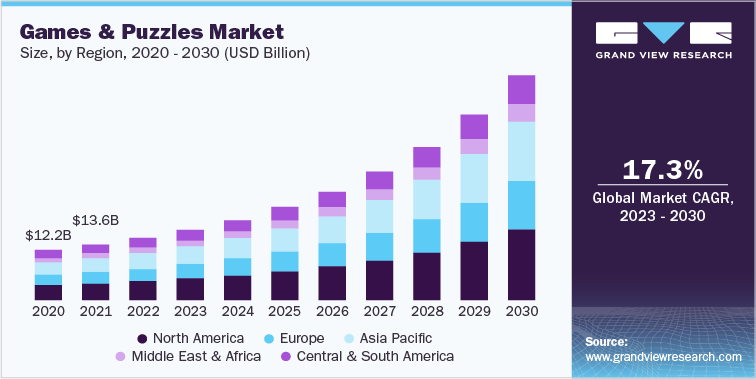 As per the findings by JSTOR Daily, in December 2020, sales of puzzles surged by 300% to 400%. A key competitor in the industry, Ravensburger AG, reported sales up 370% over the prior year in the spring of 2020. In North America, the business sold seven puzzles every minute in 2019, but by 2020, this rate had risen to almost 20. Due to the ongoing interest in collections, growth of the gaming business, improved awareness of the advantages of such games, and continued interest in at-home entertainment, the demand for such products is anticipated to expand after the pandemic.
Given growing consumer awareness of and concern over environmental issues, a growing trend toward eco-friendly and socially responsible products, and increased demand for sustainable games and puzzles, the market is currently experiencing increased demand for sustainable games and puzzles. In response to this trend, market players have been developing and advertising eco-friendly products, utilizing sustainable materials, and establishing eco-friendly manufacturing and distribution practices. For instance, a U.S.-based company called Mattel, Inc. continually strives to use resources more efficiently to decrease negative environmental effects, encourage responsible purchasing, and advance worker health and safety throughout its supply chain. In addition to lowering plastic packaging by 25% per product, the firm intends to use solely recycled, recyclable, or bio-based plastic in all of its goods and packaging by 2030.
Games Market Analysis And Forecast
These provide a social and dynamic experience that promotes player interaction and teamwork toward a common objective, making them an enjoyable and interesting way to spend time with friends and family. This market's revisit significance, adaptability, and dynamism are significant driving forces. The state-owned international broadcaster, Deutsche Welle, reported that the demand for board games grew by 20% in 2020, according to German readership. Games like Carcassone, Risk, Monopoly, Dominion, and Settlers of Catan are among the most widely played games on the market.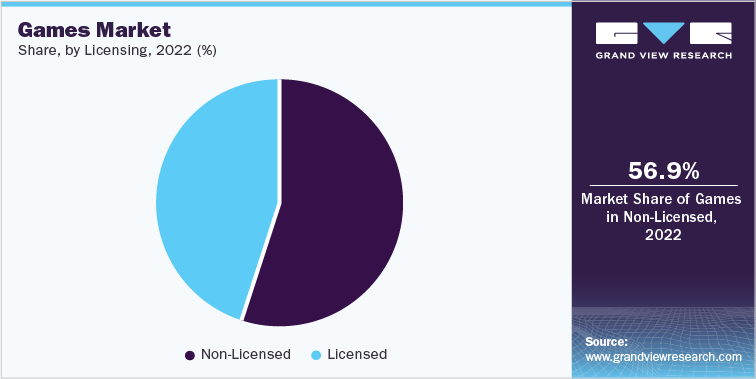 The licensed game segment is poised for substantial growth during the forecast period. This growth is primarily fueled by market players actively introducing captivating games specifically designed for children. These game developers have recognized the immense potential in catering to the younger audience, leveraging popular licensed characters, brands, and franchises that resonate with kids. For instance, in May 2022, London-based Outright Games launched a digital teaser on YouTube, showcasing five new licensed games for kids based on big-name entertainment brands. The games are based on L.O.L. Surprise, PAW Patrol, and more.
Puzzles Market Analysis And Forecast
Puzzle-solving is a relaxing and restorative pastime. A December 2022 study by Aviva revealed that more than 45% of individuals in the UK enjoyed puzzle-solving. Most of them prefer puzzles in a material format, and about 84% have done puzzles like number puzzles, jigsaws, and word problems in the past year. Additionally, adults over 55 are driving the puzzles market's growth since they are more inclined than others to prefer puzzles in material formats.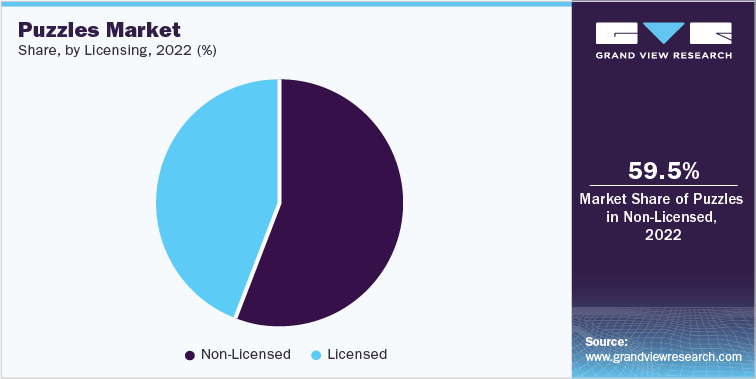 The puzzle market has experienced innovation and excitement due to the rise of 3D and 4D puzzles. These puzzles can be educationally advantageous and provide a more engaging experience. A Canadian company that specializes in 3D puzzles is Wrebbit Puzzle Inc. It develops a variety of puzzles with a range of themes, such as Harry Potter, Game of Thrones, and Lord of the Rings. The company launched its 440-piece Friends-inspired Central Perk! 3D Jigsaw Puzzle in April 2021.
Non-licensed puzzles are widely available online as e-commerce expands. Customers may browse various options, evaluate prices, and read reviews owing to this accessibility before making a purchase. Online shopping's convenience has contributed to the growth of non-licensed puzzle sales. Since people buy puzzles for thoughtful and enjoyable gifts, the puzzle-giving culture helps puzzle sales. This allows non-licensed puzzles a more universal appeal, making them a more reliable and profitable investment for manufacturers.
Competitive Insights
The manufacturers aim to achieve optimum business growth and a strong market position by implementing various strategies such as acquisitions, new product launches, collaborations, and strengthening distribution networks in the global and regional markets. The manufacturers in the market aim to intensify their market positions by widening their customer base. Multinational players aim to achieve business growth in regional markets through mergers, acquisitions, and other strategic initiatives.
For instance, in April 2023, Hasbro, Inc. announced that Spin Master, a major international provider of children's entertainment, was granted a license to use the classic Barrel of Monkeys game globally. Utilizing its international reach, Spin Master announced to expand its retail distribution while creating creative gameplay mechanics and unique gaming formats.

For instance, in January 2023, Buffalo Games partnered with London-based indie games company Big Potato, Buffalo Games' Chuckle & Roar brand of games and toys had announced its UK premiere through Big Potato on Amazon and with a few specifically selected retail partners.