Database Overview
Grand View Research's musical instruments industry data book is a collection of market sizing information & forecasts, trade data, pricing intelligence, competitive benchmarking analyses, macro-environmental analyses, and regulatory & technological framework studies. Within the purview of the database, such information is systematically analyzed and provided in the form of outlook reports (1 detailed sectoral outlook report) and summary presentations on individual areas of research.
Musical Instruments Industry Data Book Scope
Attributes

Details

Areas of Research

Stringed Instruments Market
Percussion Instruments Market
Wind Instruments Market
Keyboard Instruments Market

Number of Reports/Presentations in the Bundle

1 Sector Outlook Report (PDF) + 4 Summary Presentations for Individual Areas of Research (PDF) + 1 Statistic eBook (Excel) + 4 Individual Databook (Excel)

Cumulative Coverage of Countries

15+ Countries

Cumulative Coverage of Products

15 + level 1 & 2 Products

Highlights of Datasets

Instruments Data, by Country
Distribution Channel Data, by Country
Import/Export Data, by Country
Demand/Consumption Data , by Country
Statistic e-Book
Competitive Analysis
Musical Instruments Industry Data Book Coverage Snapshot
Markets Covered

Musical Instruments Industry

USD 14,117.9 million in 2022

7.3% CAGR (2023-2030)

Stringed Instruments Market Size

USD 8,958.3 million in 2022

7.4% CAGR (2023-2030)

Percussion Instruments Market Size

USD 1,005.3 million in 2022

6.9% CAGR (2023-2030)

Wind Instruments Market Size

USD 1,310.9 million in 2022

6.7% CAGR (2023-2030)

Keyboard Instruments Market Size

USD 2,843.5 million in 2022

7.5% CAGR (2023-2030)
Musical Instruments Sector Outlook
The increasing interest in music and its widespread popularity across the globe have fueled the demand for musical instruments. Furthermore, the growing number of music enthusiasts, both amateurs & professionals, has significantly contributed to the market growth.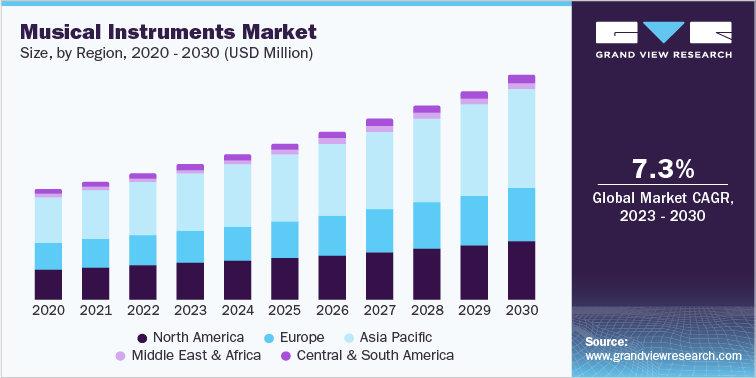 Additionally, there has been an expansion of music education programs in schools and colleges, playing a vital role in fueling market growth. Educational institutions and governments recognize the importance of music education, which fosters creativity and cognitive development. This recognition has led to a higher demand for musical instruments in educational settings.
Furthermore, the customization of musical instruments, such as pianos and electronic guitars, is also contributing to market growth. Leading market players like Fender Musical Instruments Corporation, Taylor Guitars, and Steinway and Sons now offer customization services to consumers. This allows customers to personalize their instruments in terms of size, shape, and design features such as guitar necks and inlays. It also provides a selection between traditional and hardwood options. Thus, the trend of personalization and customization is expected to drive product demand and contribute to the growth of the musical instruments industry.
Additionally, the advent of online retail and e-commerce has transformed the musical instruments industry. Online platforms provide convenience, a wide range of options, and competitive pricing, making instruments more accessible to a broader consumer base. This has facilitated global reach and boosted sales, particularly among individuals who do not have easy access to physical music stores. Sweetwater, the largest online seller of musical instruments and pro audio gear, has seen a multifold increase in its revenues since the pandemic. The company has exceeded USD 1 billion in revenue for three consecutive years, with a revenue of USD 1.57 billion in 2022.
Stringed Instruments Market Analysis And Forecast
The stringed instruments market held the largest market share in the overall musical instruments market. This growth is primarily driven by the increased sales of electric guitars. Electric guitars have gained immense popularity among musicians and enthusiasts for their distinct and versatile sound, well-suited for various music genres such as rock, pop, blues, and jazz. The unique tonal characteristics and the ability to manipulate sound using effects pedals and amplifiers have made electric guitars essential in modern music production. These factors have significantly contributed to the sales of electric guitars, thereby driving the overall stringed instruments market's growth.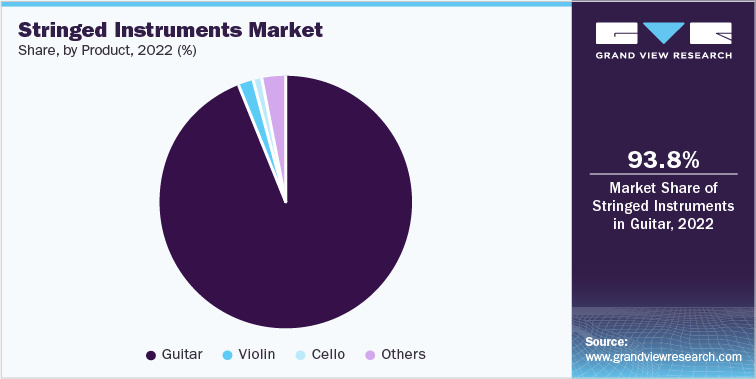 Stringed instruments offer a wide range of tonal possibilities and can be used in various music genres and styles, from classical to rock, folk to jazz. Guitars, violins, cellos, and ukuleles are found in diverse musical landscapes. Their versatility attracts musicians from different backgrounds, expanding the market reach of these instruments and driving growth.
Moreover, technological advancements have played a significant role in the growth of stringed instruments. Innovations in manufacturing processes, materials, and instrument design have improved the quality, playability, and durability of these instruments. Additionally, advancements in amplification and sound processing technologies have enhanced the capabilities and versatility of electric and acoustic-electric stringed instruments, making them more appealing to a broader range of musicians.
For example, Wood Violins, a renowned manufacturer of electric violins, unveiled the new Viper Classic at the National Association of Music Merchants in 2022. The Viper Classic is available in 4-string and 5-string fretless models, featuring a wood Tru-Tone piezo pickup with a transducer in the bridge. It also includes a first-position heel, which benefits players who are just starting out on the electric violin.
Percussion Instruments Market Analysis And Forecast
Percussion instruments are primarily responsible for establishing rhythm and groove in music. Their dynamic and rhythmic qualities make them indispensable in various genres such as jazz, Latin, Afro-Cuban, pop, and world music. The captivating energy and rhythmic drive provided by percussion instruments have contributed to the growth in their popularity.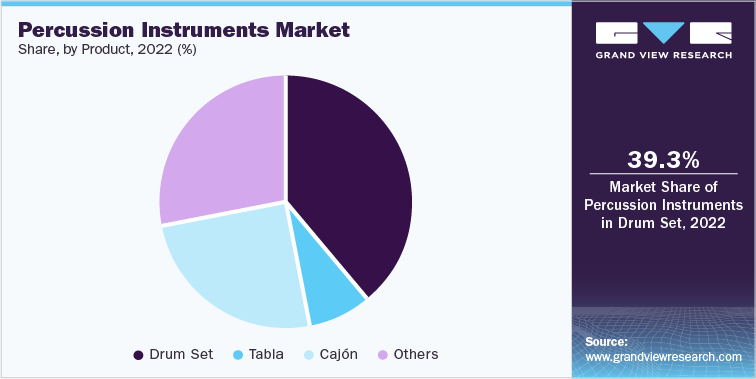 These instruments are often used in group settings such as bands, orchestras, and ensembles, where individuals collaborate and synchronize their rhythms. Band and orchestra programs in schools, colleges, and community settings provide a platform for musicians to come together and perform as a collective ensemble. The increasing participation and emphasis on such programs are expected to drive the sales of percussion instruments, as these instruments establish the rhythmic foundation of a musical piece and add texture and dynamics to the overall sound. Furthermore, musicians, both beginners and experienced, recognize the importance of percussion in creating a well-rounded and engaging performance, further contributing to the increased sales of percussion instruments and driving the percussion instruments market.
For instance, in November 2020, the Elizabeth R. Wilson Foundation granted funds to Lenawee County public schools organizing instrumental music programs. The foundation announced USD 1000 for districts conducting band programs and USD 2000 for districts conducting both band and orchestra programs.
Wind Instruments Market Analysis And Forecast
The increasing adoption of wind instruments across diverse musical genres is contributing to the growth of the wind instrument market. For instance, in the jazz genre, the saxophone continues to be a prominent instrument, with renowned musicians incorporating its soulful tones into their compositions. Similarly, in contemporary pop and rock music, wind instruments such as the trumpet and flute are gaining popularity for their unique and expressive qualities. This trend not only expands the market reach of wind instruments but also creates new opportunities for instrument manufacturers and retailers.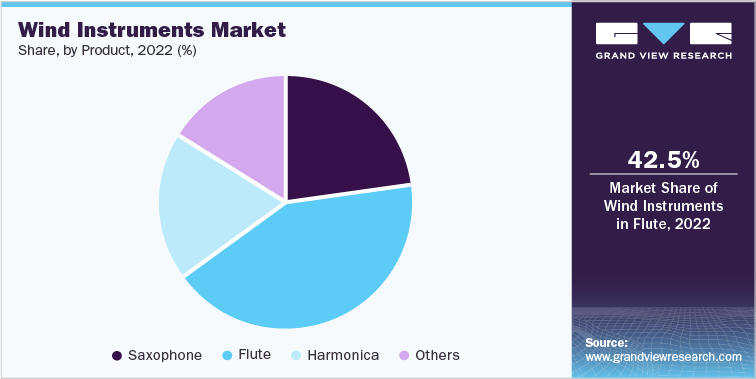 Modern wind instruments incorporate improved materials, manufacturing techniques, and design features that enhance playability and sound quality. For instance, the development of advanced key mechanisms and ergonomic designs in saxophones and clarinets has made them more accessible to musicians of all skill levels. These technological advancements attract both beginners and professionals who are seeking instruments that are easier to play and offer enhanced performance capabilities, thus contributing to the growth of the wind instrument market.
In March 2023, MOOER Audio launched its first digital woodwind instrument, the Wi100. The Wi100 features a three-octave range, pitch shifter, and over 30 tones, including accurate recreations of classic woodwind instruments as well as modern electronic tones and synth effects. The Wi100 also has an easy-to-learn recorder-style key layout and built-in switch LEDs, making it easy for both experienced professionals and beginners to learn.
Keyboard Instruments Market Analysis And Forecast
Advancements in technology have revolutionized the keyboard instruments market. Digital keyboards now offer a wide range of features, including realistic piano sounds, multiple instrument voices, recording capabilities, and built-in learning tools. These technological advancements have made keyboards more accessible and appealing to beginners and professionals alike, contributing to market growth.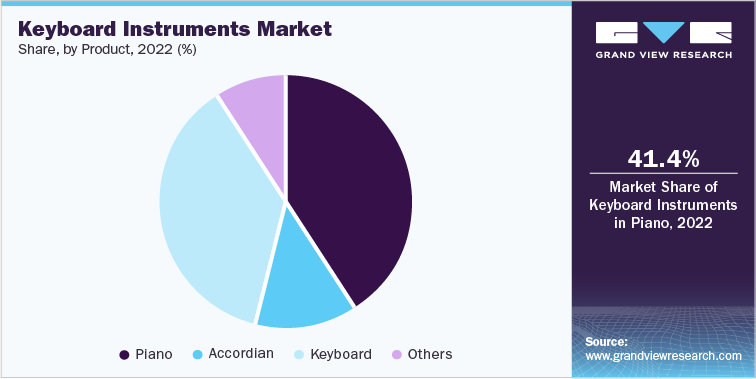 For instance, in January 2023, Yamaha, the world's largest manufacturer of musical instruments, announced the launch of the P-S500, a digital piano designed for beginners. The new P-S500 is equipped with Stream Lights technology, which uses red and blue lights above each key to visually guide the pianist on which notes to play and when to play them. Additionally, the P-S500 pairs with the Smart Pianist app, providing users with a seamless connection to a smart device and granting full access to instrument controls and configuration tools.
The availability of learning resources and educational programs has contributed to the increased demand for keyboard instruments. Many music schools and online platforms offer comprehensive courses and tutorials tailored for beginners, making it easier for aspiring musicians to start their learning with keyboards. Additionally, music stores often organize workshops and demo sessions to engage potential buyers and assist them in making informed decisions about their instrument purchase, thereby driving the keyboard instruments market. For instance, in April 2022, the National Keyboard Studies Programme announced an initiative that offers school children in the UK the opportunity to learn melodica. This program aims to provide low-cost music education to children by utilizing this inexpensive and low-maintenance instrument.
Competitive Insights
The manufacturers in the musical instruments market aim to achieve optimum business growth and a strong market position through the implementation of various strategies such as acquisitions, new product launches, collaborations, and strengthening of distribution networks in the global as well as regional markets. Musical instrument manufacturers aim to strengthen their market positions by expanding their customer base through diversification of their product portfolios and incorporating a wide range of musical instruments. Thus, the players are aiming to achieve business growth in the regional market through product launches, mergers, acquisitions, and other strategic initiatives.
In February 2023, Auden Musical Instrument Co., the parent company of Auden Guitars and Gordon Smith Guitars, announced the acquisition of UK Guitar Builders Ltd. The acquisition will help Auden to increase its production capacity and meet the growing demand for its guitars in the UK and across the world.

In February 2023, Harmony, the manufacturer of musical instruments, announced the acquisition of Stella, a U.S.-based guitar manufacturer, from Westheimer Corporation. The acquisition of Stella will provide Harmony with the opportunity to expand its product line and reach a new audience.

In September 2022, Fender Musical Instruments Corporation launched a new made-in-Japan Aerodyne Special range of guitars and basses. The instruments feature a fresh design approach while maintaining the classic Fender aesthetic. Common features across the range include basswood bodies, Babicz bridges, modern C-shaped necks with 12-inch radius fretboards, painted headstocks, and binding on the front of the bodies.

In March 2022, Yamaha, a leading brand in the musical instruments market, launched two new portable keyboards, the PSR-E473 and the PSR-EW425. The PSR-E473 is lighter and more compact with 61 keys, while the PSR-EW425 offers a more piano-like range with an extended 76-key keyboard. Both keyboards are suitable for both beginners and professionals.