Database Overview
Grand View Research's steel industry data book is a collection of market sizing information & forecasts, trade data, pricing intelligence, competitive benchmarking analyses, macro-environmental analyses, and regulatory & technological framework studies. Within the purview of the database, such information is systematically analyzed and provided in the form of outlook reports (1 detailed sectoral outlook report) and summary presentations on individual areas of research along with an agricultural statistics e-book.
Steel Industry Data Book Scope
Attribute

Details

Areas of Research

Carbon Steel Market
Stainless Steel Market
Structural Steel Market
Electrical Steel Market
Weathering Steel Market
Sintered Steel Market

Number of Reports/Presentations Covered in the buddle

1 Sector Outlook Report + 6 Summary Presentations for Individual Areas of Research + 1 Statistic ebook

Cumulative Coverage of Countries

50+ Countries

Cumulative Coverage of Products

10+ Products

Highlights of Datasets

Demand/Consumption Data, by Countries
Competitive Landscape
Markets, by Application
Carbon Steel, By Product Type
Stainless Steel, By Grade
Stainless Steel, By Product Type
Electrical Steel, By Product Type
Steel Industry Data Book Coverage Snapshot
Markets Covered

Steel Industry

Carbon Steel Market Size

USD 887.7 billion in 2019

3.4% CAGR (2020-2027)

Stainless Steel Market Size

USD 104.23 billion in 2021

8.9% CAGR (2022-2030)

Structural Steel Market Size

USD 96.94 billion in 2020

5.3% CAGR (2021-2028)

Electrical Steel Market Size

USD 23.4 billion in 2020

4.9% CAGR (2021-2028)

Weathering Steel Market Size

USD 987.2 million in 2018

5.6% CAGR (2019-2025)

Sintered Steel Market Size

USD 124.8 million in 2020

5.0% CAGR (2021-2027)
Steel Industry Outlook
Steel is a vital industry for global economic growth. It is one of the key raw materials for building & construction and various manufacturing activities. As per the World Steel Association, the total value contribution by the steel industry is USD 2.9 trillion, which is equivalent to 3.8% of global GDP.
The global steel market is anticipated to be driven by rising investments in construction activities. With respect to regions, Asia Pacific holds more than half revenue share, as of 2021, owing to the investments in various infrastructural development projects to boost the economies. For instance, as per the Indian budget for FY 2022-23, government spending will increase by 4.6% compared to the previous year. The country is expected to raise spending to INR 39.45 trillion (~USD 529.7 billion) for building public infrastructure, affordable housing, and solar manufacturing.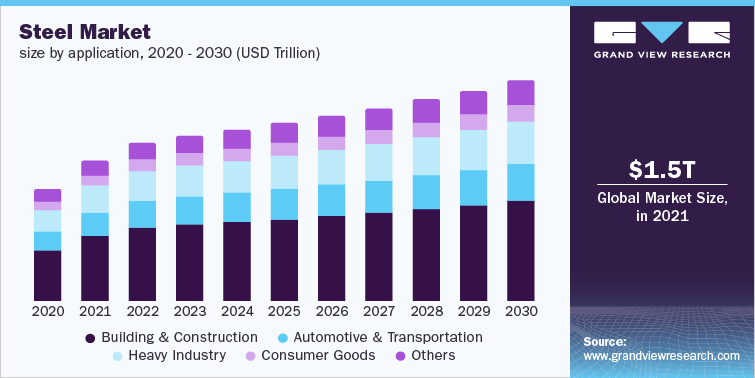 Building & Construction held the largest revenue share of the global market in 2021. Various initiatives by governments to recover from the COVID-19 pandemic are expected to further drive market growth over the forecast period. For instance, in 2020, the UK government decided to invest USD 1.7 billion in residential projects. The fund is expected to build 45,000 new homes. Investment in the construction industry is projected to generate revenue and reduce the unemployment rate in the country.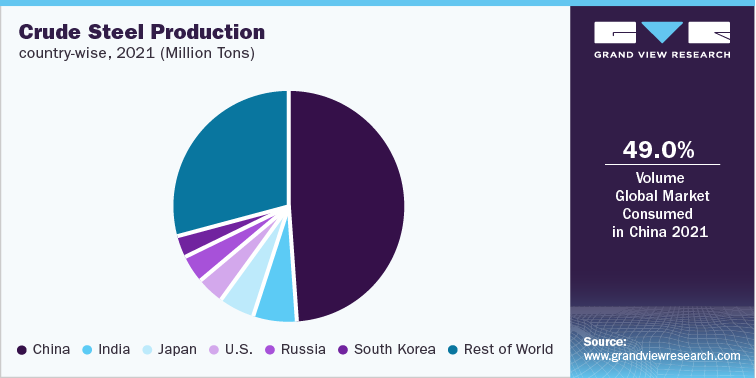 In terms of production, in 2021, China was the largest producer of crude steel in the world with a share of 49%, followed by India and Japan with 6% and 5% respectively. The U.S. and Russia accounted for 4% each, and South Korea was responsible for 3%. The rest of the world accounted for 29% of the total global crude steel production. The global crude steel production in 2021 rose to 1,951.9 million tons despite the fall in China's production to 1,032.8 million tons. However, the production in the rest of the world increased with an increase in India's output by 17.8% to reach 118.1 million tons.
Stainless Steel Market Analysis And Forecast
The consumer goods application segment dominates the stainless steel demand, with products such as refrigerators, washing machines and kitchen utilities requiring stainless steel for different purposes. China and remaining Asia accounted for over half of the global stainless steel supply, on account of the easy availability of raw materials and labour coupled with a strong foothold in the industry.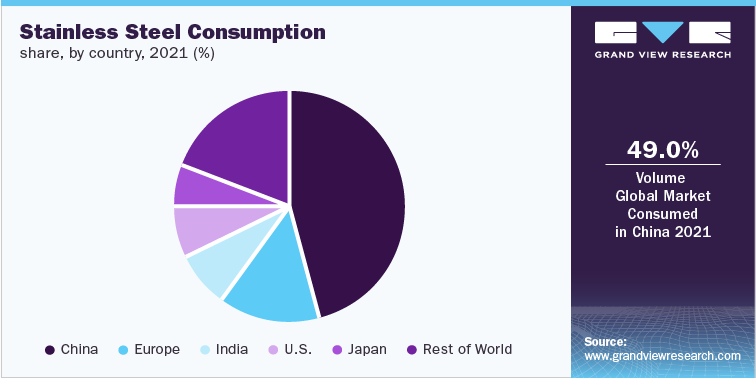 China accounted for just over 46% of the global demand for stainless steel in 2021, with the country also ranking among the top producer of Stainless Steel. India follows suit after China, as the second largest consumer of stainless steel. The demand in these countries is mainly driven by massive infrastructure investments, government support through different policies and growing middle class population.
Carbon Steel Market Analysis And Forecast
China supplies more than 45% of the world's carbon steel, as the country has some of the top players operating in the steel industry. China is also responsible for nearly 15% of carbon emissions in the industry. The country aims to become carbon neutral by 2060 but is yet to provide proper roadmap for it. The largest producer, Baowu Group has also committed to achieve carbon neutrality by 2050.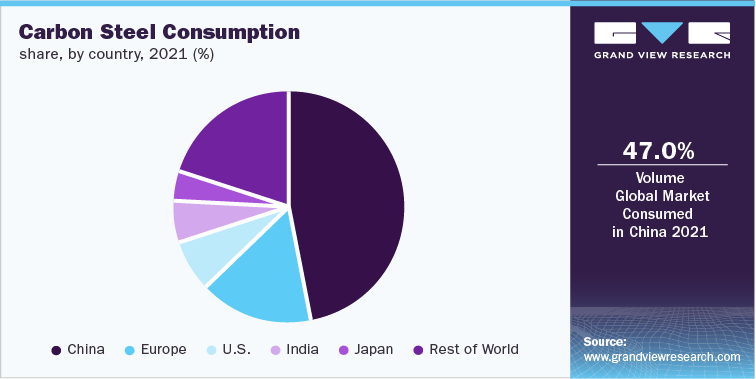 China, India, Japan and the U.S. remained the largest producers and exports of carbon steel products. The Carbon Steel market is mainly driven by increasing demand in automotive and construction applications. The rising need to upgrade the infrastructure in developing economies is likely to play a major role in the demand for carbon steel products. Developing or emerging countries are investing a large portion of their economic budget in the development of infrastructure.
Electrical Steel Market Analysis And Forecast
Asia Pacific is anticipated to remain the fastest-growing region in the electrical steel market. Increasing investment in grid expansion projects coupled with the addition of renewable energy, rise in demand for electric vehicles are the prominent factors attributed to the growth of the market. In addition, growing industrialization and urbanization rate, and growing initiatives for developing infrastructure are holding promising growth opportunities for using electrical steel being an energy-efficient material.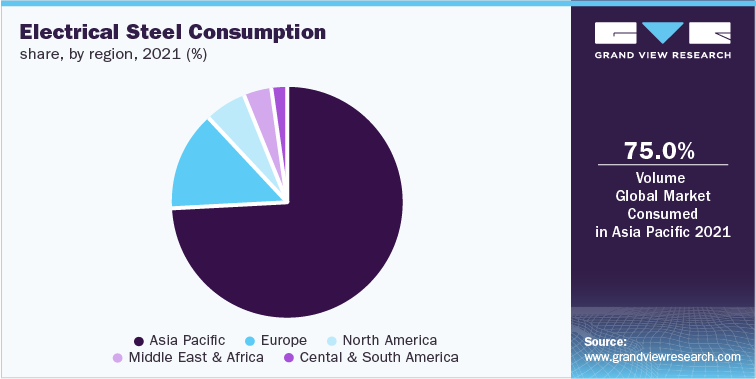 China and India are estimated to hold a large portion of the Asia pacific market for consumption of electrical steel owing to significant growth prospectus. These countries also possess a competitive edge owing to the availability of low-cost labor and cheap availability of raw material, along with various government initiatives for encouraging the setting up of new businesses.
Weathering Steel Market Analysis And Forecast
Europe is anticipated to remain the fastest-growing region for the weathering steel market. The rising need for replacing old structures, roads and bridges and to improve the road network and connectivity to sustain the higher loads on road is likely to augment the weathering steel over the coming years. Europe has many old structures and bridges that require immediate attention with renovation and replacement needs and are thus likely to attract the demand for weathering steel.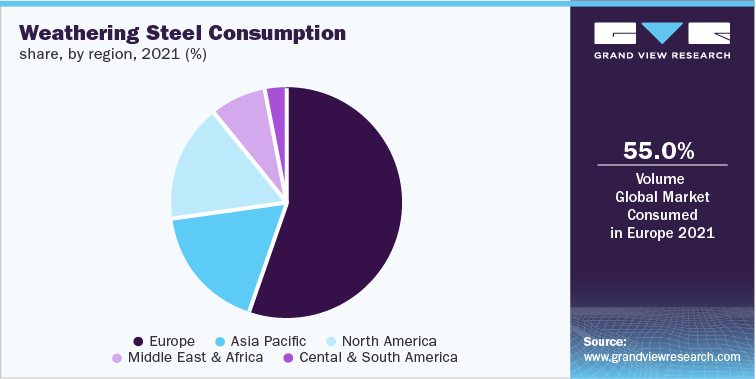 In North America, the construction industry is expected to grow on account of the massive need for investment in countries such as U.S. & Canada coupled with political & social stability, macroeconomic stability and legal certainty. With the growth of the construction industry, demand for weathering steel is expected to increase in this region. New construction projects in the region is further expected to create demand for weathering steel in this region.
Sintered Steel Market Analysis And Forecast
North America is likely to remain the fastest-growing market for the sintered steel market. The demand for agricultural equipment is anticipated to benefit the market growth for North America sintered steel market. The growth of the agricultural equipment industry owing to the rising population, emphasis on automation, high labor cost in North America and advent of precision agriculture are likely to play a key role in the sintered steel industry.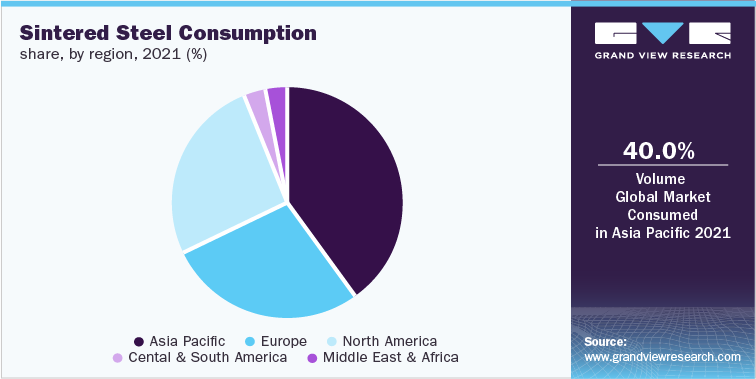 The machine tool sector in Europe is of vital significance and thus projected to play a key role in sintered steel industry. It is estimated that the industry is anticipated to make a turnover of over USD 22.4 billion in 2021. In 2020, Europe produced 35% of all machine tools in the world. The industry is however, anticipated to witness sluggish growth over the coming years on account of weakening business, uncertainties in global trade, and geopolitical risks.
Competitive Insights
The outlook for the steel markets has weakened quickly in the last quarter of 2022. Factors responsible for weaker prospectus include high energy prices, the global economic slowdown, rising inflation and the impacts of Russian war against Ukraine and sharp decline in the real estate sector and rising COVID infections. Global crude steel production has declined sharply in 2022 as the demand has contracted at the global level.
The destruction of steel production facilities in Ukraine has led to collapsed in steel production along with rising energy prices and idling capacities and production stoppages, especially in Europe. Though, the financial performance of steel companies have improved in 2021, recently steel prices have declined more than raw material prices, which is putting pressure on margins of steel producers.
In September 2022, Tata Steel has decided to merge 7 subsidiaries including 4 listed companies. This is projected to benefit the company to improve the efficiency and reduce the operations cost. The companies include Tata Steel Long Products, TRF, Tinplate Company of India, Tata Metaliks, The Indian Steel & Wire Products, Tata Steel Mining and S&T Mining Company.

In September 2022, POSCO announced an investment of USD 14.1 billion to cut carbon emissions. The company constructed two electric furnaces, one in its Gwangyang factory and the other in its Pohang factory, to replace polluting old blast furnaces. In addition, the company installed cutting-edge equipment in electric furnaces to replace coking coal with cleaner hydrogen. The investment aimed at decarbonizing the stainless steel 400 series production process.

In September 2022, Yieh Corp. generated a new nickel-free high-value stainless steel 400 series with high corrosion resistance and a stable price. Fluctuations in nickel prices affected stainless steel grades, such as 304 and 316, as nickel is used in their production. The new 400 series stainless steel products from Yieh Corp. can be used for various applications such as sinks & water towers, curtain walls, solar brackets, solar panels, industrial plant wire racks, outdoor distribution boxes, and others.

Development in technology have enabled the growth of electrical steel market. For example, in surface deposition method, increasing the concentration of aluminum and silicon in electrical sheet leads to rise in electrical resistivity which improves the microstructural property of the metal. This is trending among the major players in the market.