Database Overview
Grand View Research's Wireless Fidelity (Wi-Fi) chipset industry data book is a collection of market sizing information & forecasts (2019-2030), key players competitive benchmarking analysis, government regulatory data, macro-environmental analysis, and technological framework studies. Within the purview of the database, all such information is systematically analyzed and provided in the form of presentations and detailed outlook reports on individual areas of research.
The following data points will be included in the final product offering in 3 reports and one sector report overview:
Wi-Fi Chipset Industry Data Book Scope
Attribute

Details

Research Areas

Wi-Fi 6 Market
Wi-Fi 6E Market
Wi-Fi 7 Market

Details of the Product

3 Individual Reports - PDFs
3 Individual Reports - Excel
1 Sector Report - PPT
1 Data book - Excel

Cumulative Country Coverage

30+ Countries

Cumulative Product Coverage

30+ Level 1 & 2 Products

Highlights of Datasets

Chipset Type Revenue and Volume by Region and Country
Device Type Revenue and Volume by Region and Country
Application Revenue and Volume by Region and Country
Competitive Landscape

Total Number of Tables (Excel) in the bundle

120

Total Number of Figures in the bundle

20
Wi-Fi Chipset Industry Data Book Coverage Snapshot
Markets Covered

Wi-Fi Chipset Industry

Wi-Fi 6 Market Size

USD 9.90 billion in 2021

4.6% CAGR (2022-2030)

Wi-Fi 6E Market Size

USD 2.37 billion in 2021

27.0% CAGR (2022-2030)

Wi-Fi 7 Market Size

USD 0.22 billion in 2021

106.2% CAGR (2022-2030)
Wi-Fi 6 Market Analysis And Forecast
The global Wireless Fidelity 6 market generated over USD 9.90 billion revenue in 2021 and is projected to expand at a CAGR of around 4.6% during the forecast period to reach USD 24.10 billion by 2030. The growth of this market can be attributed to the increasing demand for high-performance network connectivity that can allow multiple users to access the network simultaneously at a consistent bandwidth capacity.
The Wireless Fidelity 6 market is expected to register a significant growth rate over the forecast period owing to the growing need for high bandwidth to mitigate network congestion due to heavy network load. Moreover, the growth is further influenced by the rapidly growing demand for modern devices such as smartphones, laptops, tablets, and routers with the supporting capability of new wireless frequency bands such as 2.4GHz, 5GHz, and 6GHz. Additionally, offering Basic Service Set (BSS) colouring features in WiFi 6 technology allows users to improve network reliability in a dense ecosystem by enabling frames from the neighbour's network. These frames help to minimize interference from other networks and boost the network speed. As a result, these chips are expected to witness increased demand across residential, commercial, and industrial applications.
The different device type used in this market is also well covered within the scope of this study. Key device type segments and the takeaways are mentioned here in the following figure: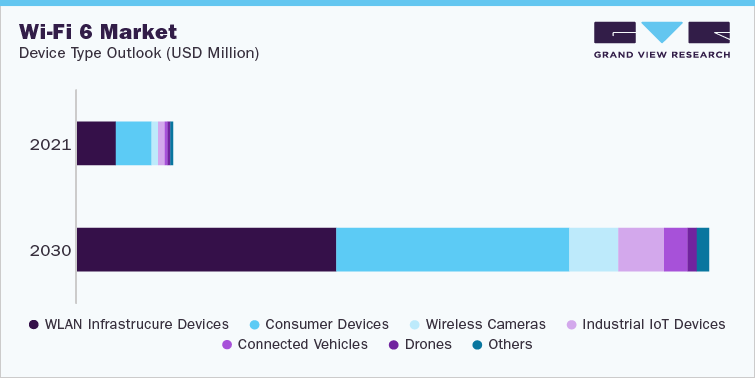 Various private & public companies are operating in Wireless Fidelity 6 market and are adopting different growth strategies such as business expansion, partnership & collaboration, agreement, new product launches and others to expand their presence in this market. Product launch and partnership & collaboration have been most adopted strategies by key players from 2019-2022 as it helped them to increase their customer base and innovate and improve their product offerings. For instance, in March 2020 Huawei launched the AirEngine series products across India. These new products are mainly designed to help enterprises step into the fully wireless campus era. This WiFi 6 series will help enterprises to accelerate their digital transformation by providing fully connected and wireless connectivity in the office and production campus. Also, in January 2020, Broadcom Inc introduced 3x3 Wi-Fi 6 Chip for set-top boxes & WLAN access points. The BCM6710 is a chip equipped with RF power amplifiers integrated within the chip that offer original equipment manufacturers a cost-effective as well as high-performance solution for mass-market products. The product enables three transmit and receive streams in 2.4-GHz, 5-GHz, and 6-GHz bands.
Wi-Fi 6E Market Analysis And Forecast
In terms of value, the Wi-Fi 6E segment is expected to grow at a CAGR of 27.0% over the forecast period. This is an extension of Wireless Fidelity 6 with a 6GHz band. Wi-Fi 6E enabled devices are expected to be the most compatible with older Wi-Fi devices. The Federal Communications Commission (FCC) has opened the 6GHz band for the U.S., which is likely to boost the adoption of Wi-Fi 6E chips. Moreover, these chipsets offer greater benefits compared to the Wi-Fi 6 technology. For instance, Qualcomm Wi-Fi 6E offers high-speed 160 MHz channels with higher stability and a more consistent experience than Wi-Fi 6 chipsets.
We have studied the number of Wireless Fidelity 6E devices deployed across regions and countries along with its ASP, as an important factor for market estimation. The following table represents the number of devices deployed across different region in 2021.
| | | |
| --- | --- | --- |
| Region | Year | Wi-Fi 6E Devices Volume |
| North America | 2021 | 135 |
| Europe | 2021 | 64 |
| Asia-Pacific | 2020 | 138 |
| South America | 2021 | - |
| Middle East & Africa | 2021 | - |
Wi-Fi 6E chipsets have emerged as an improved chipset solution for IIoT devices. These chipsets provide advantages such as low latency, high technological determinism, low power consumption, scalability, and improved environmental robustness. Moreover, Wi-Fi 6E has introduced a 6GHz band for operations in greenfield that fulfills the stringent low latency requirements for industrial IoT devices. Features such as Orthogonal Frequency-Division Multiple Access (OFDMA) enable Wi-Fi 6 to better serve these devices. As a result, the demand for these chipsets is growing rapidly for use in industrial IoT devices.
Wi-Fi 6E have emerged as promising Wi-Fi technology, delivering improved network speed and streamlined connectivity for connected cars. These chipsets are widely used in applications such as advanced driver assistance systems, infotainment systems, and telematics control units. Compared to the predecessor Wi-Fi technology. It delivers high bandwidth, up to fourfold increase in channel capacity, more extended range, and better coverage. Numerous companies are making significant developments in 6E chipsets, thus further increasing their demand across connected vehicles. For instance, LG Innotek, a Korean company, has launched a Wi-Fi 6E module that integrates radio frequency circuitry, communication chipsets, a smart antenna, audio-video navigation system, and other components in one package.
Wi-Fi 7 Market Analysis And Forecast
Wireless Fidelity 7 is a successor of WiFi. This is based on IEEE 802.11be standard. This is an upgrade in terms of Extremely High-Throughput (EHT) which will boost its video streaming speed and quality. With increasing demands for remote working, gaming, and video streaming, the consumer requires higher speed, stability, and connectivity. This can be used for connectivity purposes in smartphones, smart television, internet connectivity, wearable smart devices such as smartwatches, portable speakers, portable earphones, headphones, printers, intelligent refrigerators, intelligent washing machines, air conditioners, television remote, remote-operated systems, data transfer, smart charging of devices, connected automobile technology, and in the aviation industry. Apart from this, it can also be used to provide internet to various devices at a time. Qualcomm, Broadcomm, Intel Corporation, and MediaTek are key players in this sector.
WiFi 7 chipset provides more flexibility as well as capabilities to organizations helping them in their digital transformation journey. In the forecasted period it is expected that Wi-Fi 7 and 5G will work together and will introduce the use of advanced technologies such as distributed & cloud architectures, digitalization, edge computing, virtualization in the private wireless networks.
| | |
| --- | --- |
| Country/region | Market Share 2023 (%) |
| North America | 48% |
| Europe | 10% |
| Asia-Pacific | 42% |
| South America | - |
| MEA | - |
The Wireless Fidelity 7 compatibility will increase the speed of the internet up to 30 Gbps. It will also enhance the wireless audio quality and reduce the latency. The low latency factor would increase its application in portable speakers, earphones, AR (Augmented Reality) sets, and gaming consoles. The Wi-Fi 7 allows many devices to connect at once, which would help in better synchronization in industries. The faster data transfer and processing rate makes 8K video rendering less time-consuming. Various connected car manufacturers are also looking for this upgrade. The AI (Artificial Intelligence) that cars offer needs high-speed real-time data transfer for real-time traffic knowledge. Further, number of Wireless Fidelity chipset providers are launching Wi-Fi 7 chipset which is opportunistic for the market. For instance, Qualcomm, a smartphone processor manufacturer, has started working on its new processor, Fast-connect 7800, which would be the first to support the Wi-Fi 7.
Competitive Landscape
The Wireless Fidelity chipset market is emerging with the presence of a prominent company in the market. Key industry participants include Intel Corporation, Qualcomm Technologies, Inc., Broadcom Inc, Celeno, Mediatek Inc., Nxp Semiconductors N.V. Cypress Semiconductor Corporation, On Semiconductor Connectivity Solutions, Inc., STmicroelectronics N.V. And Texas Instruments Incorporated.
This section is the final deliverables and highlights various initiatives taken by the key companies in the recent past that strongly impacts this market space. The below figure represents the various strategic developments initiated by these market participants:
Market players are primarily focusing on developing new products in the market in order to cater to a large number of customers' needs and requirements. For instance, in January 2020, Broadcom Inc introduced 3x3 Wi-Fi 6 Chip for set-top boxes & WLAN access points. The growing competition for the development of efficient and effective Wireless Fidelity 6 and Wireless Fidelity 6E chipsets are enabling the manufacturers to differentiate their products to stay competitive in the market. Moreover, in October 2021 MediaTek Inc. launched its products Filogic 830 WiFi 6/6E system-on-chip (SoC) and Filogic 630 WiFi 6E network interface card (NIC). This launch initiative will help the company serve its customers in the Wi-Fi 6 and Wi-Fi 6E chipset market.
Key Drivers
Growing demand for high bandwidth, low-latency telecommunication across enterprises

Growing adoption of industrial IoT devices

Growing preference for WFH facilities and E-learning

Aggressive investment in smart city projects and smart homes

Increasing deployment of public Wi-Fi devices across developing countries

Increasing number of internet users

Increasing demand for secure and faster network