"Increasing awareness regarding green chemicals to drive demand"
The global 9-decanoic acid methyl ester market size was USD 145.2 million in 2015. 9-DAME is a preferred element in artificial flavors and fragrances on account of its fruit-like flavor and aroma. Methyl decanoate is used as an artificial flavoring agent instead of natural ingredients such as essential oils due to its comparatively lower cost.
Increasing demand for flavors and fragrances is likely to trigger the 9-decanoic acid methyl ester market growth over the forecast period. Increasing demand for soaps and detergents is another factor that is expected to stimulate the fatty acid methyl esters consumption as they are one of the key ingredients used.
North America 9-decanoic acid methyl ester market volume by application, 2014 - 2025 (Tons)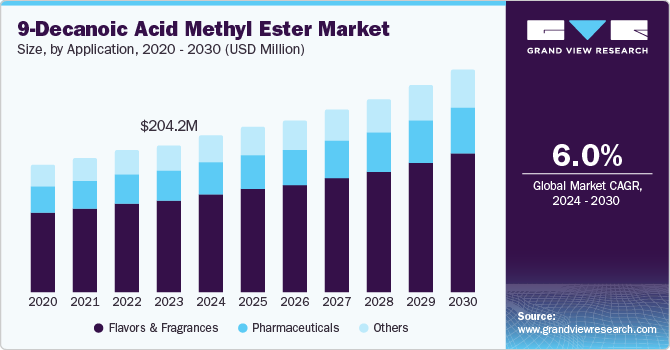 Palm oil and coconut oil are the key raw materials used for producing 9-decanoic acid methyl ester. These oils are used to produce biodiesel where crude glycerol is obtained as a co-product. It is extracted during the purification of glycerol. Ample supply of these natural oils is anticipated to trigger biodiesel production and thus methyl decanoate.
Complex and multiple step process involved in the extraction of methyl decanoate from natural oil is expected to restrain market growth. The extraction cost is also affected by the high cost of catalyst that is essential for metathesis. Also, the yield obtained from natural sources is very low as compared to that obtained from synthetic sources.
"Increasing demand for natural additives is expected to trigger 9-DAME demand from flavors & fragrances application segment"
Flavors & fragrances application segment emerged as the largest application segment for the market and registered net demand of 452.0 tons in 2015. Market penetration can be attributed to changing customer trends and demand for flavors & fragrances derived from natural sources.
Esters are used for imparting fruit flavors in various products such as jams, jellies, wines, dairy products, etc. These factors have propelled the demand for extraction of the ester from natural resources, even though the extraction is costly and time-consuming.
Rising demand for functional products manufactured using environmentally friendly processes, flavors developed using bio-based chemicals is likely to have a rising demand in upcoming years. Customer's inclination to experiment with flavors is expected to provide new opportunities for key players in the 9-decanoic acid methyl ester market.
9-decanoic acid methyl ester demand is likely to be low in perfumes as esters are likely to be unstable due to perspiration and tend to break down leading to the formation of a carboxylic acid which has unpleasant odors. Hence, their application is limited to low-priced toilet cleaners whereas essential oils are widely used to produce expensive perfumes.
In the pharmaceutical industry, methyl decanoate is used to manufacture heavy-duty hand cleaners, skincare lotions, shampoos, etc. The pharmaceutical application segment is expected to emerge as the second fastest-growing segment.
"Asia Pacific is anticipated to emerge as the largest as well as the fastest-growing region"
Asia Pacific was the leading regional segment and accounted for over 34% of demand in 2015. Increasing consumption of 9-decanoic acid methyl ester in flavors and fragrances is anticipated to foster the industry growth over the forecast period. Ample availability of raw materials is another major factor contributing to the strong growth rate in Asia Pacific.
Growth in the North American industry is likely to be influenced by rising demand for products with natural content. Also, customers are more inclined towards buying organic products. The introduction of biofuels directive and favorable regulations for bio-based products is expected to influence the industry in Europe positively.
"Major companies like Elevance and Thermo Fisher have focused on acquisitions and strategic alliances to enhance the market positioning"
The market is highly competitive owing to the presence of a large number of industry participants. Merger and acquisition is a key strategy implemented by major players to expand their product portfolio. Key industry players have their proprietary metathesis technology for manufacturing fatty acid methyl esters.
Key manufacturers such as Elevance have patented their metathesis technology for producing specialty chemicals such as 9-decanoic acid methyl ester. Elevance in collaboration with Wilmar International Limited operates a biorefinery with 180 kilotons manufacturing facility in Gresik, Indonesia using refined palm oil and palm olein.
The companies have maintained competitive pricing policies to sustain in the market. They also manufacture different grades for 9-decanoic acid methyl ester and supply it under their brand name. Increasing end-use applications demand is expected to attract new entrants in the market.

High extraction cost coupled with variation in raw material prices is likely to pose a challenge for the majority of industry participants.
Frequently Asked Questions About This Report