"Trend towards sustainable development to drive biolubricants demand"
The global biolubricants market exceeded 2.0 billion in 2015 and is expected to witness significant growth over the forecast period, owing to increasing application in the transportation & manufacturing industries. Growing demand for biolubricants with superior product characteristics such as constant viscosity, high flash points, biodegradability and lower emission levels are driving favorable growth in various industrial applications owing to stringent emission guidelines and regulatory framework.
U.S. biolubricants market revenue by raw material, 2014 - 2024 (USD Million)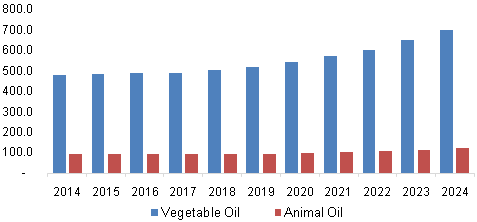 Increasing R&D initiatives by key participants coupled with technological innovations are expected to introduce new avenues for biolubricant applications. Furthermore, the market is fueled by the increasing supply of high performance, cost-competitive green base oils, in the context of government regulations driving such products.
The expansion of the automotive sector, particularly in emerging regions such as India, China, South Africa & Brazil are also slated to drive the consumption of sustainable products that contribute to higher fuel efficiency & lower carbon emissions from vehicles.
Biolubricant production remains highly dependent on the supply of vegetable & animal oils that are by-products of other industrial processes. Complex processing technologies also increase the initial cost of production, which may hamper its growth over the forecast period.
"Vegetable oil was the dominant raw material for biolubricants production in 2015"
Plant-based oils have displayed great potential as a substitute for conventional mineral oils since they are structurally similar to the long chained hydrocarbons found in mineral oils. These oils are thus increasingly being utilized for biolubricant production owing to their advantageous characteristics such as renewability, non-toxicity, economic & environmental friendliness among others.
Increasing R&D efforts to explore opportunities for biolubricant formulation via animal oils & fats is likely to boost segment growth at 5.4% CAGR from 2016 to 2024. These oils & fats offer lucrative potential in sectors that currently primarily utilize petrochemical lubricants such as healthcare.
"Engine oils are a major application for biolubricants"
The global biolubricants market consists of two major applications, namely automotive & industrial. The former was significantly larger in 2015, occupying over 56% of the volume share in 2015.
Within this segment, automotive engine oils dominate the industry, since these oils exceed the performance of conventional engine oils. Furthermore, bio-based engine oils display higher inherent biodegradation rate, low toxicity to aquatic organisms, and very low levels of bioaccumulation that are boosting their application in the sector.
Process oils occupied a significant portion of the industrial application segment. These oils are widely utilized in technical & chemical industries to improve production processes. Growing demand for specialty chemicals in emerging economies of Asia Pacific is expected to drive consumption of these oils.
"Commercial transportation segment occupied the largest share in the industry"
In 2015, commercial transportation occupied over 43% of the global volume, owing to growing awareness regarding fuel efficiency & maintenance in heavy and light-duty trucks. Improvement of vehicle quality is directly proportional to a reduction in environmental impact of these vehicles, which has garnered high popularity for these lubricants in the segment.
Rising passenger car sales in emerging economies has also fostered product demand in the consumer automotive segment. Consumers are increasingly investing in advanced technologies & performance enhancing products to comply with fuel efficiency regulations. The segment is expected to grow at 7.0% CAGR from 2016 to 2024.
"Asia Pacific to be a high growth region for biolubricants in future"
North America occupied a major chunk of the market in 2015, with 34.98% volume share. A revitalized automotive industry in the U.S. & Canada, along with increasing regulatory intervention from the U.S. government that has specified a minimum renewable content for various products are expected to drive bio-based lubricants consumption.
The U.S. Air Force is also encouraging plant-derived biodegradable products as a strategic & fundamental approach to national security, which is another driving force for the market. North America is also likely to benefit from an abundance of soybean & rapeseed feedstock as a result of high biodiesel production in the region.
Asia Pacific emerged as the fastest growing consumer since the region is home to some of the largest automobile manufacturing hubs other than developed ones such as the U.S. and Germany.
Countries such as China, India, Indonesia, and Thailand are increasingly manufacturing and exporting passenger cars and other vehicles to developed regions. Innovation and R&D investments to promote novel biolubricant applications are further expected to complement regional demand over the forecast period.
"The industry is relatively consolidated among dominant players such as Total, ExxonMobil & Shell"
The industry is currently in a nascent stage of development, yet highly consolidated with majority share held by top companies that include Total S.A., UBL, Shell, ExxonMobil, Chevron & British Petroleum.
Major oil refining companies, which are traditionally involved in conventional lubricants production are increasingly supplying biodegradable lubricants for transportation applications. Apart from the companies mentioned above, most of the suppliers are small companies focused only on biolubricants R&D.
The market includes several other participants such as Binol Bio Lubricants, Castrol, Petronas Lubricant International, Kluber International, Emery Oleochemicals, Solution Biogen Sdn Bhd., and Albermarle.