Report Overview
The global body armor market size was valued at USD 2.32 billion in 2020. It is expected to expand at a compound annual growth rate (CAGR) of 5.4% from 2021 to 2028. Technological proliferation is steadily transforming the armor industry. Over recent years, there has been a continuous rise in demand for innovative techniques such as liquid armor, dragon skin, and DEFCON. The demand for modular tactical vests and double-sided combat uniforms is on the rise due to their enhanced protection. Technological advancements and the increasing availability of lightweight armors globally are expected to drive market growth over the forecast period. For instance, Kevlar vests' liquid armor is an enhanced technology innovated at the U.S. Army Research Laboratory to safeguard soldiers' lives. These armors are flexible and light, allowing soldiers to move more and with ease while running or aiming their weapons. It turns into a rigid material once the bullet knocks the armor and protects soldiers from being shot.
The market is susceptible and is governed by various regulations and acts. It is tested by three regulatory bodies, comprising the National Institute of Justice (NIJ), United States Department of Defense (DoD), and Underwriters Laboratories (UL India). Vendors manufacturing and selling armor plates must comply with the standards to test the level of intensity the armor can withstand against any threat. In addition to this, the standards help recognize the strength of the attack that a body armor plate would be able to combat. Regulatory changes to ensure enhanced safety are creating a challenging environment for vendors in the market. Furthermore, specific laws governing body armor ownership and possession, such as the Body Armor Control Act and Body Armor Possession Act 2015, inhibit their largescale adoption in emerging countries such as India.
Modern-day warfare practices include counterinsurgency, counter-terrorism, and guerrilla warfare operations that may injure soldiers, causing fatal injuries. Similar scenarios exist in the law enforcement field wherein criminals, felons, and law offenders can fatally injure corresponding officers, thus necessitating investment in personal body armors and related equipment. Consequently, a rise in military warfare across several regions globally propels the need for ballistic protection suits and equipment for safeguarding military forces. Furthermore, to ease discomfort and reduce the fatigue that reduces the soldier's tactical effectiveness, enhanced ballistic protection systems are being developed. Sensor Products Inc. is developing a body mapping pressure system called Tactilus that will help designers and engineers build armors capable of optimally distributing the soldiers' load. KDH Defense Systems of Johnstown, Pennsylvania, is directing this project through a contract with the U.S. Air Force.
The latest developments achieved in ceramic armors signify the usability of ceramics for lightweight products. Kata Vitec, an Israeli protection solution (including hard armor plates), produces and supplies assault vests with advanced glass-ceramics insert to enable the wearer's unrestricted movement. Additionally, the vests are low in cost and weight. Another example is Pinnacle Armor's Dragonskin body armor. This armor utilizes bulletproof ceramic leaves, which create flexible layers shaped like fish scales. As a result, the demand for lightweight, comfortable, and improved protection armor material is expected to provide growth opportunities for ceramic armor manufacturers over the forecast period. However, there have also been significant developments in the field of Ultra-high molecular-weight Polyethylene (UHMWPE) materials, enabling the development of products with high ballistic effectiveness. UHMWPE materials have around 40% higher strength-to-weight ratio but cost substantially higher than para-aramid fibers. Owing to these benefits, UHMWPE is expected to gain a significant share among the materials for manufacturing protection shields.
Level Insights
The level IV segment led the body armor market in 2020, accounting for a 25.0% share of the global revenue. The high share can be attributed to the prudent improvements in the National Institute of Justice (NIJ) standards to help determine a specific armor model with high performance. For instance, Greece-based Elmon has developed a wide range of protection vests complying with NIJ standards, catering to a range of operational requirements depending on the mission. Additionally, Glagio Do Brasil (GDB) produced a Spike vest that utilizes Dupont Kevlar technology, which protects users from stab and spike attacks and bullets. The body armors are made from Aramid and achieve NIJ Type II spike and ballistic protection, offering a 1.16 lbs areal density per square feet.
Augmented demand for body armors, coupled with the strain put on the supply chain network for materials, has driven up demand for expanded manufacturing capabilities. Additionally, manufacturers are investing millions of dollars in research and development to produce various levels of protection shields. Furthermore, companies are also opting for acquisition and partnership go-to-market strategy to expand their product portfolio. For instance, in November 2019, the Safariland Group announced the complete acquisition of Aegis Engineering Limited ("Aegis"), LBA International Limited ("LBA"), and Pacific Safety Products Inc. ("PSP"), prominent players in production and design of high-performance protective apparel for defense and law enforcement.
Application Insights
The defense segment led the market in 2020, accounting for over 50% of the global revenue share. The high share can be attributed to the progression of battlefield threats such as bone-breaking batons or shrapnel in improvised explosive devices; this has led to the adoption of new tactical ballistic vest protection and pioneering body armor. Further, the prominent companies adopt the same trend with supporting the country's defense force by providing advanced material suits with unique processing technology. For instance, the 3M Company has fielded more than 100,000 enhanced combat helmets and 2 million ballistic plates to the U.S. Armed Forces.
According to the National Institute of Justice (NIJ), law enforcement officers face various kinds of threats, in which firearms are one of the most dangerous threats. During the last few decades, ballistic-resistant soft body armors have saved more than 3000 police officers. Further, the law enforcement officer's profession requires several performances of arduous occupation tasks while fetching an external load, consisting of a chest rig, weaponry, handcuffs, a communication system, personal protective equipment, and others. This is attributed to the substantial demand for lightweight shields with stringent quality control and fast turnaround for law enforcement agencies.
Material Insights
The composite ceramic segment led the market in 2020, accounting for over 30% of global revenue. The high share can be attributed to the growing demand for body armor with high protective properties, and composite ceramic material demonstrates high protective properties comparative to other materials. These composite ceramic shields are smaller in size and lighter, also with a denser structure than other materials. Additionally, the companies are focusing on investing considerably to incorporate the before-mentioned properties into their product range to expand their product portfolio. For instance, in September 2020, Rostec subsidiary Tekhnodinamika, a Russian conglomerate, announced the launch of a new production facility for new high-strength ceramic body armor. Further, companies are also looking for a patented application for bullet-proof composite material and its manufacturing method. For instance, in June 2020, a patent filed by Kookyoung G&M named Bullet-proof multilayered materials and manufacturing method, granted to the company.
Furthermore, the growing demand for soft shields globally is also boosting the investment in various research and development activities to improve these plates' operational efficiency. Moreover, these research and development activities mainly focus on providing the material with various properties such as low density, high tenacity, high tensile modulus, and low elongation at break, which are of paramount importance for soft armor. Meanwhile, the companies focus on producing body armors with different materials complying with NIJ standards to provide efficient soft body armor and maintain competitiveness in the market. For instance, in November 2019, Honeywell Corporation announced the expansion of the production of Spectra Fibre, which enables the growth of high-performing ballistic material and lightweight armor.
Product Type Insights
The soft armor segment led the market in 2020, accounting for a 44.9% share of the global revenue. The high share can be attributed to the fact that soft shields are considered ideal for professions where flexibility and comfortable movement are of paramount importance, owing to these variants' lightweight features. For instance, private security guards and police officers consider soft armor to be their ideal choice. Military personnel are particularly opting for soft armor, as it tends to be lighter in weight. Soft armor also offers substantial protection from hazards during combat, such as ballistic projectiles and fragments from explosions.
Demand for armors is expected to increase as technological innovations and modernization initiatives prompt security agencies and military forces to opt for the latest equipment. Hard variants tend to be comparatively heavier and thicker as compared to soft armor. It features titanium, steel, or ceramic plates that can withstand high-caliber ammunition. It also offers a higher level of protection as compared to the softer product variants. Further, the accessories segment is expected to grow at the highest CAGR of 6.0% due to the increasing prominence of helmets and bulletproof bags & backpacks. For instance, as of August 2019, bulletproof backpacks manufacturing companies, such as MJ Safety Solutions LLC; TuffyPacks, Inc.; and Guard Dog Security, witnessed a significant uptick in their sales.
Product Style Insights
The overt segment led the market in 2020, accounting for over 85% of global revenue. The high share can be attributed to Kevlar's use of overt body armors that offer a higher level of protection from large spikes/blades and heavy gunfire. Overt body armors are worn on the top of the clothing and are often bulkier and heavier as they are engineered using various Kevlar layers. Further, covert body armors are expected to expand at a notable CAGR of 5.8% over the forecast period. This growth is attributable to the increasing need for lightweight body armors with exceptional ballistic protection. For instance, EnGarde Dual Use, a covert ballistic vest offered by EnGarde Body Armor, a Netherlands-based body armor manufacturing company, is one of the lightest body armors protecting against AK-47 MSC rounds.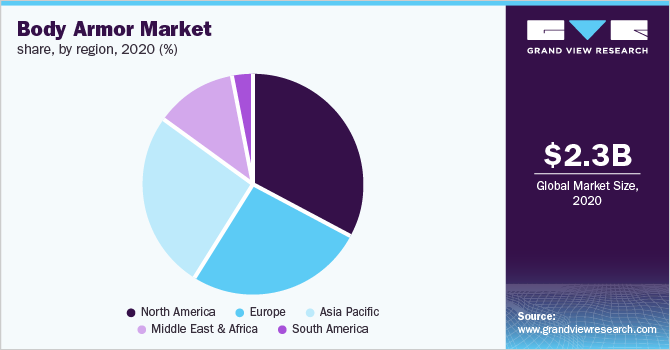 The covert type is expected to witness the highest growth over the forecast period. Compared with the overt kind, covert armor can be worn comfortably beneath regular clothing or a standard uniform. This benefit makes it ideal for use by a very important person (VIP) and security staff who do not prefer showcasing the armor. In January 2020, Point Blank Enterprises, Inc., a U.S.-based protective body armor manufacturer, showcased its innovative solutions at the SHOT Show (Shooting, Hunting, Outdoor Trade Show, and Conference). The company showcased different body armors, including a compression carrier for covert protection.
Regional Insights
North America dominated the market in 2020, accounting for over 30% share of the global revenue. This can be attributed to the rising adoption of ballistic protection suits across various end-use industries. For instance, in 2019, the U.S. Army ordered more than USD 40 million of body armor vest and accessories from a North Carolina-based company named KDH Defense Systems Inc. The company also produced the inceptor outer tactical vest with the body armor, the fourth generation of Improved Outer Tactical Vest (IOTV), and the precursor to the army IOTV. Further, the companies opt to provide lightweight and highly efficient body armor by getting a contract from the government. For instance, in March 2020, Ceradyne, Inc., announced that it had won a USD 111.1 million contract. Under this contract, the company will provide the U.S. Air Force and Army with body protection plates mainly used in tactical vests of defense personnel.
The Asia Pacific region is anticipated to witness significant growth in the forthcoming years. This growth owes to the significantly increasing investments in body armor for the country's military defense segment. For instance, in February 2020, the Chinese Peoples' Liberation Army (PLA) introduced a plan to obtain 1.4 million body armor units worth USD 1.85 million in the coming years. This is because the country is preparing for possible military conflicts against 'U.S. provocations and Taiwan secessionists.' Further, the PLA army held tenders (open) to acquire 467,000 units of plates for improved bulletproof vests and 930,000 units of body armor for universal bulletproof vests.
Key Companies & Market Share Insights
Vendors active in the market are focusing aggressively on expanding their customer base and gaining a competitive edge over their rivals. Hence, they pursue various strategic initiatives, including partnerships, mergers & acquisitions, collaborations, and new product/ technology development. For instance, in April 2020, planarTECH LLC signed a partnership agreement with IDEATI S.A. to distribute its bullet-proof vest and ballistic plate products for body armor to bring its technology to Thailand. Furthermore, in August 2019, Avon Protection, a global provider of life-critical solutions for militaries, acquired Ceradyne, a wholly-owned subsidiary of 3M. The company made this strategic acquisition to win a contract from the U.S. Army and Air Force. Consequently, in March 2020, the company received an order worth USD 111 million for delivering body protection plates. Some of the prominent players operating in the global body armor market are:
Aegis Engineering Ltd.

AR500 Armor

BAE Systems

Ballistic Body Armor Pty

Craig International Ballistics Pty Ltd.

Ceradyne, Inc.

Hellweg International

Kejo Limited Company

Pacific Safety Products

Point Blank Enterprises, Inc.

Safariland, LLC
Body Armor Market Report Scope
| | |
| --- | --- |
| Report Attribute | Details |
| Market size value in 2021 | USD 2.45 billion |
| Revenue forecast in 2028 | USD 3.53 billion |
| Growth Rate | CAGR of 5.4% from 2021 to 2028 |
| Base year for estimation | 2020 |
| Historical data | 2017 - 2019 |
| Forecast period | 2021 - 2028 |
| Quantitative units | Revenue in USD million and CAGR from 2021 to 2028 |
| Report coverage | Revenue forecast, company ranking, competitive landscape, growth factors, and trends |
| Segments covered | Level, application, material, product type, product style, region |
| Regional scope | North America; Europe; Asia Pacific; South America; MEA |
| Country scope | U.S.; Canada; Mexico; Germany; U.K.; France; Russia; Italy; China; India; Japan; South Korea; Australia; Brazil; Saudi Arabia; Israel; UAE |
| Key companies profiled | Aegis Engineering Ltd.; AR500 Armor; BAE Systems; Ballistic Body Armor Pty; Craig International Ballistics Pty Ltd.; Ceradyne, Inc.; Hellweg International; Kejo Limited Company; Pacific Safety Products; Point Blank Enterprises, Inc.; Safariland, LLC |
| Customization scope | Free report customization (equivalent up to 8 analysts working days) with purchase. Addition or alteration to country, regional & segment scope. |
| Pricing and purchase options | Avail customized purchase options to meet your exact research needs. Explore purchase options |

Segments Covered in the Report
This report forecasts revenue growth at global, regional, and country levels and provides an analysis of the latest industry trends in each of the sub-segments from 2017 to 2028. For this study, Grand View Research has segmented the global body armor market report based on level, application, material, product type, product style, and region:
Level Outlook (Revenue, USD Million, 2017 - 2028)

Level I

Level IIA

Level II

Level IIIA

Level III

Level IV

Application Outlook (Revenue, USD Million, 2017 - 2028)

Material Outlook (Revenue, USD Million, 2017 - 2028)

Steel

UHMWPE

Aramid

Composite Ceramic

Alumina

Silicon Carbide (SiC)

Ceramic-Metal Composite

Boron Carbide

Others

Others

Product Type Outlook (Revenue, USD Million, 2017 - 2028)

Soft Armor

Hard Armor

Accessories

Product Style Outlook (Revenue, USD Million, 2017 - 2028)

Regional Outlook (Revenue, USD Million, 2017 - 2028)
Frequently Asked Questions About This Report