Industry Insights
The global enzymes market size was USD 8.18 billion in 2015 and is expected to witness significant growth over the next eight years on account of its increasing application in detergents, pharmaceuticals, and food & beverages.
Enzymes market is projected to show high gains in light of its extensive usage in food processing, germination in breweries, pre-digestion of baby food, fruit juice clarification, meat tenderization, cheese manufacturing, and conversion of starch into glucose. Also, favorable government policies by the U.S., Austria, France, Germany, Italy and Sweden to promote biodiesel production will fuel demand over the next eight years.
North America specialty enzymes market, by application, 2013 – 2024 (USD Million)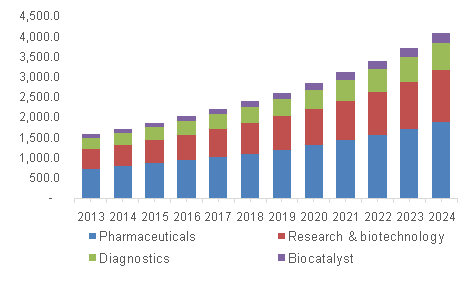 Growing product demand in various applications including paper, biofuels, rubber, photography, biological detergents, contact lens cleaners and molecular biology will promote industry expansion over the next eight years.
Increasing consumer awareness regarding the improved quality of food coupled with high population base and their dietary requirements is expected to create immense market potential over the next few years. Growing forensic and molecular biological research in the U.S. is projected to fuel the product demand over the next eight years.
Application Insights
Food & beverages were the largest application of industrial enzymes and are expected to witness the fastest growth at a CAGR of 10.9% from 2016 to 2024 on account of rising disposable income of consumers coupled with growing demand for a high nutritional diet. In addition, increasing usage in sugar production, dairy industry, and meat processing will propel industry growth over the next eight years.
Pharmaceuticals was the dominant application of specialty enzymes valued at USD 1.63 billion in 2015 and is expected to witness growth in light of growing pharmaceutical sector in China, India, Indonesia, Malaysia, Mexico, and Vietnam. Also, the increasing importance of enzyme-based pharmaceutical formulations in the treatment of chronic conditions such as AIDS and cancer will augment industry expansion over the forecast period.
Type Insights
Industrial enzymes accounted for 56.9% of the overall market and are expected to witness significant growth in light of rising application of digestive and nutritional enzymes in nutraceutical sector. Increasing penetration of industrial enzymes in detergents in light of its superior properties including stain removal, and ability to use in low temperatures.
Product Insights
Technological advancement in enzyme engineering is expected to propel the carbohydrases market growth further. However, carbohydrases' limitation to work under controlled pH and temperature is expected to hamper market growth. Erratic regulations over the use of enzymes as an additive is likely to restrain industry expansion over the upcoming years.
Proteases were the prominent product segment accounting for 27.4% of the global market in 2015 and is expected to show profitable growth in light of their increasing application in pharmaceutical, detergent and chemical sectors in various countries including China, India, and Brazil. Also, rising awareness regarding declining nutrition levels has increased the global protein consumption, which is expected to augment the protease demand in the food industry over the forecast period.
Lipases will witness significant growth in light of its rising application in food products including cheese, yogurt fermentation, and cakes. Growing biodiesel production in Malaysia and Indonesia coupled with raw material availability is expected to promote the lipases market size.
Regional Insights
Asia Pacific is expected to witness substantial gains at a CAGR of 10.5% from 2016 to 2024 as a result of the growth of the pharmaceutical and food & beverage sectors along with the availability of raw materials for biofuel manufacturing. Mounting food consumption, increasing the need for effective health solutions, urbanization and growing sensitivity towards food safety is expected to create immense industry potential in the near future. Increasing government initiatives including FDI and "Make in India" will propel market growth over the forecast period.
Europe was the second largest market estimated at USD 2.16 billion in 2015 and will show profitable growth as a result of increasing biofuel production in the region. In addition, an increase in demand for cattle feed and its hybrid variants are expected to contribute to the market expansion over the next eight years.
Competitive Insights
DSM, Novozymes, Danisco, DuPont Genencor, BASF, Advanced Enzymes, Enmex, Lonza Group, AB Enzymes, Chr. Hansen, Roche, and ADM were some of the key players present within the global industry in 2015. These companies offer various products which cater to numerous applications including agricultural & feed, food & beverages, technical & pharmaceuticals, bioenergy and household.
In October 2014, Novozymes introduced a new range of enzymes that increase the efficiency of detergents. In March 2014, Lonza Group signed a contract with Amyra Biotech for the development of enzymes for the treatment of coeliac diseases.