Industry Insights
Global furfural demand was 270 kilo tons in 2012. The Strong shift towards the development of bio-based chemicals on account of volatile petrochemical prices and growing environmental concerns is expected to remain a key driver for the growth of global furfural market. A strong push for sustainable chemistry on a political and regulatory level across key regions is expected to play a critical role in furfural market development.
Global furfural market volume by application, 2012-2020 (Kilo Tons)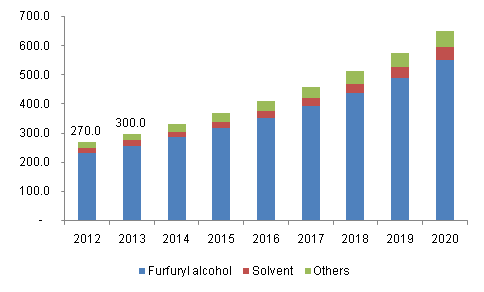 Furfural has gained acceptance as a substitute for petrochemicals as a building block for polymers and solid elastomers. In addition, furfural derivatives such as 5-hydroxymethylfurfural (HMF), furan-2,5-dicarboxylic acid (FDCA) and polytetrahydrofuran (poly-THF) have also been gaining importance as potential secondary fuel sources. This trend is expected to drive further furfural demand over the next six years. Favorable environmental regulations from agencies such as U.S. Environmental Protection Agency (EPA) and Registration Evaluation Authorization and Restriction of Chemicals (REACH) regarding the development of bio-based products is also expected to have a positive influence on the market growth. Relatively low pricing by Chinese manufacturers has led to anti-dumping duty on Chinese exports by U.S. International Trade Commission and European Commission in the recent past. On account of which, the Chinese export trade is expected to be hindered which in turn is expected to pose challenges to the global market regarding supply.
Production technologies involved in furfural production have witnessed very little advancement in the past. Many manufacturers produce furfural at less than 50% yield through Quaker Oats technology. Advancements in production processes are necessary to improve yield and reduce production costs. Increasing R&D activities are being conducted by various companies and research institutes to improve the production process. However, these processes are not commercially operational. Obsolete production technologies are expected to pose challenges to market participants.
Application Insights
Furfuryl alcohol emerged as the largest application segment and accounted for over 85% of overall furfural market in 2013. Furfuryl alcohol is primarily used as a binder in foundries. Growing demand for metals such as steel, magnesium and copper on account of rapid industrialization in emerging economies of Asia Pacific and Latin America is expected to drive is expected to fuel the demand for furfuryl alcohol. Furan derivatives find application in polymers, textiles, and construction materials to name a few of the high-volume market. Novel applications in timber treatment, soil conditioning and biofuels have also emerged over a couple of years. Furfural has also been gaining prominence as a sustainable blend-stock in fuels such as diesel. High oxygen content in it compared to conventional fuel additives improves combustion and reduces smoke emissions in diesel engines, consequently lowering diesel costs and dependence on crude oil.
Regional Insights
Asia Pacific emerged as the leading regional furfural market with China alone accounting for over 70% of total market volume in 2013. High rates of export of furfuryl alcohol, due to growing demand for furan resins is expected to have a positive impact on the Chinese furfural market. The presence of corn fields and advisable weather for maintaining the content of furfural has had a positive influence on the regional market. The growth of major end-use industries such as chemicals, pharmaceuticals, and flavoring intermediates is expected to increase the demand over the forecast period. India is expected to emerge as a significant market due to growing demand for industrial products. Growth in the refinery, grinding &abrasive wheels, pharmaceuticals and phenolic resins in India is expected to drive the regional market. Western Europe is expected to follow Asia Pacific. Strong environmental regulations in this region are expected to drive the regional furfural market.
Competitive Insights
Global furfural market is fragmented as the top four companies accounted for over 45% of the total market in 2013. Furfural market is oligopolistic in nature, creating high barriers for new entrants such as large scale agro based manufacturers. Chinese producers hold the lion share of the market and hence the global prices of the material is mainly determined by the Chinese domestic issues including labor cost, government policies, and natural calamities. The presence of a large number of small-scale manufacturers imposes threats to the large MNCs in terms of their price offerings in quality. Major market participants include Teiling, Central Romana, TransFuran, Illovo Sugar, Xing Tai Chunlei, Nutrafur Furfural Espanol and KRBL Ltd.