Industry Insights
The global oxygen therapy market size was USD 7.09billion in 2015 and is anticipated to grow at a CAGR of over 11.1% in the coming years. The rising prevalence of respiratory disorders and technological advancements are the key growth drivers of the oxygen therapy market.
According to the World Health Organization (WHO), total deaths resulting from COPD are projected to rise approximately by 30% in the next decade, thereby driving the need to incorporate oxygen therapy as a treatment option. Moreover, estimates exhibited that COPD is expected to be the third leading cause of death worldwide by 2030, thereby widening the consumer base for oxygen therapy market.
North America oxygen therapy market share, by application, 2014 - 2024 (USD Million)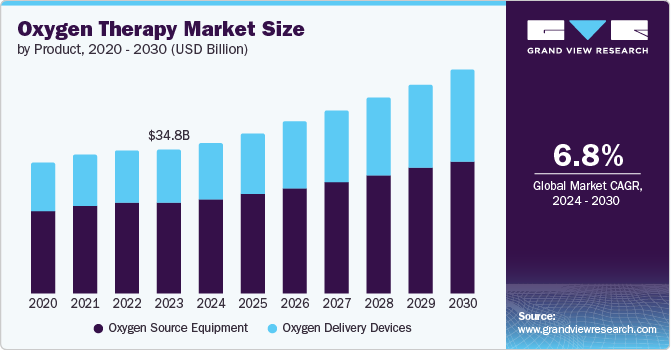 The growing demand for technologically advanced equipment such as portable concentrators for enhanced patient outcomes, is anticipated to boost the market growth over the forecast period. Major advancements include the advent of pulse oximetry devices, nasopharyngeal oxygen therapy, and incorporation of conserving devices.
Potential benefits associated include enhanced patient response, controlled flow as required by the patient, increased portability, greater comfort, and less flow wastage. These aforementioned factors are expected to contribute towards the growth of oxygen therapy market in the near future.
Application Insights
Chronic obstructive pulmonary disease held the largest share of over 37.0% of the application segment and it is anticipated to grow lucratively at a CAGR of over 11.0% during the forecast period. This is attributed to increasing popularity of supplemental administration in conjunction with first line treatments available for COPD.
Associated benefits with this treatment option, include faster response rates, improved survival chances, reliability & portability and rapid symptomatic relief. The aforementioned factors are responsible for driving the inclination of patients and physicians towards the market in the treatment of COPD thereby increasing the adoption rate over the forecast period.
Product Insights
The product segment of the market is constituted of oxygen source equipment and oxygen delivery devices. Oxygen source equipment held the substantial share of over 65.0%, owing to the incorporation of this equipment in the wide range of applications as first line treatment. This equipment primarily includes cylinders, concentrators, liquid oxygen devices and PAP devices. Oxygen delivery devices are anticipated to grow at a lucrative CAGR of 11.6% as a consequence of high usage rate in home settings, Hospital, clinics, patient support transport vehicles and extended care facilities. Moreover, continuous innovation in oxygen delivery devices to enhance the flow quality is expected to propel the growth opportunities during the forecast period. Technological advancement includes incorporation of molecular sieves, vacuum pressure swing adsorption technology for better patient outcomes.
End-use Insights
Home healthcare dominated the end-use segment with market revenue of over USD 4.0 billion, owing to the rising geriatric population coupled with increasing patient base with low mobility profile and long-term care requirement in conditions such as Alzheimer's disease. Furthermore, the rising number of government initiatives and reimbursements for home-based therapy is expected to present the market with new avenues.
For instance, with the initiation of Affordable Care Act in COPD, acute care facilities are being evaluated for cost-efficiency, patient comfort, satisfaction, safety, and readmissions, thereby driving the demand for home healthcare.
Regional Insights
North America held substantial revenue share of the overall oxygen therapy market in 2015 at over 40.0%. The increasing number of product approvals and high R&D investments are the key growth drivers responsible for the largest share of the market in this region. It is followed by Europe in terms of revenue share owing to the presence of favorable government initiatives for improving respiratory care, such as European Committee for Hyperbaric Medicine (ECHM), involved in promoting awareness pertaining to the treatment.
The Asia Pacific region is expected to witness lucrative growth opportunities in the future due to the increasing geriatric population requiring home-based oxygen therapy, and rising healthcare expenditure in emerging economies such as China and India.
Competitive Market Share Insights
The key players in this industry include CareFusion Corp., GE Healthcare, Tecno-Gaz Industries, Hersill, Philips Respironics, Inc., DeVilbiss Healthcare, MAQUET Medical Systems, Smiths Medical, Allied Healthcare Products, Fisher & Paykel Healthcare Limited, Teleflex Incorporated, Invacare Corporation, and Chart Industries.
The industry is highly competitive in nature and the market players are involved in sustainability strategies such as mergers & acquisitions, strategic collaborations, and technological innovations to enhance penetration. IN March 2015, MAQUET Medical Systems entered into a distribution agreement with Flight Medical in an attempt to widen its distribution network and increase product penetration in the U.S.
The presence of a competitive environment can be attributed to high R&D investments, the existence of government programs, frequent product approvals, and efficient distributive agreements and contracts.
Analyst Perspective
The study emphasizes on types of oxygen therapy equipment and their applications in various medical fields. Multiple approaches and models were incorporated for market estimates and forecasts. One such approach involved evaluating price, frequency, and application analyzed to determine the market estimates for a particular year.
The report analyzes the trends in oxygen therapy, strategic initiatives by leading players of the industry, and demand generating factors. This report will provide a thorough understanding of the industry dynamics and enable in wise decision-making. The estimates and forecasts were validated through primary interviews. Insights from industry experts, end-users, and sales managers were utilized for the confirmation of the market size.