Industry Insights
The global UV (Ultraviolet) curable inks market size was USD 1.64 billion in 2015. Growing demand in multiple printing applications, on account of superior characteristics such as high bonding qualities, reduced drying time and low volatile organic compound (VOC) content is expected to propel market growth. Technological advancements in the field have reduced the risk of fading, de-lamination and bubble formations, which is anticipated to drive market demand. These inks possess low viscosity thereby reducing wastage by lower penetration into the printing materials. In addition, due to low viscosity these may also be used for application on rigid surfaces, hence boosting the demand.
The market is likely to witness significant growth owing to its bio-compatible properties. Waste reduction, low pollutant emission and low energy usage required for the product manufacturing is expected to have a positive impact on the market growth. Furthermore, increased printing throughput and higher productivity offered by ultraviolet curable inks are anticipated to drive demand over the next eight years.
U.S. UV curable inks market revenue, by application, 2013 - 2024 (USD Million)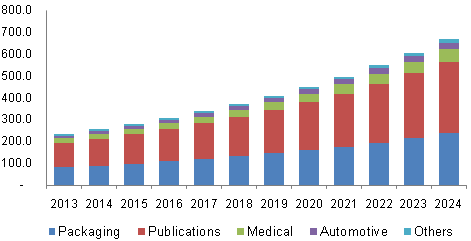 Growing demand for UV inks in 3D printing for automotive, consumer goods and medical applications are expected to drive the market over the forecast period. Furthermore, high performance characteristics, ease of applicability and low environmental impact as compared to other solvent-based inks are also anticipated to propel market growth.
Stringent regulatory framework by agencies such as the European Printing Ink Association and the Underwriter's Laboratories are also likely to have a positive impact on industry growth. Various standards and certifications have also been implementedwith regards to these inks, to provide consumer protection and reduce potential hazards.
The high initial costs and volatile raw material prices are expected to restrain market growth over the forecast period. High costs refer to expensive ultraviolet curing equipment and an array of anilox rolls that are required to adjust the print color. LED lamps also require air or water-cooling systems tocontrol high temperatures generated by the curing process. This may also add to the cost of equipment and processing, which may pose a challenge to new market entrants.
Product Insights
Free radical inks were the largest product segment, accounting for over 90% of the market in 2015. The product obtained through this polymerization process requires less time and generates low temperatures that do not hinder the curing process. Furthermore, the process requires less energy as compared to its counterparts, which is likely to offer a competitive advantage for the product over the next eight years. Cationic polymerization is expected to witness significant growth in the market owing to low emission levels, non-odorous nature, and taint-free properties. Furthermore, humidity & oxygen resistance offered by this polymerization process which makes them ideal for flexible packaging applications is expected to drive demand over the forecast period.
Application Insights
The industry is segmentedon the basis of application into automotive, medical, publications, packaging and others such as plastics, electronics, and sports equipment. The publications and packaging segments dominated the market owing to high demand for individualized and unique consumer goods, with attractive colors that are fostered by ultraviolet curable inks. The automotive application is likely to grow at a CAGR of over 10% from 2016 to 2024. Growing medical sector in developed & emerging economies, owing to the increasing geriatric population and rising consumer health awareness are also anticipated to boost product demand in this application
Regional Insights
Asia Pacific emerged as the largest & fastest growing market in recent years, owing to high demand for unique and environment-friendly inks in several applications. The region accounted for over 50% of the global UV curable inks market in 2015.The rapid expansion of end-use markets and rising consumer disposable income are other factors driving growth in this region. North America is anticipated to be a key region for UV curable inks market, owing to the presence of several electronic device manufacturers such as Micron, Intel, Texas Instruments and Avago. These companies are actively engaged in the development of innovative digital and analog semiconductor technologies, which is likely to increase demand for UV curable inks over the forecast period.
Competitive Insights
The UV curable inks market is highly competitive owing to the presence of a large number of established manufacturers and suppliers and new entrants in the market. Major players such as Hewlett-Packard Co., Flint Group, Toyo Ink SC Holdings Co., and Paul Leibinger GmbH are actively involved in the UV curable inks market, with numerous strategic alliances and product innovations, which are being emulated by other players as well.
Other market participants include APV Engineered Coatings, RUCO Druckfarben, Eastern Marking Machine Corporation, Gans Ink & Supply Co., T&K Toka Co. Ltd., Nutec Digital Ink Pvt. Ltd., Colorgen, Marabu Inks GB, Mimaki Engineering Co. Ltd., Nazdar Ink Technologies and Superior Printing Inks Co. Ltd.