1,4 butanediol (BDO), also termed as 1,4-butylene glycol or butane-1,4-diol, is an organic compound that is primarily utilized in the production of plastics, fibers, and solvents. It is a versatile chemical intermediate that possesses excellent durability, strength and thermal stability.
1,4 BDO has a wide application scope in several end-use industries including footwear, electronics, automotive and packaging among others. It is most commonly used to produce tetrahydrofuran (THF), an extremely flammable, colorless liquid employed as an intermediate in polytetramethylene ether glycol (PTMEG) production. This is then further processed to yield the highly popular apparel fiber - spandex, which is used in medical, automotive & sports applications.
Growing application of sustainable materials has also contributed to the demand for green products. Major industry players, such as BioAmber, Genomatica, and Myriant are pioneers in bio-based technologies, having invested heavily in sustainable production processes. The chemical however, is considered as an abused recreational drug since it causes adverse health effects on overdose such as nausea, dizziness, dehydration and sedation. However, it is available legally in large quantities with cautionary warnings to avoid undetected slippage into consumer drinks.
BDO manufacturing processes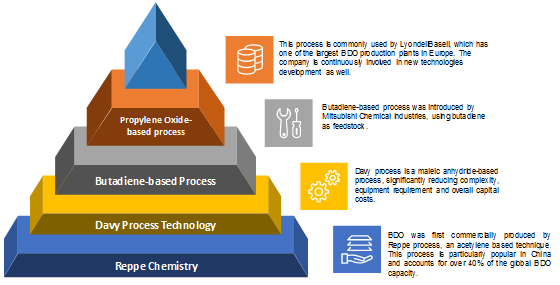 Technological advancements in manufacturing methods
1,4 BDO can be produced via numerous methods including the traditional Reppe process, Davy process, butadiene process, propylene oxide process, allyl acetate and newer bio-based processes using succinic acid.
Major industry players including LyondellBasell Industries and Mitsubishi Chemical Industries have formulated noval technologies to gain a competitive edge. Government agencies such as the U.S. EPA have also integrated fundamentals of green chemistry toward the production of chemicals, which is another factor driving renewable bio-BDO market growth.
BDO manufacturing processes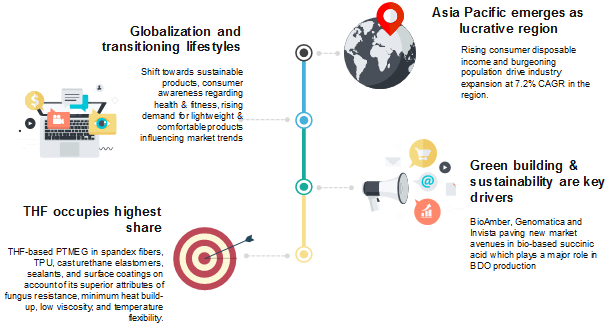 Wide application scope of THF
THF has gained substantial popularity over the past few years owing to its superior attributes of low viscosity & temperature flexibility. It is widely utilized as a resin solvent in PVC and CPVC pipe cement, inks for plastics, magnetic tapes, and PU coatings.
Increasing application scope of THF has positively influenced market growth since over 50% of THF is manufactured using BDO. China is one of the largest consumers of THF owing to the robust demand for PTMEG-based spandex in its textiles industry.

In-depth report on global 1,4 butanediol (BDO) market by Grand View Research:
https://www.grandviewresearch.com/industry-analysis/1-4-butanediol-market