Industrial fasteners are hardware devices that join two or more objects together while providing structural strength and rigidity. These devices find application in automobiles, aircraft, furniture, industrial machinery, and textile machinery among others. The growing population and rising disposable income in emerging economies of Asia Pacific coupled with increasing construction activities are expected to drive the industrial fasteners market.
Increasing investments in satellites and space mission projects particularly in India are anticipated to contribute positively towards industry expansion. Upcoming space exploration and satellite projects, such as Chandrayaan-2, Aditya, and SAARC Satellite, are likely to create growth opportunities for the market. Moreover, the growing demand for military equipment from China, India, and South Korea, is further anticipated to stimulate the industry growth.
Thailand industrial fasteners market revenue share, by application, 2015 (%)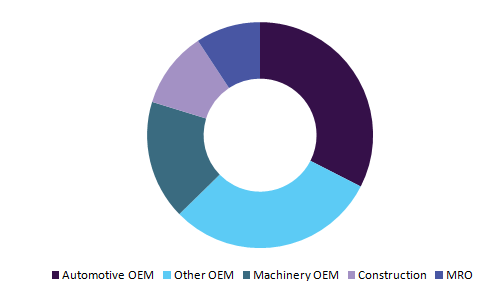 Innovation is expected to be a critical success factor for the market growth. The usage of titanium as a raw material owing to properties, such as superior strength and light weight, is expected to increase product demand over the upcoming years. However, increasing the popularity of adhesives and tapes in automotive and construction applications will restrain market growth over the forecast period.
Rising infrastructure spending in neighboring economies, such as Singapore and Malaysia, is expected to bolster trade flows, which in turn, is projected to increase production in Thailand positively. Furthermore, the increasing domestic consumption of fasteners is expected to result in market development over the forecast period.
Asia Pacific is projected to witness substantial gains over the upcoming years on account of a large automotive manufacturing base in China, Japan, and India along with increasing passenger vehicles sales. Industrial development in the region is anticipated to augment the product's demand in industrial machinery and equipment. Furthermore, increasing infrastructure spending in the current fiscal budget by the Indian and Chinese governments is a key factor responsible for the high demand of the product over the forecast period.
Central & South America is anticipated to foresee significant growth on account of the robust expansion of pharmaceutical and food supplement industries. Moreover, expansion and development of various major airports in the region including São Paulo-Guarulhos International Airport, Congonhas-São Paulo Airport, El Dorado International Airport, Brasília International Airport, and Rio de Janeiro-Galeão International Airport are expected to spur the demand for industrial fasteners. Furthermore, the presence of aircraft manufacturer Embraer coupled with the presence of MRO companies, such as TAM MRO, Jet Aviation Sorocaba, and Industrial Aeronautica S.A., will aid in market expansion.
The industry is highly competitive and fragmented in nature owing to the presence of various small and large manufacturers. Key participants in this industry include Nifco, Alcoa, LISI Group, ITW, Precision Castparts Corp., Standard Fasteners Ltd., Dokka Fasteners, and Kova Fasteners Pvt. Ltd. In June 2014, Nifco announced investment plans to increase the output capacity of its production facility in Poland's Wałbrzyska Special Economic Zone (WSEZ). The investment would enable manufacturers to launch the production of various plastic components for the automotive industry.

In-depth report on global industrial fasteners market by Grand View Research:
http://www.grandviewresearch.com/industry-analysis/industrial-fasteners-market