Air ambulance services are termed as "Medevac or Aeromedical Evacuation." Various organizations that offer these services include governments and fee-for-service organizations. They are also run on donations by businessmen and on public donations. Air ambulance is a specially designed helicopter or aircraft intended for the transportation of patients. These helicopters are equipped with essential medical instruments, such as vital sign monitors, ventilators, electrocardiograms, and stretchers. Historically, these facilities were used by military in war situations, however, routine use of these services is growing. Medical crew members of personnel in air ambulances includes retrieval doctor, flight paramedic, flight nurse, and transport respiratory practitioner.
Types of Air Ambulance:
Air ambulances are of two types: rotary-wing and fixed-wing:
- Rotary-wing: Rotary-wings refers to helicopters, as it has rotating blades or wings. These are used in variety of situations such as for dealing with emergency cases, usually road traffic accidents, rescue operations, and in sports-related trauma. Helicopters transport patients to relatively shorter distances. In addition, helicopters can be landed on any surface, such as roads, paved areas, or building terrace.
- Fixed-wings: These are high-tech aircrafts powered by jet engine or are propeller driven. These are primarily used for patients needing long distance transfer. Fixed wing services generally are private jets or business jets which designed in such a way that they can accommodate medical equipment and crew.
Global air ambulance services market, 2016 (USD Million)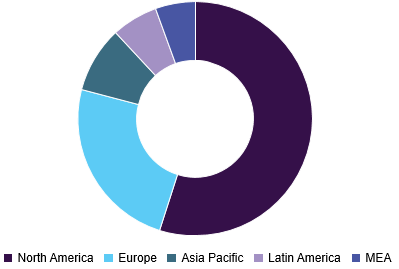 Air Ambulance Services: Market Dynamics
Global air ambulance services market was valued around USD 3.7 billion in 2016 and is projected to grow at a CAGR of 9.3% till 2025. The market is driven by factors such as increasing healthcare expenditure, rising per capita income, increasing prevalence of life-threatening diseases requiring emergency medical response, and technological advancements in these utilities
Lucrative growth rates witnessed by the U.S. air ambulance services market in the past is relatively tempered by the uncertainty associated with the passage of the Patient Care Protection and Affordable Care Act (PPACA); this is reflected in the market forecast. This legislation has enacted widespread changes that affect private health insurance, Medicare, and Medicaid and had impacted reimbursement rates further. As per statistics by the Government Accountability Office (GAO), Medicare and Medicaid payments account for around 30.0% and 12.0% of market revenue, respectively, while private insurers account for approximately 50.0%. Out-of-pocket payments are rare as services are very expensive. The sizable government reimbursement component, which is around 42.0%, makes demand in this space inelastic with respect to income. Furthermore, the reimbursement component has minimal impact on the market in terms of macroeconomic fluctuations and makes demand consistent.
Some of the key players in this vertical include AMR; PHI Air Medical; Scandinavian Air Ambulance; Express AirMed Transport; IAS Medical; Lifeguard Air Ambulance; Native American Air Ambulance, REVA Air Ambulance, and Acadian.

In-depth report on global air ambulance services market by Grand View Research:
http://www.grandviewresearch.com/industry-analysis/air-ambulance-services-market