Air core drilling is a method wherein hardened steels or blades are used to bore a hole in an unconsolidated formation. Air core drilling can reach a depth of 300 meters which is great for mineral mining. The air core drill bit has three blades which cut the soft rock formations thereby removing the drill cuttings by the help of injecting air into the hole through the annular area between the drill rod and inner tube. Basically, air core drilling is the part of shallow drilling requiring minimal site preparation.
Unlike other exploratory drilling methods, air core drilling stretch to long hours as the process is more accurate and slow. The samples collected from the air core drilling does not get damaged. The increasing investment in exploration and production activities across various unconventional resources is driving the air core drilling market.
Global air core drilling market by application, 2015 (%)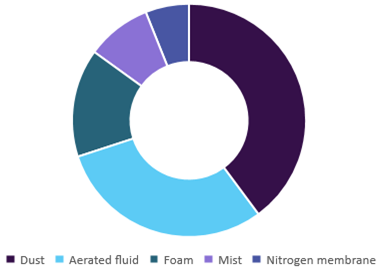 This is in order to meet the growing demand of ever-rising energy demands. The main advantages of the process are the holes need not to be cased, the samples collected are more accurate and present the same as it is below the surface.
For mineral exploration, air cored drilling is preferred over RAB since it provides cleaner and accurate samples. The conditions which justifies the criteria of air drilling is well site conditions, presence of oil-based mud or wellbore fluid influxes. The methods include under air drilling are mist drilling, aerated drilling, dust drilling, foam drilling, and nitrogen membrane.
Different Types of Drilling
Dust drilling is another form of air drilling. It is the least expensive type of air drilling, requires no fluid system for clean-up. Dust drilling provides an ideal environment for use. Dust drilling cannot handle wellbore fluid influxes; these cuttings result in mud rings in the annulus which can lead to a risk of fire of a down hole if mud rings are not eliminated.
Mist drilling is drilling with liquids which is a mixture of soap and water mixture. In mist drilling the rate of penetration is little slower. Whereas in foam drilling, the foam is a mixture of water, surfactants and air. The cutting carrying capacity is greater than dust drilling.

Advantages
Air core drilling technology has the power of providing rapid, accurate samples also drilling rates get speed up which means lower field costs. Hence proving to be the cost effective technology for the shallow wells.

In-depth report on global air core drilling market by Grand View Research:
https://www.grandviewresearch.com/industry-analysis/air-core-drilling-market