Air core drilling is a method wherein hardened steels or blades are used to bore a hole in an unconsolidated formation. Air core drilling can reach a depth of 300 meters which is great for mineral mining. The air core drill bit has three blades which cut the soft rock formations, thereby removing the drill cuttings by injecting air into the hole through the annular area between the drill rod and inner tube. Basically, the technique is a part of shallow drilling requiring minimal site preparation.
Unlike other exploratory drilling methods, air core drilling stretches to long hours as the process is more accurate, but slower. The samples collected here do not get damaged. The increasing investment in exploration and production activities across various unconventional resources is driving the air core drilling market. This is in order to meet the growing demand of ever-rising energy demands. The main advantages of the process are the holes need not to be cased, the samples collected are more accurate and present the same as it is below the surface.
For mineral exploration, air core drilling is preferred over RAB (Rotary Air Blast) since it provides cleaner and accurate samples. The conditions which justify the criteria of air core drilling are well site conditions, presence of oil-based mud or wellbore fluid influxes. The methods included under air drilling are mist drilling, aerated drilling, dust drilling, foam drilling, and nitrogen membrane.
Global air core drilling market by application, 2015 (%)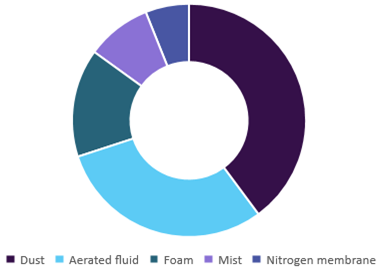 Different Methods of Drilling
Air core drilling comes in a number of forms. Dust drilling is the least expensive type of air drilling and requires no fluid system for clean-up. Dust drilling provides an ideal environment for use. Dust drilling cannot handle wellbore fluid influxes; these cuttings result in mud rings in the annulus which can lead to a risk of downhole fire if mud rings are not eliminated.
Mist drilling is drilling with liquids which is a mixture of soap and water. In mist drilling the rate of penetration is little slower. In foam drilling, the foam is a mixture of water, surfactants and air. The cutting carrying capacity is greater than dust drilling. Here, surfactants, water and air combine to create a stiff foam, which is then circulated as drilling fluid. The cutting carrying capacity is greater than dust drilling by 6-7 times.
Aerated drilling involves nitrogen or air being added to the liquid phase of the drilling fluid, thus lowering the effective mud weight. This method can be used with most types of drilling fluids. Nitrogen Membrane drilling minimizes the chance of downhole fire. Its US patent is held by Weatherford, owner of the biggest fleet of on-site generated membrane Nitrogen Production Units globally.
Bright Days Ahead?
The air core drilling market is expected to show good growth in the coming years, owing to a number of assisting factors:
There has been a rapidly rising requirement for efficient extraction techniques in oil and gas wells, which is expected to play a huge role in the market growth.

Air drilling provides continuous sample returns, as well as reduced time while moving between boreholes, factors which increase the market attractiveness for air drilling.

Air core drilling results in the recovery of clear samples, while also providing no hindrance to the process of rock penetration.

A combination of strict product regulations and rising demand for high-value ore grades will also result in boosting the market growth, encouraging the market players to develop efficient and durable mining equipment.

Diminishing ore grades, along with a rapidly rising demand for usage of energy resource in industrial and commercial usage, are anticipated to drive the global market for air core drilling.
However, there are also some problems associated with this technique which can hinder market growth, such as being restricted to mature geographical areas where water and hydrogen sulfide zones are absent, as well as health concerns arising out of long exposures to noise, metal dust, as well as other toxic materials.
Industry Scenario
The major competitive players in the air core drilling market include Schlumberger, Halliburton, Baker Hughes, Weatherford, Atlas Copco, and Allis Chalmers, along with Harlsan, a primary supplier for RC drill rods and air core bits to major global mining players. Some other major industry players include Airdrill, San Antonio Global Ltd., Tesco and Premier Ltd., Perenti Global (formerly AusDrill), Master Drilling, Chicago Pneumatic and Brown Bros.
Some of the recent developments that the air core drilling industry has seen include:
In August 2019, AusDrill Limited announced that it would be undergoing rebranding and take up a new identity with the name 'Perenti', with the move undertaken to underline the company's global positioning as a diversified mining service provider and help the company in future growth.

In May 2019, Schlumberger, with a view to focus on its core drilling operations as well as introducing automation in the field, sold three of its specialized subsidiaries in the tubulars sector to Wellbore Integrity Solutions, an oilfield technology firm from Houston.

In-depth report on global air core drilling market by Grand View Research:
https://www.grandviewresearch.com/industry-analysis/air-core-drilling-market