Airway management are medical procedures performed as preventive measures for airway obstruction, which are accomplished through certain devices. Airway obstruction can be consequence of foreign objects, bloated airway tissues, and body fluids such as cough.
Airway management is being increasingly used by wide range of hospitals, ambulatory care centers, and home care. However, prehospital settings face challenges in airway management, such as limited space, poor lighting, and neck immobilization, which render the procedures complex, especially in home care and ambulatory care.
Wide array of airway management devices are incorporated in airway management, which primarily include supraglottic airways, infraglottic airways, laryngoscopes, and resuscitators. Supraglottic airways can further be divided into oropharyngeal, nasopharyngeal, laryngeal face masks, and others. Supraglottic device are now increasingly being used and are expected to grow lucratively as they ensures patency of the upper respiratory tract. Oropharyngeal airway devices are widely used in conscious patients, whereas nasopharyngeal airways can be utilized in both unconscious and conscious state. However, nasopharyngeal are particularly avoided in cases of trauma. On the other hand, infraglottic airways are segregated into endotracheal, tracheostomy tubes and others.
Airway management holds utmost importance in cardiopulmonary resuscitation, anesthesia, emergency medicine, and intensive care. According to a recent analysis published in NCBI, bag-valve mask ventilation when used as an advanced airway device resulted in better neurological outcomes in over half a million out-of-hospital cardiac arrest patients.
Supraglottic airway devices possess the ability to bypass upper airway tract and produce low airway resistance, thereby allowing both positive pressure and spontaneous ventilation. It also helps protect the respiratory tract from various acidic gastrointestinal & nasal secretions, remains stable, and minimizes aspiration risks.
Global airway management devices market, by end-use, 2016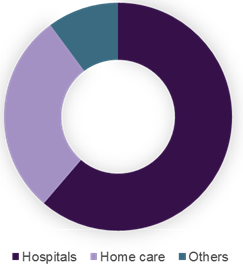 The airway management devices market is highly competitive in nature and has a considerable number of players that have high level of dominance over the overall revenue share. The most notable market participants are Ambu A/S; Teleflex; Medline Industries; Smiths Medical; Becton, Dickinson & Company; and Medtronic, which account for a considerable share of the market. These companies are extensively undertaking market sustainability strategies, such as strategic collaborations, new product development, and mergers & acquisitions to maximize their industry share.
For instance, in October 2015, Teleflex launched LMA Protector Airway, comprising gastric channels and silicon cuffs. The product possesses improved endotracheal tube intubation capability and was launched with the aim of improving procedural efficiencies and reducing airway-related complications. Also, in October 2015, Ambu A/S company entered into a distribution agreement with Tri-anim Health Services. The nonexclusive distribution rights were provided for distribution of King Vision, a single-use video laryngoscope, and Ambu AuraGain, single-use laryngeal masks, in the U.S. Furthermore, in September 2016, Ambu A/S completed the acquisition of ETView Medical Ltd., a medical device manufacturer. The acquisition was carried out to cater unmet patient needs and provide advanced products that allow continuous airway monitoring.

In-depth report on global airway management devices market by Grand View Research:
http://www.grandviewresearch.com/industry-analysis/airway-management-devices-market