Global algae biofuels market is anticipated to foresee a significant growth over the projected period owing to the rising demand for bio-derived fuel products. Rising GHG policies and increasing environmental concerns to regulate the usage of fossil fuels resources are expected to be the primary factor driving the demand for renewable fuel resources over the forecast period.
Algae biofuel has potential to replace other bio-ethanol resources including corn stover, cassava, corn, sugar beet, sweet sorghum and switchgrass owing to its high yields. The following table gives the comparison of various feedstock and their ethanol production capacities in liter/ hector.
TABLE 1 Ethanol production capacities by various feedstock, (L/Ha)
| | |
| --- | --- |
| Feedstock | Ethanol Yield |
| Switch grass | 10,760 |
| Sugar beet | 5,010–6,680 |
| Corn | 3,460–4,020 |
| Sweet sorghum | 3,050–4,070 |
| Cassava | 1,050–1,400 |
| Wheat | 2,590 |
| Corn stover | 1,050–1,400 |
| Algae | 46,760–140,290 |
Disturbances in the crude oil prices and increasing consumer demand for advanced biofuels is expected to propel industry growth over the projected period. Though as of now the production of algae biofuel is in the laboratory scale, continuous efforts taken by the manufacturers and researchers to gain sustainable solution for product commercialization is expected to drive industry growth in the upcoming years.
The demand for biofuels is primarily driven by the high investments in new product development, and biofuel mandates introduced by various governments across the world. Various government policies including Low Carbon Fuel Standard (LCFS), and Renewable Fuel Standard (RFS) are expected to increase demand environment-friendly fuel manufacturing activities, which in turn is likely to have a positive impact on the industry growth.
Algae biofuel market in transportation application, by region, 2015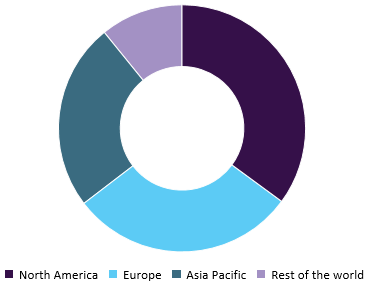 Algae have potential to produce various types of biofuels including biodiesel, biobutanol, bioethanol, biogas, drop-in fuels, and hydrocarbons. Biodiesel is expected to have the largest demand in terms of consumption, particularly in European countries.
Growing demand for biofuel in passenger and commercial vehicles is anticipated to open new avenues for the industry growth over the next nine years. Furthermore, increasing demand bioethanol in North American countries, especially in transportation application is expected to open new avenues for the industry over the projected period. Growing demand for biofuel in military and aviation sector is expected to propel growth. Furthermore, rising focus towards biomass cultivation, and oil extraction techniques is anticipated to open new market opportunities for algae industry.
The algae's key potential as a fuel source lies in the higher production volumes of algal biomass in a given area than the traditional bioenergy fuel feedstock. However, high demand for algae feedstock for manufacturing various other products including, food, beverages, pharmaceuticals, and cosmetics is expected to hamper raw material supply. Initiatives were taken by the researchers to improve algae productivity and identify the most useful algae species for biofuel production are expected to open new avenues for the industry growth.
North America is anticipated to be the largest market for the product followed by Europe and Asia-Pacific. High investments and early adoption of new technologies in the developed countries including the U.S., Germany, UK and France are expected to be the key factors for high product demand in these regions.
The industry is expected to see a numerous manufacturer, however, the companies are expected to undergo collaborations in the projected time frame in order to gain technology know-how and meet the required production volumes. At present, companies including Algenol, Blue Marble Production, Solazyme Inc., Sapphire Energy, Culture Biosystems, Origin Oils Inc., Proviron, Genifuels, Solix Biofuels, and Reliance Life Sciences are in the process to commercialize the product.

In-depth report on global algae biofuel market by Grand View Research:
http://www.grandviewresearch.com/industry-analysis/algae-biofuel-market