Algae are grown in aquatic environments which include marine, fresh, or brackish water and they are a form of microscopic plants. Algae oil obtained from the cultivation and harvesting of algae is used as intermediate for various applications which include biofuel, food & beverage, dietary supplement, and animal feed. There are different strains grown for algae oil harvesting, and companies are investing in research and development to develop high yielding strains. It is widely used for the blending of biodiesel on account of environmental advantages it offers. Hence, the growth in biodiesel application is likely to boost the market growth over the next nine years.
The food & beverage application is expected to gain market share on account various useful ingredients which include proteins, omega-3, phycocyanin, antioxidants, and similar other beneficial ingredients. It is also used as edible oil on account of the low-fat content present. The demand for this oil as healthy alternative consumable oil from the food and beverage sector is anticipated to drive the market between 2016 to 2025.
Algae oil is gaining popularity as a natural product, which can be used in the production of the dietary supplement. It contains docosahexaenoic acid (DHA), which is a primary source of omega-3, an essential ingredient for the human brain. The increasing awareness about naturally obtained dietary supplement is likely to drive the market over the forecast period.
Global algae oil application market value, by region, 2015 (USD Million)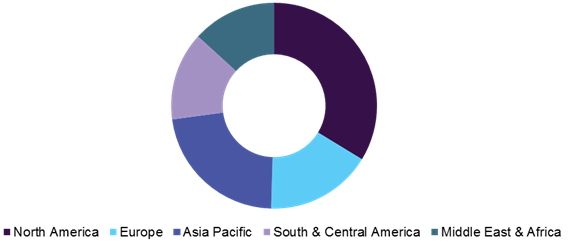 The surging demand for the product owing to various applications coupled with the benefit of natural production process is expected to push the industry over the forecast period. The demand is expected to be high in the coming years owing to its use in applications such as biofuel and animal feed industry. The animal feed application segment accounted for more than 27% volume share in 2015.
Rising awareness towards natural products such as algae oil has led to increased spending by the food & beverage industry globally. It has resulted in growing demand from the food & beverage industry, which is likely to boost the market growth over the next nine years. Positive outlook towards this market in the U.S., Germany, and China owing to demand from the food & beverage, and biofuel applications is subsequently projected to drive the market demand.
TerraVia Holdings, Inc, Diversified Energy Corporation, Algix, LLC, and Cellana Inc. are companies with significant production capacity. These companies are engaged in the production to serve different applications such as biofuel, food & beverage, dietary supplement, and animal feed. The competition among the companies has shifted its focus towards development of affordable pricing structure for algae oil.

In-depth report on global algae oil market by Grand View Research:
http://www.grandviewresearch.com/industry-analysis/algae-oil-market