Globally, increasing number of coronary and peripheral interventions coupled with the rising adoption of newer products is likely to boost the angioplasty balloons market during the forecast period. Furthermore, investments by key industry players in research and development, presence of products in clinical trial, and increasing healthcare expenditure in emerging countries are likely to propel the market.
Growing geriatric population, rising peripheral and coronary artery diseases, and increasing demand of economical & less invasive treatments around the world are expected to drive the market during the forecast period.
Angioplasty balloons market share, by geography, 2015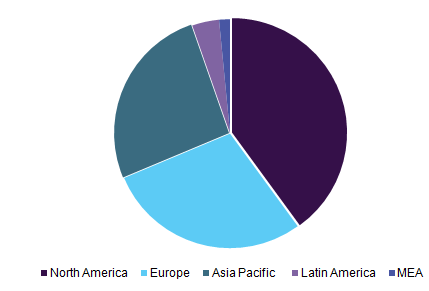 By type, normal balloons segment was the largest vertical in 2015 and is expected to continue its dominance during the forecast period. Availability of large number of products at low cost as compared to other balloons and favorable regulatory policies are the major driving factors for the segment. Furthermore, high demand from emerging countries would propel the market. Drug-eluting balloons is anticipated to be the fastest growing during the forecast period, due to low risk of thrombosis, economical pricing over stents, and recent launch of number of products. Approval and launch of scoring and cutting balloons coupled with the rising acceptance of these technologies are likely to further boost the market.
By application, coronary segment accounted for the maximum share due to high incidence of coronary artery diseases, growing awareness about coronary diseases, and efficient diagnostic tools. However, peripheral segment is anticipated to be the most lucrative segment during the forecast period.
In case of end use of angioplasty balloons, ambulatory surgery centers were the highest contributing segment due to greater demand by patients. The segment is likely to continue its dominance during the forecast period due to reduced stay duration at the centers, which decreases the overall medical expenses.
Geographically, North America contributes the highest share to the market due to high cost of the devices, good reimbursement plans, and local presence of key players. However, Asia Pacific is the fastest growing region due to increasing patient affordability, growing investments undertaken by major players, government initiatives, and commercialization of various products in the region. Japan, China, India, Singapore, and South Korea are the major contributing countries for the angioplasty balloons market. Furthermore, increasing medical tourism in the region due to the low procedure & device costs and availability of experts or skilled surgeons is expected to drive the market in Asia Pacific during the forecast period.
Partnerships and collaborations for geographical expansion, acquisitions for broadening product portfolio, and innovations in the field are major strategies adopted by the industry players. For instance, in October 2015, Cardinal Health acquired Cordis Corporation of Johnson & Johnson for USD 1.9 billion. The acquisition is likely to strengthen the wound management, cardiovascular, and orthopedic product portfolios of Cardinal Health.

In-depth report on global angioplasty balloons market by Grand View Research:
http://www.grandviewresearch.com/industry-analysis/angioplasty-balloons-market