Enzymes are utilized as one of the key additives in the animal feed industry with applications ranging from poultry to equine. The utilization of these additives plays a vital role in improving not just the quality of the fodder but also in enhancing the livestock production. These products contribute towards optimizing digestion, metabolism, and growth in animals.
Enzymes have been widely used for poultry and pigs as they help in proper digestion and provision of the necessary nutrients which help in their growth. The feed enzymes market is estimated to increase at a robust pace as a result of the development of poultry and pig farming in developing countries including Brazil, China, Russia, India, and South Africa.
Ruminant and aqua species are expected to offer lucrative growth opportunities over the years ahead. Rapid development in the ruminant farming sector in the major countries in the Asia Pacific region is likely to promote the consumption of feed additives by the end of 2025.
The amplification of agricultural systems coupled with various government initiatives to boost the development of this sector is estimated to improve the market dynamics of value-added ingredients including enzymes and amino acids. Furthermore, increase in consumer spending on high-quality dairy products in the region is likely to augment the requirements for nutrition-enhancing fodder ingredients.
U.S. animal feed enzymes market revenue share, by application, 2015 (%)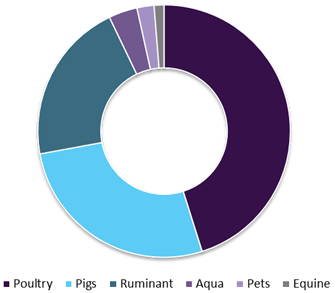 The U.S. is one of the key consumers of animal feed enzymes. In 2015, poultry accounted for the largest revenue share followed by pigs and ruminants. However, rising health awareness among the consumers coupled with stringent regulations over the use of synthetically prepared feed additives is expected to propel the requirement for natural enzymes in the country.
Breakthrough in the enzyme process technology is estimated to be another crucial aspect influencing the market growth in the country. Granulation technology is gaining popularity owing to its capability for manufacturing customized products. This technology enables proper coating on enzymes surfaces with ingredients, such as wax and cellulose, that protect the enzyme interiors from elevated temperature and moisture surroundings.
Aquaculture is another fast growing end-use of enzymes. Aquaculture has witnessed fast-paced development over the past few years owing to technological advancements and rising consumer demand for fish. The demand for conventional fish fodder including fish meal and oil for aqua farming is estimated to create further scope for the use of nutrition-enhancing ingredients. Enzymes can be considered to be a viable option owing to their performance attributes. These products help in the synthesis of proteins, starch, and fiber content that is indigestible by aquatic animals.
Novozymes, Danisco A/S, BASF SE, Royal DSM N.V., ENMEX S.A. de C.V., Advanced Enzymes, Adisseo, Elanco, BioResource International, Inc., Beldem S.A., and AB Vista are some of the key players operating in the global market.

In-depth report on global animal feed enzymes market by Grand View Research:
http://www.grandviewresearch.com/industry-analysis/animal-feed-enzymes-industry