The anti-reflective coatings market is anticipated to witness significant growth over the forecast period on account of rising focus towards improving the efficiency of optical devices. The penetration of anti-reflective coatings is expected to grow significantly in the solar application on account of increasing demand for improving the efficiency of solar panels.
Other major applications of antireflective coatings include electronics, automotive, eyewear, telecommunication, construction, and medical devices. In construction, anti-reflective coatings are being increasingly used to improve the aesthetics and clarity of vision on the glasses of shops as well as museum. These are also used to improve the efficiency of the green buildings by controlling the indoor temperature.
Global anti-reflective coatings market revenue, by technology, 2015 (%)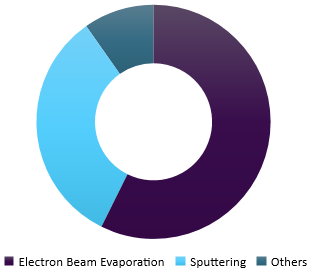 The automotive application is expected to witness an increase in utilization of anti-reflective coatings on the windshield and windows. These help in enhancing the vision, thereby increasing vehicle safety. Rising cases of road accidents are expected to have a positive impact on the market growth over the forecast period.
The product is highly used in the eyewear industry in order to prevent vision disorders due to harmful radiations of the electronic devices. These are also being used in reading glasses and sunglasses. In Europe, the majority of the consumers prefer anti-reflection coated eyewear. This trend is expected to witness a significant rise in Asia and North America over the coming years, thereby augmenting demand.
Electron beam evaporation and ion beam sputtering are the most commonly used technologies for deposition of anti-reflective coatings on any substrate. Glass and plastic are the most widely used substrates.
Numerous oxides, fluorides, and metals are used as materials for anti-reflection coating. These include TiO2,SiO2, MgF2, aluminum, gold, and silver, among others. The materials including titanium dioxide are used in a high-end application like ophthalmic industry and solar while MgF2 is one of the most commonly used materials on account of its low cost.
North America is the largest market for anti-reflective coatings while the demand is expected to witness significant growth in Asia Pacific and Central & South America over the next nine years. Changing consumer lifestyle and increasing investment in manufacturing in developing economies is anticipated to augment the market growth over the coming years.
Royal DSM, Honeywell International Inc., Carl Zeiss, DuPont, Essilor, Hoya Corporation, and PPG are some of the major players in the market. These players have been involved in extensive research and development in order to produce application-specific products. Expansion is also one of the major strategies of the companies.

In-depth report on global anti-reflective coatings market by Grand View Research:
http://www.grandviewresearch.com/industry-analysis/anti-reflective-coatings-market