Antibodies, also known as immunoglobulins, are Y-shaped proteins that are produced by plasma cells to protect the body from pathogens such as viruses and bacteria. There are two main types of antibodies namely polyclonal and monoclonal; and five classes of antibodies including IgG, IgM, IgD, IgA, and IgE. These immunoglobulins can be used for diagnostics as well as therapeutics applications for different diseases such as cancer, rheumatoid arthritis, psoriasis, Crohn's disease, hypercholesterolemia, and macular degeneration. Hence, the biopharmaceuticals and biotechnology companies are focusing on the antibody-based drug development.
Various instruments & consumables including bioreactors, chromatography systems, filtration systems, media, and consumables are widely used by manufacturers for production of antibodies. Increasing interest of healthcare companies and researchers in antibody R&D, owing to its high efficiency in the treatment of chronic diseases is a major driver of the antibody production market. For instance, in 2015, Thermo Fisher Scientific, a leading vendor of antibody manufacturing products invested around USD 692.3 million in R&D.
Antibody production market share, by region, 2016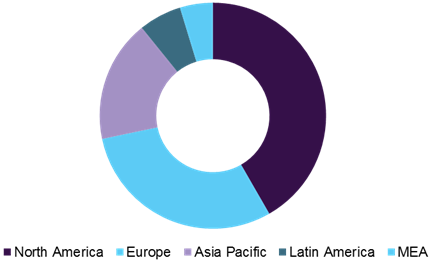 Rising geriatric population along with prevalence of severe chronic diseases leads to increasing demand for effective diagnostic and therapeutic products including antibodies. According to the WHO, the number of people aged 85 years and above are estimated to grow from 14 million to 40 million by 2050. In addition, a developing healthcare infrastructure and growing penetration of CROs in developing Asian countries like India and China are expected to increase the demand for high-end antibody production products. A large number of patients, vast genome pool, low manpower cost, availability of skilled personnel, and lower cost for conducting clinical trials in Asian countries have propelled the growth of this market in this region.
Stringent government regulations for the development and manufacturing of antibodies could hinder the growth of the antibody production market. In addition, the rules and regulations for development, manufacturing, and marketing of biologics is stricter than those for generic medicines. The discovery and development of biologics such as monoclonal antibodies can take a long time i.e., around 10 to 12 years, with investment of huge amount of money. Thus, the market for antibodies production can be restricted by stringent government regulations for biologics production.
Currently, there are several global and local vendors present in this market. Some of the key players are Merck KGaA; Thermo Fisher Scientific, Inc.; GE Healthcare; Sartorius AG; Eppendorf AG; Pall Corp.; INTEGRA Biosciences AG; Cellab GmbH; and FiberCell Systems Inc.

In-depth report on global antibody production market by Grand View Research:
http://www.grandviewresearch.com/industry-analysis/antibody-production-market