Over a decade, human population has been exposed to new forms of viral infections. Infectious diseases such as H1N1, Ebola, Marburg viruses, SARS-, and MERS-Corona are some of them infecting more than thousands of people in various regions. The outbreaks occur usually in developing countries, but are estimated to spread over the globe through transportation facilities.
Antiviral drugs and vaccines are two main ways for treatment of viral infections. Antiviral drugs are administered after a viral infection as compared to vaccines that are administered as preventive measures. Key players in the market are undertaking numerous R&D initiatives for development highly effective and specific antiviral agents that would not hamper functioning of cellular enzymes.
Global antiviral drugs market, by region, 2025 (USD Billion)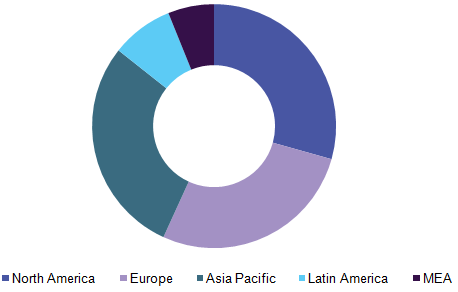 Increased clinical trials for combination and fixed-dose therapy to pave way for growth
Atripla is one of the most successful fixed-dose therapy used since many years for treatment of HIV-positive patients. It is a combination of efavirenz/emtricitabine/tenofovirdisoproxil fumarate and was prescribed to patients suffering from HIV-1 infection. However, launch of new combination drugs, such as Combivir, by ViiV healthcare has affected the market share of Atripla.
Recently approved combination therapies with high potential market growth include Genvoya and Epclusa by Gilead Sciences used for treatment of HIV and HCV, respectively. In order to maintain their leading market position, the company launched these therapies.
Generic antiviral drugs estimated to witness flourishing growth
Generic companies are in tough competition with each other to acquire rights for generic versions of blockbuster branded drugs on the verge of losing patent exclusivity. Increasing availability of low-cost alternatives in developing and low-income countries is estimated to be key factor for increasing adoption of generic drug versions.
Many blockbuster drugs for treatment of HIV are reportedly losing patent during the forecast period. More than 30% share of the HIV market is held by generic versions. Companies are launching new antiviral agent to nullify the loss associated with patent expiration. For instance, Geneva was launched by Gilead in 2016 to make up for the losses incurred due to low sales of other HIV therapies in the company's portfolio.
Asia Pacific - Increasing economic stability estimated to increase healthcare expenditure
North America is one of the dominant markets for antiviral agents. The dominance is associated with local presence of established branded drug companies and high acceptance rates in the region. Moreover, increased funding for drug discovery initiatives are also estimated to help maintain the regions dominance.
High number of clinical trials is being undertaken in Asia Pacific countries. Generic industry in India and surrounding countries has also grown at a high rate in the last decade owing to favorable government regulations and increasing demand for low-cost generic versions. Due to these aforementioned factors, Asia Pacific is anticipated to grow with fastest the CAGR.
Key market players
Gilead Sciences was identified as one of the most dominant market players with a large portfolio for treatment of HIV and hepatitis infections. One out of the five drugs prescribed by healthcare professionals for HIV are reportedly of Gilead.
Extensive R&D funding by key players for development of novel antiviral agents are further anticipated to increase competitive rivalry amongst them. Gilead reportedly did not achieve its sales target for HCV drug regimen. Recently approved combination drugs, such as Viekira Pak from Abbvie and Zepatier by Merck & Co, are anticipated to have played a major role in declining market shares of Gilead.

In-depth report on global antiviral drugs market by Grand View Research:
http://www.grandviewresearch.com/industry-analysis/antiviral-drugs-market