Construction films are versatile & economical plastic films, widely used for protection and storage of materials, personnel and construction equipment. These films are increasingly being utilized in roofing, waterproofing, flooring & insulation, cladding and reinforcement.
The Asia Pacific construction industry has been developing rapidly in recent years and is currently the second largest construction market across the globe. The industry has witnessed several technological advancements & propagation of unique architectural designs that promote the usage of plastic films in industrial as well as residential buildings.
There is a strong demand for infrastructure projects in rapidly growing Southeast Asian economies, which in turn has generated demand for lightweight building materials, such as construction films. These energy saving and low cost films are replacing conventional heavy materials including wood, glass, and metal in several construction applications.
Rapid urbanization, changing lifestyles, rising safety concern & healthy living environment and increasing disposable income in Asian countries have impacted consumption trends of construction materials. This has led to an increase in construction film applications, promoting their usage in plastic fittings and various other applications in residential apartments.
Growth momentum in Asia Pacific construction industry:
China: The construction industry is major driver of China's economy. Numerous government driven projects such as airports and railroad networks have been allocated huge funding in 12 and 15 years' cycle.
India: Government's initiative such as "Smart cities" and "Housing for all by 2020" are expected to be boost infrastructure development in India.
Vietnam: With the economy in the early stages of an upswing and economic growth, Vietnam has an improving climate for infrastructure investment.
Indonesia: Rapidly expanding private sector coupled with increasing consolidations and strategic alliances are anticipated to contribute significantly in Indonesian construction industry in upcoming years.
Thailand: Government in Thailand is focusing on PPP by promoting regional connectivity through road, ports and, high-speed railroad creating ample growth prospects.
Malaysia: Implementation of the 10-year economic plan, the 2011-2020 Economic Transformation Program (ETP) is driving construction and infrastructure activities in Malaysia.
Philippines: Government's is promoting development projects at both local and national level in Philippines to pave the way for overseas investors and construction companies.
Japan: Growing urbanization coupled with positive development in regional economic conditions and investment in public transport infrastructure is expected to fuel demand for construction films in Japan.
Construction films are rapidly gaining popularity in green building industry since they reduce the environmental impact of buildings in numerous key areas such as water, energy and indoor environment. High durability and low cost of these sustainable films has also made them an ideal choice of material. Construction films are increasingly being preferred
Green Building: Fostering construction films demand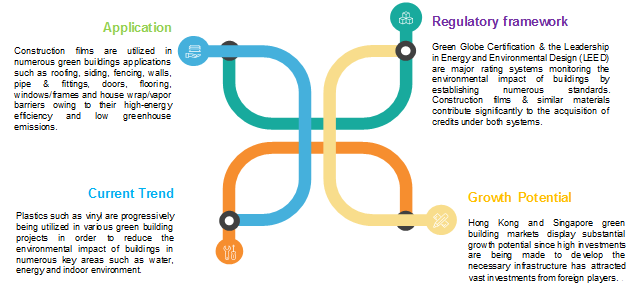 In-depth report on asia pacific construction film market by Grand View Research:
http://www.grandviewresearch.com/industry-analysis/asia-pacific-construction-films-market