Increasing geriatric population, changing lifestyle, and an increase in patients suffering from Peripheral Artery Disease (PAD) are some of the major drivers of the atherectomy devices market. Continuous clinical trials to introduce and identify optimal interventions for treating PAD is another factor that can be attributed to the growth over the coming years. Catheter-based devices, which use rotational, orbital, laser, & directional approaches, reduce vessel barotrauma and are used to treat peripheral vascular lesions & improve patient outcomes.
Technological advancement is one of the major factors driving the atherectomy market growth. Industry players are involved in the introduction of new devices that work in an efficient manner. Mergers and acquisitions is one of the strategies of the industry players to capture larger market share. For instance, in 2014, Boston Scientific announced the acquisition of the interventional business of Bayer AG to offer healthcare systems & physicians enhanced solutions for treating complicated vascular conditions.
Atherectomy devices market share, by geography, 2016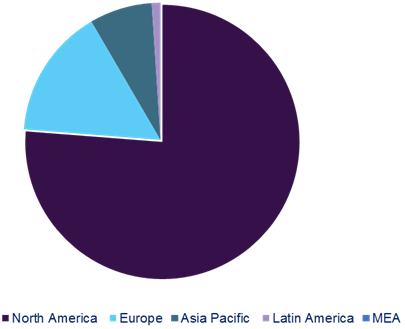 Directional atherectomy devices dominated the market in 2016. Furthermore, laser atherectomy devices are rapidly gaining its roots in the market. Laser atherectomy, as an adjunct to other therapies such as stents & balloons and as a standalone treatment, has been approved by the FDA for the treatment of peripheral occlusions and stenosis, which has encouraged the companies to introduce laser atherectomy devices to capture the market. For instance, in 2014 the FDA approved the products, Turbo-Tandem and Turbo-Elite, by Spectranetics for use in the treatment of In-Stent Restenosis (ISR).
Asia Pacific is expected to be the most lucrative region for the industry. This is due to the rapidly increasing geriatric population, presence of a large patient pool, and increased healthcare expenditure. The Chinese government has invested huge efforts in training and educating workforce in the healthcare sector. In 2011, 33,000 doctors were recruited for advanced master's degree program in cardiovascular diseases. This has led to an increased capacity of performing 300 procedures annually. Thus, government efforts and rising prevalence of target diseases is expected to boost the market over the forecast period.
Several regional and international players are operating in the industry. Some of the key industry contributors are Boston Scientific Corporation, Cardiovascular Systems Inc., Medtronic (Covidien), Spectranetics, VOLCANO CORPORATION, Avinger Inc., Bayer AG, Straub Medical AG, ST. JUDE MEDICAL, BARD Peripheral Vascular, Cardinal Health (Cordis), and Terumo IS.

In-depth report on global atherectomy devices market by Grand View Research:
http://www.grandviewresearch.com/industry-analysis/atherectomy-device-market