The automotive aftermarket has witnessed significant advancements in the exhaust technology, safety technology, and other component fabrication technologies that enhance vehicular performance. This trend has consecutively supplemented elevated sale crescendos in the automotive aftermarket, as the components are famed for providing enhanced performance delivery as compared to its original manufacturer counterparts.
The market is expected to remain innovation-led with the introduction of new metals and chemicals that provide cost-efficiency and weight reduction in automobiles. The increasing demand for automobiles is projected to trigger the demand for automotive collision repair and thereby the automotive aftermarket component demand. Stringent standards across the globe for car safety are anticipated to drive the automotive collision and aftermarket market component sales.
The automobile industry is witnessing an upsurge in the demand for gas and hybrid electric cars, leading to a rise in the demand for spare parts and specific tools for these specialized cars. The rise can be attributed to increased prices of petrol and petrol engine based automobiles. The EU legislation has limited on-road fuel sulfur content to 10ppm, whereas, in the U.S., the limit is 15ppm. This has resulted in the foundation of specialized car repair shops that specifically cater to gas/hybrid electric vehicles.
Furthermore, the popularity of do-it-yourself car kits is reducing day-by-day due to the increasing complexity of a car engine mechanism. People, who use to initially practice DIY auto kits, now go to specialized auto repair shops as they are conscious about repairing abilities due to increased complexity of modern-day engines. Furthermore, indulging in DIY kits practice may result in consumers jeopardizing their insurance aids.
Global Automotive Aftermarket by Replacement Part, 2015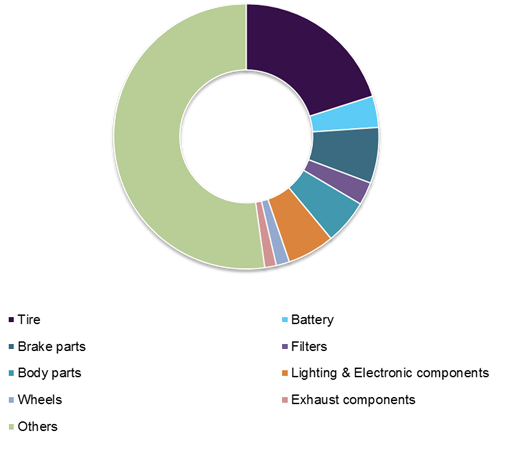 The Automotive aftermarket is segmented on the basis of replacement parts into tire, battery, brake parts, filters, body parts, lighting & electronic components, wheels, exhaust components segments. The tire segment is anticipated to dominate the automotive aftermarket arena in terms of size by 2025. This segment would remain the dominant system installation segment on account of the frequency of replacement in comparison to their automotive component counterparts. Filters component would witness a fast growth in terms of revenue with a CAGR of more than 6% from 2016 to 2025
The presence of key industry participants globally, such asMagneti Marelli S.p.A., Federal-Mogul Corporation, Continental AG, Denso Corporation, Delphi Automotive PLC, 3M Company and Robert Bosch GmbH,have resulted in an increased demand.

In-depth report on global automotive aftermarket by Grand View Research:
http://www.grandviewresearch.com/industry-analysis/aftermarket-automotive-parts-market