Chromium plating process involves different steps including stripping, polishing, cleaning, plating and buffing. The automotive chromium is widely used in applications such as decorative and functional plating. The decorative chromium is preferred in exterior automotive components or vehicle parts such as door handles, exterior trims, wheel covers, mirror covers, logos & emblems, and others. Apart from that, functional plating is used for piston rods, and piston rings. The two wheeler components that consume coating include wheels, frames, headlight hardware and taillight hardware. Hence, the growth in the automotive sector is likely to boost the market demand over the next nine years.
The decorative application is expected to gain significant market share on account of its properties such as better corrosion resistance, improved wear resistance and others. It also offers other advantages such as stain and abrasion resistance that enhances the durability of automotive components.
The product is gaining popularity in two wheelers, passenger vehicles, and commercial vehicle segments, as it improves the aesthetics of the automobile. The growing demand for chroming various components in passenger vehicles is likely to drive the market growth over the forecast period.
Global automotive chromium market value (USD Million), by end use,2015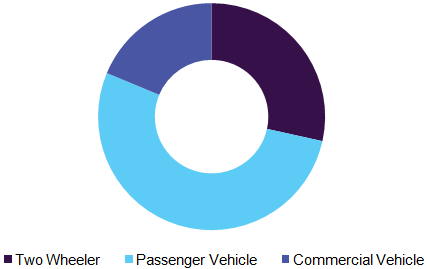 Surging demand for passenger vehicles on account of growing population is anticipated to push the industry over the forecast period. This in-turn is expected to fuel the demand over the next nine years. The functional coating application segment accounted for 30.12% of global market share in 2015, as its demand is expected to be driven by commercial and passenger vehicle segment.
The rising number of two wheelers in North America is expected to drive the need for chrome plated components. Two wheelers provide a lower investment option and thus becomes an affordable way of travelling as compared to the passenger vehicles. This has led to an increased demand of two wheelers, which may further benefit the market growth positively. Positive outlook towards two wheelers from the U.S. market is subsequently projected to drive the automotive chromium demand in the region.
Germany and UK are two key markets accounting for a significant share in the European market in 2015. These countries are considered to be the European automobile manufacturing hubs. The major players in Europe are investing heavily on research & development activities to increase product differentiation in order to achieve sustainable growth and increase the market presence.
Macdermid Enthone Inc., Kakihara Industries Co., Ltd., Sarrel, and MVC Holdings, LLC are major companies in the automotive chromium market. These companies focus on developing affordable pricing structure to expand their market share.

In-depth report on global automotive chromium market by Grand View Research:
http://www.grandviewresearch.com/industry-analysis/automotive-chromium-market