Rapid urbanization, growing population, and improving the standard of living along with technological breakthroughs including the introduction of electric, and hybrid vehicles are expected to drive the demand for automobiles. These factors are likely to fuel the usage of automotive coatings over the upcoming years, which are used in various interior as well as exterior parts. Also, the growing demand for aftermarket refinishes among consumers to enhance the aesthetics of automobiles is likely to stimulate market growth over the upcoming years.
Automotive coatings are used to improve the overall surface quality of vehicles by increasing resistance against corrosion, protecting the surface from harsh weather, UV radiations, dust, dirt, and acid rains. Furthermore, these products aid in improving the aesthetic appeal of automobiles by providing color and gloss and are anticipated to witness significant growth over the next nine years.
Germany automotive coatings market revenue share, by end-use, (%)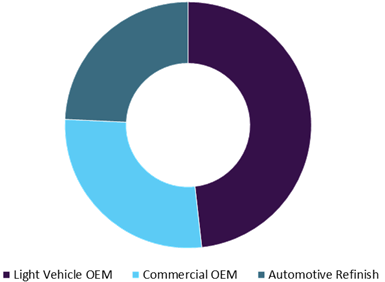 Increasing vehicle manufacturing primarily in China, Japan, India, South Korea, Indonesia, Malaysia, and Taiwan is anticipated to propel product demand. Capacity addition by major German automotive companies including BMW, Audi, Volkswagen, and Mercedes-Benz to meet the rising consumer demand will aid in market expansion over the upcoming years.
Raw materials used for the manufacturing of coatings include solvents, binders, pigments, and additives. Titanium dioxide is one of the most important pigments used for manufacturing the product. Increasing prices of titanium dioxide are expected to hamper market growth in the future negatively.
Asia Pacific dominated the overall industry on account of growing automobile production in the region. The automotive sector of Asia Pacific is driven by the presence of a robust manufacturing base coupled with increasing production and sales in emerging countries including China, India, and South Korea.
Over the past few years, companies such as Volkswagen, Audi, Honda, Nissan, Toyota, Hyundai, Skoda, and Fiat have shifted their vehicle manufacturing base from North America and Europe to Asia Pacific in light of the availability of economic workforce which is anticipated to drive the market demand. Also, the presence of major players in the Indian market including BASF, KCC Paint, Nippon Paint, and Kansai Paint is expected to stimulate growth.
The Middle East & Africa is anticipated to witness considerable growth over the upcoming years owing to increasing vehicle production in South Africa, Israel, and Egypt. Furthermore, harsh weather conditions in countries including UAE, Saudi Arabia, Qatar, Kuwait, Ethiopia, and Oman will drive the demand for vehicle refinishes in the region.
The industry is highly competitive with the presence of a vast number of players in China, Germany, U.S., Japan, and India. Product innovation along with various R&D activities by various major players such as BASF, PPG Industries, and Axalta Coating Systems to produce environment-friendly and solvent free coatings is expected to increase market size over the next nine years. Companies are introducing nanoparticle reinforced clearcoats, which increases the scratch resistance, thereby creating immense growth opportunities over the forecast period.

In-depth report on global automotive coatings market by Grand View Research:
http://www.grandviewresearch.com/industry-analysis/automotive-coatings-market