The automotive silicones is one of the major upcoming material markets around the world. The demand for products with enhanced properties and lightweight has placed a high importance on materials like automotive silicones.
The ability of these materials to exhibit high resistance to chemicals, UV rays, and corrosion is expected to play a major role in the rising demand for these materials. The demand is expected to increase rapidly as environmental agencies are working towards introducing strict fuel regulations.
Global automotive silicones market, by product, 2015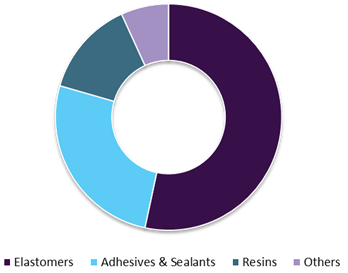 The strict emission regulations in Europe and U.S. have forced automobile manufacturers to innovate new products for reducing carbon emissions from vehicles. The automobile manufacturers are investing heavily in research on lightweight materials. The growing demand for lightweight electrical vehicles is expected to influence the demand in the automotive application as they provide the high level of electrical resistivity and can also be applied easily to various surfaces.
The major drawback involved in the application is the high price of silicone products. The price of elastomers is generally high than its substitutes such as ethylene propylene diene monomer (EPDM), natural rubber, and chloroprene rubber. However, the properties and characteristics of silicones are not matched by its substitutes leading to its high demand. Silicone sealants, adhesives, and resins are used in a large number of internal components in automobiles.
The industry has been dominated by Wacker Chemie and Dow Corning. These companies have held more than 50% of the market share from the time silicones have found commercial application. These companies have high penetration in the application markets and have also invested in research and development to maintain their position as top players. The development of chemicals that are compatible with silicone and improve the performance in their application has been the major feature around which the research is being conducted.
The biggest challenge faced by the market is a high dependency on the automobile industry. Recently, the automobile industry has faced slowdowns in Europe and U.S. The automobile industry in these regions has seen a subdued growth but on the other side, the demand is high in Asia Pacific due to favorable indicators such as a rise in population and disposable income. But the future demand is a major concern as manufacturers feel that the periods of high growth would be short-lived and material innovation can also lead to the introduction of new materials that could possibly replace silicone.

In-depth report on global automotive silicone market by Grand View Research:
http://www.grandviewresearch.com/industry-analysis/automotive-silicone-market