Baking is a method of mixing various ingredients in appropriate proportions to produce a wide variety of bakery products. The functional ingredients used in baking are enzymes, baking powder, baking soda, flour, corn starch, sugar, oil and others. The raw materials involved in manufacturing of such baking ingredients comprise of wheat, sugarcane, poultry and cereals.
Use of baking ingredients is primarily driven by the demand for multi-cuisine bakery products. In addition, factors such as changing economic conditions, rising awareness for baked foods with healthy nutrients and increasing away-from home food expenditures augment the growth of bakery ingredients market.
Global baking ingredients market, by end-use (USD million), 2016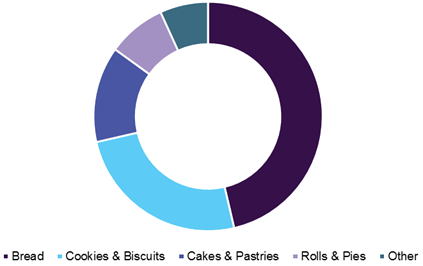 Owing to increase use of bread consumption globally, there is a rising need for use of ingredients in preparing bread. In this regard, bread end-use segment dominated the market globally. In addition, use of enzymes, emulsifiers are witnessing a substantial growth in end-use segments such as pastries, rolls, pies and cakes attributing to the demand of wide variety of baked products from consumers in OECD and non-OECD countries.
Baking powder is one of the basic ingredient widely used in baking, thus making it the largest segment among other ingredients. In addition, emulsifiers and enzymes are predominantly used to enhance flavor, shelf-life and textural properties to the final product. With regard to demand for penetration of packaged goods, enzymes and emulsifiers are expected to register double digit growth in China and India.
Many companies have targeted customers basing on their consumption pattern such as in schools who preferred snack items, in defense who consume baked products that have long storage capability, restaurants that provide multi-cuisine bakery products. The use of bakery ingredients such as enzymes, emulsifiers, additives comes into picture when the end users require to produce varied products to meet consumers tastes existing across the above segments.
Europe was leading the global baking ingredients market in terms of revenue in 2016 and is anticipated to continue its dominance over the next forecast period of eight years. Major players in the market are strengthening their value chain by vertically integrating and by acquisition of domestic players in the market. Owing to demand from consumers for natural content in the diet, many manufacturing companies are emphasizing on manufacturing of ingredients derived from natural resources to avoid regulatory implications and to have strategic advantage over their competitors in the global market.
Some of the key market players are Flowers Foods Inc, Hostess Brands LLC, Mckee FoodsCorporation, George Weston Ltd., Grupo Bimbo. S.A.B. de C.V., Uniferm GmbH & Co., Koninklijke DSM N.V, General Mills Inc, Associated British Foods Plc.

In-depth report on global baking ingredients market by Grand View Research:
https://www.grandviewresearch.com/industry-analysis/baking-ingredients-market