Behavioral illness can be diagnosed by monitoring thoughts (abnormal), behavior, or feelings for a specific amount of time, which result in distress or other types of emotional and physical impairment. Depression and anxiety disorders are few of the leading causes of mental illness globally, hence, increasing the need for development of innovative therapies and medications in the near future. Increasing incidence of depression and substance abuse cases due to upward trend in the adoption of sedentary lifestyle is the primary factor that is likely to drive growth of the behavioral rehabilitation market during the forecast period. Furthermore, growing awareness regarding novel therapies and services provided by various hospitals for behavioral disorders is anticipated to boost the market growth.
Global behavioral rehabilitation market, by region, 2015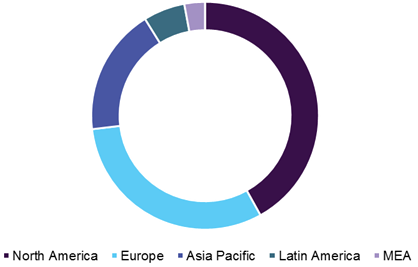 The primary aim of mental rehabilitation is to help patients develop the emotional, social, and intellectual skills, which are needed to live, learn, and work in a community. People suffering from severe mental illness are treated in a variety of settings and circumstances, ranging from conventional psychiatric institutions to community-based programs to independent living. Effective rehabilitation programs help focus on a patient's strengths, in order to identify their personal goals.
The market for anxiety disorders occupied the largest share in 2015, owing to increasing incidence of the disease on a global level. According to the Anxiety and Depression Association of America, anxiety disorders are one of the most common mental illnesses in the U.S., affecting around 40 million adults, which costs the country more than USD 42.0 billion per year.
Substance abuse is expected to witness the fastest growth rate during the forecast period. According to the National Institute on Drug Abuse, use of illicit and prescription drugs as well as alcohol have resulted in death of more than 90,000 Americans. Similarly, tobacco is responsible for an estimated 480,000 deaths per year in the U.S. In addition, drug abuse and addiction to alcohol cost Americans more than USD 700.0 billion per year, which further increases health care costs, crime, and results in lowering of productivity. Therefore, such factors would drive the segment market growth in the near future.
The outpatient segment occupied the maximum market share in 2015. The segment is also anticipated to grow at the fastest CAGR. Outpatient healthcare setting allows patients to continue with their work schedule, while continuing with their treatment. Patients are able to stay at home and are required to visit an outpatient facility daily for a specific period of time for screening and assessment, as well as medication management. Such ease and flexibility of outpatient healthcare settings is likely to drive growth of this segment.
The behavioral rehabilitation market is fragmented with a number of companies/hospitals dominating the market. Some of the companies operating in this market are Acadia Healthcare; Universal Health Services, Inc.; Magellan Health, Inc.; Psychiatric Solutions, Inc.; CRC Health; Aurora Behavioral Health System; Behavioral Health Group; Haven Behavioral Healthcare, Inc.; Springstone, Inc.; and American Addiction Centers, Inc. Many companies aim to launch new services and rehabilitation programs in order to expand sales and gain a foothold in the fast-developing behavioral health sector.

In-depth report on global behavioral rehabilitation market by Grand View Research:
http://www.grandviewresearch.com/industry-analysis/behavioral-rehabilitation-market