Bioresorbable polymers are groundbreaking technological materials that don't require mechanical removals, such as chlorhexidine chip or sutures. Bioresorbable materials have applications in a wide range of medical indications, such as drug delivery coatings, tissue fixation screws, coronary & peripheral vascular scaffolds, bone pins & anchors, as well as surgical and microspheres matrices and meshes.
The materials in this category include metals, polymers, glasses, ceramics, and materials of biological origin like natural collagen, which may allow for delivery and drug elution and also for performing a mechanical function.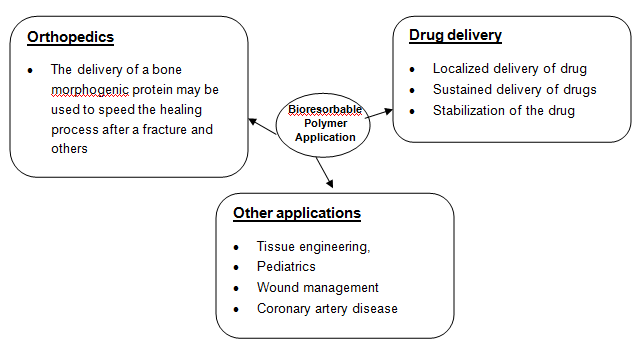 The bioresorbable polymer is in its developing stage as sutures are available for over 40 years. Recent technological innovations have expanded the market to involve orthopedic, cardiovascular and general surgery in the application scope.
The increasing demand for medicine and drugs as well as rising number of operations around the globe is boosting the demand for bioresorbable polymers. There is a huge investment in the product innovation by the end-use companies, owing to its increasing demand in the healthcare sector.
The small differentiations are essential in bioresorbable polymers according to different circumstances and the need for several patients in each case can be integrated much more reliably and efficiently with 3D printing. The Incorporation of 3D printing with existing medical polymers is expected to be a significant opportunity for the global market over the upcoming years.
Medical implants made from these medical polymers degrade fully and are excreted from the human body leaving no trace behind. These polymers do not induce a provocative response in the human body, and all of the degradation products are fully metabolized, and they exhibit no toxicity.
Long term bioresorbable polymers and implantables are enhanced with bioactive bone growth additives, active pharmaceutical ingredients (API), and radiopaque fillers. These enhancements can reduce side effects and increase the therapeutic effect, but unique processes and equipment are necessary to realize their full potential.
Bioresorbable polymers can be processed quickly into final product forms, via injection molding and extrusion, yielding parts that show a long shelf life that can be terminally uncontaminated. Polymer properties and the rate of degradation can be modified to meet up the most severe applications by changing the polymer molecular weight and composition.

In-depth report on global Bioresorbable Polymers market by Grand View Research:
http://www.grandviewresearch.com/industry-analysis/bioresorbable-polymers-market