Development and commercialization of advanced blood collection & separation products that are more specific and reliable are expected to propel the blood collection market growth. In addition, rising incidence of infectious and noninfectious diseases is likely to boost the market growth over the forecast period from 2016 to 2025. For instance, in the U.S., around 44,073 people were diagnosed with HIV infection in 2014. Thus, the growing prevalence of such communicable diseases is expected to increase the demand for blood collection products for diagnostic purposes.
The rising awareness about blood donation and escalating number of blood donors is further expected to propel the demand for blood collection products. According to the WHO, in 2013, 112.5 million blood donations were collected globally. The blood donation level is high in high-income countries like the U.S., UK, and Germany as compared to the middle and low-income countries. The government and nonprofit organizations are undertaking initiatives to increase the blood donation rate and to prevent prevalence of infectious diseases in developing regions like Asia and Africa.
Global blood collection market share, by region, 2015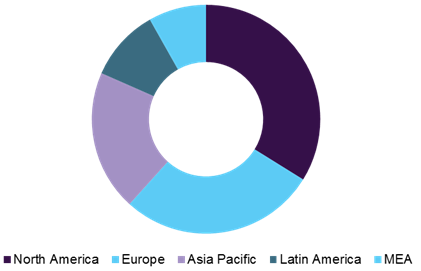 Furthermore, rising geriatric population along with prevalence of severe medical conditions such as cancer & heart diseases lead to an increased number of surgical procedures. According to the WHO, people aged 85 years and above are expected to grow from 14 million to around 19 million by 2020. The increasing geriatric population leads to escalating number of surgical procedures and application of target market products for diagnostics & therapeutics.
The FDA Center for Biologics Evaluation and Research (CBER) develops & implements quality standards, scrutinizes blood establishments, and monitors reports of accidents, errors, & adverse clinical events associated with blood collection and its usage in the U.S. The CBER regulates the blood collection products such as blood collection containers & cell separation devices and usage of blood & blood components for transfusion. Moreover, FDA inspects all the blood facilities such as blood banks at least every two years to protect patients from incompatible blood and blood products.
North America held the largest share in the target market in 2015. The U.S. was the major contributor in the revenue share due to its well-established healthcare infrastructure and high per capita healthcare expenditure. On the contrary, Asia Pacific is expected to grow at the fastest rate over the forecast period owing to supportive government initiatives to improve medical infrastructure and economic developments in this region.
As the blood collection market is growing significantly, several leading vendors have begun to focus on strategic acquisition, collaboration, & product advancements to sustain in the industry and gain a maximum revenue share. For instance, in June 2016, Becton, Dickinson and Company launched the BD Vacutainer UltraTouch Push Button Blood Collection Set, which employs PentaPoint Comfort 5-bevel needle technology that improves the patient experience during the blood collection. In addition, advanced product development endeavors assist vendors to strengthen their position in the industry.
Currently, there are several global and local vendors present in this market. Some of the key players are Abbott Laboratories; Terumo Corp.; QIAGEN; Becton, Dickinson and Company; FL MEDICAL s.r.l.; NIPRO Medical Corp.; and Medtronic.

In-depth report on global blood collection market by Grand View Research:
http://www.grandviewresearch.com/industry-analysis/blood-collection-market