Bone densitometer is a medical device designed to accurately measure bone density. It is primarily use in the detection of metabolic bone diseases, such as osteoporosis, which are characterized by low bone mineral density and high risk of fractures.
Osteoporosis is also characterized by gradual loss in calcium and bone structural changes. Bone densitometry involves use of limited dose of ionizing radiation that produces bone images, typically of lower spine and hips, to accurately estimate bone loss. DEXA is one of the simple and noninvasive technologies used in bone densitometers.
Bone density testing is an imperative diagnostic tool for early assessment of osteoporosis.
By diagnosing weak bone mass and osteoporosis in early stages, bones fractures can be potentially averted in the future.
Osteoporotic fractures are one of the major causes of high mortality, morbidity, and expenditure globally. New-generation peripheral densitometry devices are designed to curb the increasing incidence of osteoporotic fractures amongst men and women. These devices also include portable peripheral bone densitometers, as they provide additional benefits and play an imperative role in preventative medicine and risk reduction in both geriatric and younger population.
In addition, these devices are noninvasive in nature, need small amount of radiation, and do not require anesthesia, which demonstrates their high safety. Bone densitometers have no adverse effects, are highly convenient for physicians to operate, and are considered accurate estimators of osteoporosis & fracture.
Government healthcare organizations are consistently striving to develop low cost portable bone densitometers to control this situation. These organizations aim to increase their usage for diagnosis and assessment of risk of fracture. For instance, as per the recommendations of Department of Health, Colles' fracture indicates high risk of osteoporosis and is indicated for screening. Ultrasound bone densitometry is considered to be a useful method for bone status monitoring in other clinical applications, such as in asthmatic children undergoing treatment with inhaled glucocorticoid steroids.
Global bone densitometers market, by end use, 2016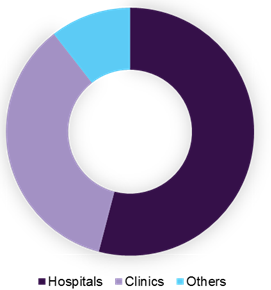 The bone densitometers market space is highly competitive in nature and consists of some of the players together accounting for major market share. The most notable market participants are Hologic, Inc.; BeamMed Ltd.; and GE Healthcare, which account for a considerable share of the market. These market players are extensively incorporating competitive strategies, such as new productdevelopment, strategic collaborations, and mergers & acquisitions to maximize their industry share.
For instance, in May 2016, Hologic Inc., announced the results of a survey conducted on osteoporosis, to raise awareness of this condition and promote efficient risk assessment. Also, in May 2015, Lone Oak Medical Technologies, LLC received authorization from Health Canada for its product accudxa2, a device designed for treatment and diagnosis of bone-related disorders.

In-depth report on global bone densitometer market by Grand View Research:
http://www.grandviewresearch.com/industry-analysis/bone-densitometers-market