Botulinum toxin (BNT) is a widely used neurotoxin used for the enhancement of aesthetic appearance. It works by paralyzing muscles in a controlled fashion. Hence, it involves minimal risks compared to other facial injectable. It is commonly used for treating frown lines, glabellar lines, and crow's feet line.
According to the International Survey on cosmetics performed by the International Society of Aesthetic Plastic Surgery (ISAPS), number of minimally invasive surgeries performed increased by 52.3% in 2014 from 50.6% in 2013. Botulinum toxin administration is a minimally invasiveprocedure. Considering, its minimally invasive procedure with lesser discomfort, easy treatment procedure and noticeable results, botulinum toxin has high acceptance across the globe.
Global botulinum toxin market, 2015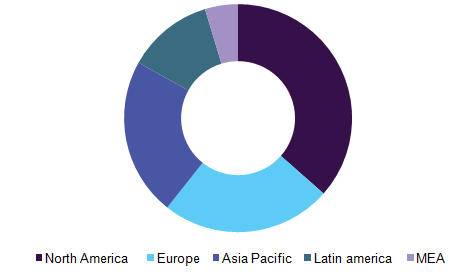 Botulinum toxin market
There are seven distinct antigenic botulinum toxins (A to G) produced by Clostridium botulinum. However, only type A and B toxins are used commercially for medicinal as well as cosmetic purpose. Type A is predominantly used for medical as well as aesthetic use; while, type B is approved for the treatment of cervical dystonia.
Type A includes Botox, Dysport, Xeomin and few other brands whereas type B includes Myobloc which is sold in Europe as Neurobloc. Botox by Allergan, Inc. holds more than 80% of the global market share of aesthetic and medical applications together and is followed by Dysport by Ipsen Group. However, with constant research, it is expected to witness expansion of its applications in therapeutics field.
Presently, Botox holds more than 50% of aesthetic applications but with constant research on BNT industry, it is expected to witness higher growth in therapeutics application. Botox is used in blepharospasm, cervical dystonia, post stroke upper limb spasticity and hyperhidrosis. Thus, the segment is expected to grow over the forecast period.
Variables of botulinum toxin market
The prime growth driver of BNT market is growing population aged between 25 to 65 years. This population is more prone to exhibit signs of aging such as wrinkles, lack of skin elasticity and dark spots, hence, pushing the demand for aesthetics procedures.
Minimally invasive surgeries are rapidly replacing invasive surgeries, making it another major driver boosting the demand for BNT. Minimally invasive surgeries offer benefits such as small incision, rapid wound healing, shorter hospital stay and lower risk of complications, thus, expanding the market growth for BNT. In addition, increasing therapeutic applications of BNT is also augmenting the growth of the segment.
Key players
Very few players such as Allergan, Inc.; Ipsen Group; Merz GmbH and Co. KGaA are leading the global market. Some other players operating in this market include but are not limited to Medytox, Inc.; US Worldmed, LLC; Lanzhou Institute of Biological Products Co.Ltd. and Revance Therapeutics, Inc.

In-depth report on global botulinum toxin market by Grand View Research:
http://www.grandviewresearch.com/industry-analysis/botulinum-toxin-market